The Postindustrial Electronic Bar-Fly Blues
Junior Boys' gorgeous new album Big Black Coat sounds cold on purpose, says Jeremy Greenspan.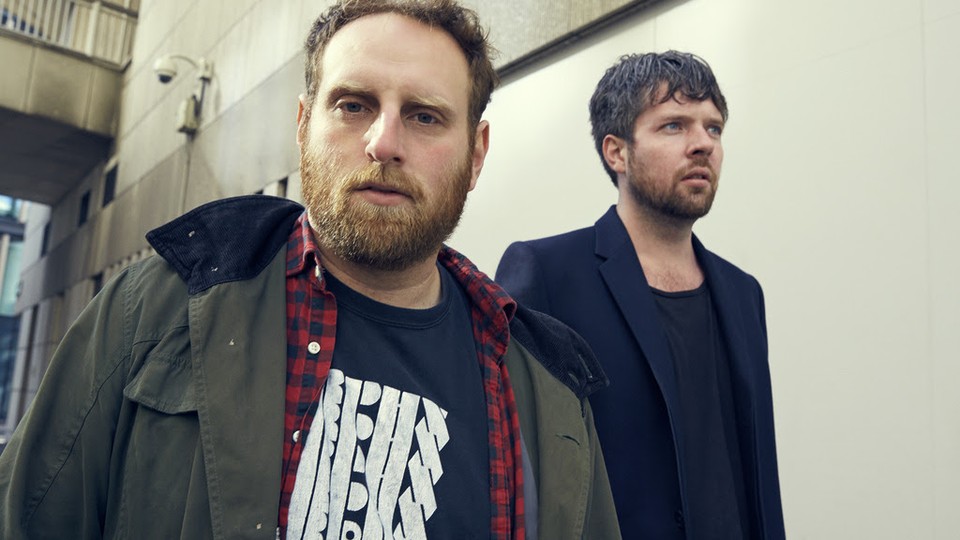 The soundtrack to this winter, for me, has been the electronic group Junior Boys' excellent new album Big Black Coat. This means I'm propagating a cliché. Ever since their 2003 debut Last Exit, the many warm reviews for the Canadian band's songs have overused adjectives about cold: "icy," "chilly," "wintry."
This phenomenon should persist for Big Black Coat, Jeremy Greenspan and Matt Didemus's first album in five years. The height of Junior Boys' acclaim came around 2006's So This Is Goodbye, whose songs—including the new indie classic "In the Morning"—drew comparisons to Depeche Mode and other '80s synth-poppers. Big Black Coat, though, excavates more underground traditions—Detroit techno, industrial dance music, the early days of drum-machine-backed disco—as its songs spool out patient, hypnotic rhythms rendered in high-hat hisses that sometimes, yes, sound like ice being chipped. One track, "C'mon Baby," ends in a glorious cloud of static and synthetic pinging that makes me visualize a ship passing a glacier at night. Another, "No One's Business," has a slowly swirling arrangement that makes the singing easier and harder to hear at different times; the effect is like a voice calling out in a blizzard. Ugh to these descriptions right?
I wanted to speak with Greenspan to figure out whether the frigid imagery commonly surrounding his music results from his own intentions, or whether he's annoyed at the fact that his unapologetically mechanical songs keeps getting compared to the weather. Happily, he was cool about it. "I cultivate it to some extent," he said of the winter theme.
In fact, Big Black Coat is something of an accidental concept album about the struggles of people in his hometown of Hamilton, Canada, a postindustrial city on the banks of Lake Ontario. This explains the desperation and yearning in these songs, as well as the temperature.
Big Black Coat is available February 4th, though it's currently streaming on NPR.
---
Kornhaber: Why do you think that whatever techniques you're using get associated with cold?
Greenspan: When I was about 17 or so, there were a couple pieces of music that I heard for the first time: John Foxx's Metamatic, the band Japan, and Kraftwerk. They are all music that evoked, visually in me, imagery that was institutional—sort of eerily intuitional in the way that a Cronenberg movie is or a J.G. Ballard book is. That was super influential to me, because I always felt like there was a huge amount of emotion you can convey in these seemingly icy or cold things.
Kornhaber: Did that music feel institutional because it was electronic, or because of the amount of repetition, or something else?
Greenspan: Well in the case of John Foxx and Kraftwerk, it was explicitly institutional in the sense that the lyrics were about that kind of stuff. It probably had to do with the time; there was a certain energy about the changing landscape politically and economically in the '80s.
For me—and this is where my interest in synth-pop fused with my interest in modern R&B and in dance music—it always has been about a kind of unrepentant futurism in the music. Music that seems like it's coming from a future or is about the immediate future has always been the music that's excited me the most, because I've always thought of culture as something that's pulled toward the future. I'm not the kind of person who listens to a lot of music that is of a firmly established genre or something like that.
Kornhaber: It's interesting because synth-pop, R&B, and a lot of the other things you put in your music kind of code as nostalgic now, don't they?
Greenspan: Yeah. The funny thing is that even with a band like Kraftwerk when they were starting out, there was a weird retro-futurism to what they were doing—an obsession with notions of the future from the past.
I'm sort of obsessed with nostalgia. I think that's one of the reasons I still live in my hometown. Every building, every place is super-pregnant with meaning for me, and I think you only get that if you live in the place where you grew up. That figures pretty prominently in my music as well.
Kornhaber: This album does reference a lot of musical history. Do you think it's important for the listener to be picking up on that?
Greenspan: No. The thing that I think has been my saving grace is that I'm not very good at sounding like the things that I want to sound like. There are producers out there that can listen to something and say "I want to make something that sounds like that," and then they go home and they make something that sounds like that. I don't have that skill. Every time I try to make something that sounds like something else, it ends up sounding like me.
If you listen to "C'mon Baby," that's me trying to sound like DJ Mustard. It's so off completely that it's just ridiculous. The first song on the album, "You Say That"—all the chord structure, everything, came from Gil Scott-Heron. I really don't think anyone would listen to that song and think "Gil Scott-Heron," you know? But that's what I was consciously trying to do.
Kornhaber: What do the words "Big Black Coat" mean to you?
Greenspan: Well, I didn't realize it until almost after the fact. I wrote all these songs very quickly; I did a whole lot of material and wasn't too precious about it. The lyric writing was done in much the same way. I wrote stuff and sang it, and the demos stuck, which is different from what I've done before, when I edited it.
At the end of the process, the label asked me to write out all the lyrics, which I'd never done before. I wrote them out and I realized they're all exactly about the same thing: these kind of lonely men that I knew from the bar near my studio in the downtown of my hometown, which is a nowheresville, postindustrial city. The songs are about these guys who are frustrated by their emotional lives and are frustrated by women because they don't know how to relate to them but they want them.
So the coat became this kind of metaphor for people who insulate themselves, because the city I live in is a place where people insulate themselves from the cold, both physically and emotionally. It's just a down-and-out kind of town.
Kornhaber: So it's not about being a badass and having a big coat?
Greenspan: No—though a little bit of the reason why I chose black was because the album was influenced a lot by my musical roots, which are industrial and techno music. So my nostalgia that I associate with is everyone wearing bomber jackets or trench coats. Big black coats are the uniform for people who are into industrial music.
Kornhaber: So you're writing from the perspective of these bar-fly guys. Is that why the word "baby" is everywhere in the lyrics?
Greenspan: Yes, exactly. I wrote quickly and I wanted to write in a voice that was sort of—I don't think "unpoetic" is the word, but sort of had this frame of frustration in it. This feeling like you don't have the words to express what you're meaning. So for me "baby" seemed like the operative word, especially in pop music. I have a friend who had a band called the Russian Futurists in Toronto. I remember asking him about some lyrics, like, "What's this?" He said, "It's always 'baby,' it's always 'baby.'" It's this stand-in word for emotional resonance that can't be articulated.
Kornhaber: Do you yourself identify with the subjects of these songs?
Greenspan: I do to some extent. The one big thing, though, is that a lot of the songs were inspired by the people in this bar near where my studio is, and I don't drink at all. It's kind of like I'm inspired by alcoholism in some way; I have this kind of outsider perspective. And I don't feel down and out.
I do relate to the people I'm writing about, but I hope not too much. There's a lot of misogyny in the record that I was super-aware of while I was doing it, but I wanted to make sure people realized that I was writing from a certain perspective.
Kornhaber: You're not a drinker at all?
Greenspan: I've never drank. I can't! I have this weird thing where after one drink I get impossibly dizzy. I get dizzy before drunk.
Kornhaber: Dance music is so much in the clubs, in the bars—you never connected on that level?
Greenspan: I used to be connected to dance music when dance music was more about drugs. I definitely had a period of my life when I was into that. Never alcohol though.
Kornhaber: As far as the way the songs sound, do you think of songwriting and instrumentation and production as separate things, or are they the same thing to you?
Greenspan: They've become more and more the same thing. My strategy for writing has changed a bit. The last two records previous to this one, the notion was I would do the songwriting by fiddling around with the equipment and then I would take a small body of work and really hone it. I think of songwriting as a great skill and respect people who are traditional songwriters. But for this new album I wanted to go away from that to some extent. I wanted the songs to retain their, I don't know if "improvisational" is the right word—this core of being born out of happy accident.
I get into a studio, I set up all my equipment, and I press play, and I just fiddle around until something happens. When something happens I record it, and then traditionally I would take that and build it into a song. For this album I wanted the process of building it into a song to last as shortly as possible so that the energy of the first spark was retained.
Kornhaber: People tend to think there's the song and then there's the recording, and that you should be able to play the bones of the song on your guitar. But listening to some of your songs, they work because of what you're doing in the studio.
Greenspan: Exactly. One of my favorite bands of all time is the band 10cc. They're incredible songwriters just in the traditional sense, but those songs live and breathe because all of this studio trickery they're doing. If you were to play those songs on a guitar or piano, they don't work.
Stephen Sondheim wrote this book about lyric writing, and it opens up and says, "Lyrics are not poems." Lyrics are not things that exist outside of songs. It's words set to music, and so divorcing your lyrics from songs for me is just as stupid as divorcing your song from the context of recording it.
Kornhaber: I think about that song "No One's Business," and it's all about how it moves around in your ear.
Greenspan: I'm glad you mentioned that one, because we did something really strange with that song. I have a really terrific mastering engineer, Bob Weston—he's in the band Shellac and he engineered Nirvana records.That song actually starts one volume and ends at another volume, and we did that in the mastering process, which is super unusual. Mastering is a process of compressing, so you're changing the perception of the volume to the listener. You don't want one song to sound super loud and then the next song on your record to sound quiet. For that song we played with that so that, in terms of your perceived volume, it starts at one volume and ends at another.
Kornhaber: The end of "C'mon Baby"—what is going on there?
Greenspan: It sounds like a guitar, but there's no guitar at all. It's just a distorted Alpha Juno synthesizer being modulated by something called a low-frequency oscillator, with tons and tons of delay on it.
Kornhaber: Was that the answer to some sort of problem? Like, "I want some sort of emotional effect, here's how to achieve it"?
Greenspan: That was just a moment of total madness. This is going to sound cheesy and pretentious but there's something about being in a studio where it feels like a divination ritual. You're throwing bones and looking at the result. My studio is very small physically, and the central piece of the studio is a patch bay and a modular synthesizer. You just start patching away and you start losing your focus and your sense of where everything is plugged in, and you just get into this state where you're walking around the studio as things play back. You have to sit there for hours playing with total garbage and noise. But as long as you have the "record" button ready to go, you're ready to write.