Jason Pierre-Paul and the $60 Million Firework
The New York Giants' defensive lineman was an NFL star before a Fourth of July accident altered the trajectory of his career.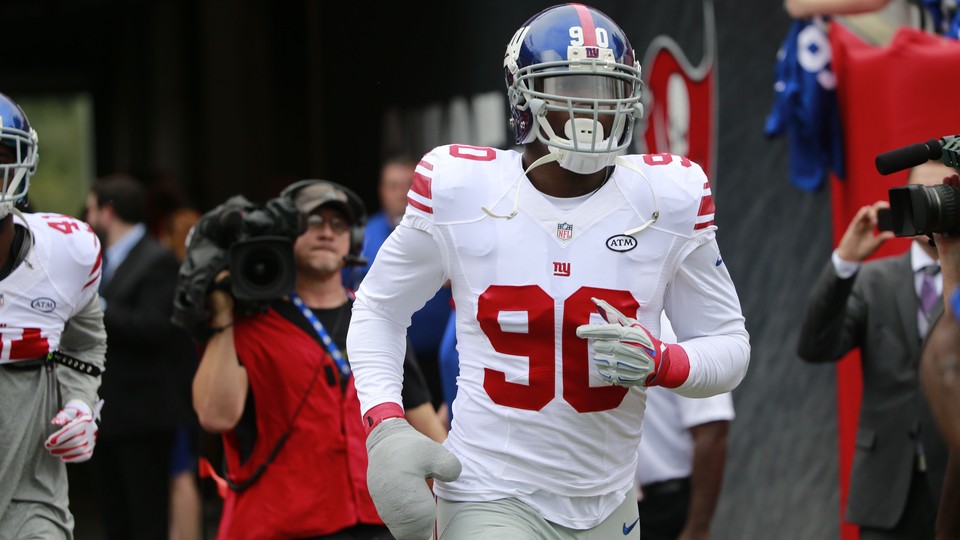 Around this time last year, the New York Giants expressed a sentiment rarely heard in the NFL, a league whose acronym the former coach Jerry Glanville once quipped stands for Not For Long.
Remarking on the prospects of resigning the star defensive lineman Jason Pierre-Paul, then-coach Tom Coughlin said, "The goal is for him to be a Giant and play as a Giant forever, and retire as a Giant. How that works out is another issue."
In the winter of 2015, Pierre-Paul was a 26-year-old free agent coming off a season—12.5 sacks, 77 tackles, three forced fumbles—that reinforced his status as an elite pass rusher and defensive player. Rather than let him test the market, the team voided his contract in February and placed its franchise tag on him in March, ensuring that he would make $14.8 million the following season while the two parties hashed out a long-term deal.
"Like I said, it is going to be a business situation," said Pierre-Paul at time. "It's going to be about my family, and what I want to pursue. At the end of the day, I'm here. Like I said earlier in the season, if I am a Giant, then I will be a Giant for my whole life. I don't know what is going to happen."
This was the beginning of a common NFL saga that would quickly veer into uncharted territory. First, there was intrigue in June when Pierre-Paul did not show up to the Giants mandatory training camp as an expression of his displeasure with how the contract talks were going; he also refused to sign his $14.8 million tender. The two parties had until July 15 to sign an extension.
According to reports, Pierre-Paul had also balked at the $60 million contract offer that the Giants had placed on the table before he blew off parts of his right hand lighting a firework on the Fourth of July last year.
News of the incident and conjecture about its severity quickly spread and the Giants pulled the contract offer on July 6. Days later, the ESPN reporter Adam Schefter controversially tweeted out the news (along with medical records) showing that Pierre-Paul had his index finger removed.
(On Wednesday, it was reported that Pierre-Paul is suing Schefter for violating his privacy.)
After signing an adjusted contract for $7 million, Pierre-Paul did eventually come back midway through the Giants dismal season, where he played an effective, but statistically lackluster eight games with a club around his right hand. Last month, he underwent surgery in the hopes of increasing flexibility in his damaged middle finger.
Pierre-Paul is now entering free agency and, according to reports on Thursday, the Giants appear interested in re-signing him.
"It was obvious when Jason came back last year how disruptive he was," said the new Giants coach Ben McAdoo. "When you look at him, his ability to get off the ball and get after the quarterback is easy to see. That's something that comes naturally to him, and I don't see that changing anytime soon."
Others are less sanguine about his ability to command a long-term, top-level contract. "Nobody can realistically know what to expect with Pierre-Paul," wrote one beat writer last week. "There are no comps for defensive ends without a full set of fingers."