Art for Instagram's Sake
Spectacular, immersive exhibitions are drawing huge crowds, but are they changing the museum experience?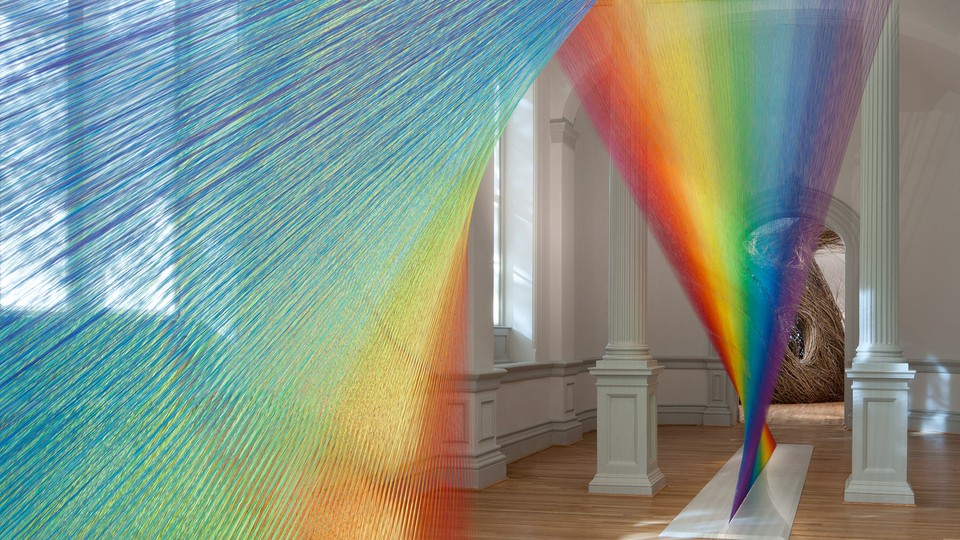 In November 2015, after two years closed for extensive renovations, the Smithsonian's Renwick Gallery marked its reopening with an immersive exhibition called "Wonder." The title is no misnomer: In the Renwick's grand 1859 building across the street from the White House, nine artists have created site-specific installations designed to spark feelings of awe, joy, and delight. In one room, thousands of notecards pile up like paper mountains; in another, woven nest-like pods made of twigs swirl upward. Over the grand staircase a dazzling, algorithm-driven light display falls from the ceiling, its countless LED lights twinkling in changing sequences as visitors come and go.
Meanwhile, throughout the museum's galleries, hundreds of guests pose for pictures, snap selfies, and stare at their phones, meticulously choosing filters to best highlight the vibrant colors and textures of the art before them.
Exhibitions like "Wonder"—which drew more visitors in six weeks than the Renwick had previously hosted in one year—are on the rise, as institutions seek to capitalize on the promotional power of social media. Increasingly, shows feature big, bold, spectacular works that translate into showy Instagram pictures or Snap stories, allowing art to wow people who might otherwise rarely set foot inside museums. But the trend toward accessibility has its critics, who wonder whether the sensationalist works being exhibited are worthy of all the attention, not to mention whether the smartphone photography is getting in the way of people looking and thinking about the art in front of them.
Nicholas R. Bell, the curator of "Wonder," disagrees with the idea that there's a "proper" way to experience art, or that large-scale installations are somehow inferior. "Have we not clamored for spectacle for thousands of years?" he says. "People like large things that overpower them in some way. I think it's part of human nature."
Over the last few years, a number of immersive exhibitions have drawn huge crowds, in large part thanks to their social-media potential. In 2012, "Rain Room" debuted in London at the Barbican Center, offering visitors the chance to walk through a space filled with falling water while miraculously staying dry (the installation's sensors shut off flow when they detect bodies below them). The show prompted unprecedented lines during a later run at New York's Museum of Modern Art and is now at the Los Angeles County Museum of Art, where it's completely sold out.
Last summer, the National Building Museum in Washington D.C. installed a huge ball pit for adults called "The Beach" in its central atrium, inspiring thousands of playful pictures. A 2015 exhibition in Tokyo, "Floating Flower Garden," enabled visitors to walk unencumbered through a hanging garden, where the flowers rose as they approached. At the newly opened Broad Museum in Los Angeles, visitors with pre-timed tickets can spend 45 seconds alone in Yayoi Kusama's "Infinity Mirrored Room," a mirror-lined space filled with an array of twinkling LED lights. It was previously at the David Zwirner Gallery in New York, where visitors spent hours in line in order to contemplate the room for a brief moment. The installation elicits feelings of serenity and intimacy with the universe—and, according to The New York Times, "makes for the ultimate selfie."
These exhibitions are often more akin to stadium concerts than museum shows, starting with the lines that precede them. They overwhelm the senses, offer a communal experience as opposed to a personal one, and provide fantastic photo opportunities while making friends jealous. It's been particularly noted that "Wonder" is an Instagrammer's dream—the exhibition was trending on the picture-driven social-media app from the very first day it opened. Signs in the galleries actually encourage photography (unlike the typical notices requiring visitors to put their cameras away), which has resulted in 35,000 photos being tagged at the Renwick in the past three months. "Rain Room," too, has a powerful Instagram presence, with more than 30,000 images and videos posted to the app with the hashtag #rainroom.
Nowadays, artists and curators usually anticipate that many viewers will be photographing their art. Alexander Alberro, an art history professor at Barnard, told me via email that this has increased the impulse to make and feature artworks that will "smoothly slide into image-based formats" like Instagram, because this kind of art is more likely to bring in visitors and even buyers. Meanwhile, museums in general have become the backdrop for their attendees' photoshoots—the new Whitney Museum of American Art in New York, for example, has inspired thousands of images—meaning that many contemporary institutions have changed their lighting from traditional spotlights to high-wattage fluorescent lights. The effect, Alberro says, makes "the white walls of the gallery pulsate like the white liquid crystal screens of smartphones and tablets." One writer has even likened the Whitney's new design to Instagram itself.
But despite the accessibility that comes along with social-media friendly exhibitions, some critics (and psychologists) are skeptical. The Washington Post art critic Philip Kennicott has written that "Wonder" invites its visitors "to treat it superficially" because they're looking at the art through their phones rather than focusing on conscious, in-person deliberation. Ken Johnson of The New York Times wrote in 2013 that "Rain Room" seems "little more than a gimmicky diversion."
Felicity Scott, an art and architecture history professor at Columbia, noted in a 2013 article in Art Forum that the popularity of "Rain Room" is due to its ability to "harness and reflect contemporary desire for seemingly direct 'participation' and spectacular forms of exposure." Works like "Infinity Mirrored Room" and "Floating Flower Garden" translate into beautiful photos, but they're also popular because they're overwhelming in person—in scale, in texture, and in how they demand engagement.
Bell had this effect in mind when designing "Wonder." Janet Echelman's "1.8"—a colorful hand-woven net whose contours correspond to the energy map from the 2011 earthquake and tsunami in Japan—hangs from the ceiling in the Renwick's Grand Salon, and Bell strategically placed bean bags and cushions on the floor to encourage people to lie down and gaze up at the work. "The point was to make things that could not be seen through mediation, that had to be experienced yourself," he says.
Large-scale art has flourished outside museums in recent years, particularly at festivals, where huge installations are a big part of the draw for attendees. Photos of the monumental sculptures at Burning Man, a festival that's named for its 60-foot wooden effigy, proliferate on social media each year—like 2015's "Love," a huge sculpture of two shining children trapped in the cage-like structures of adult human bodies. In 2017, Coachella will feature its very own art biennial, in addition to the festival's trademark massive spaceman, and its balloon chains. In the U.K., the Lumiere festival, which installs light-based artworks in urban areas, came to London for the first time this year—resulting in more than 60,000 photos of it tagged and uploaded to Instagram.
To Alberro, there's a downside to all this sharing. The old processes of "intellectual legitimation" that once defined experiencing art are traded instead, he argues, for "simple visibility." In other words, there's a lack of quality control. Large-scale art installations, especially those in festival settings, are able to bypass the old structures that determined good and bad art by capitalizing on collective attention. But while the art establishment may look down on larger-than-life art because of its lack of subtlety (a characteristic much desired by critics in general), the spectacular, emotional nature of festival works like "Love" or exhibitions like "Wonder" ultimately makes them more accessible to viewers who may feel excluded from the conceptually aloof art found in many institutions.
Regardless of critics' reservations, large-scale art's growing presence on social media doesn't necessarily deprive it of gravitas or make it less worthy of attention. Engaging people with art in any way possible is, for many museums, the first step in persuading them of its deeper value. And taking photos of works, however performative it may be, is a way for people to show off what's important to them. "Different people will achieve their most meaningful experience in a museum in various ways," Bell says. "And I don't think we should be the arbiter of that."