The Missing Piece of the Oscars' Diversity Conversation
The focus of the debate this year shows how Latinos, Asians, and Native Americans are often sidelined in the very discussions meant to bring attention to them.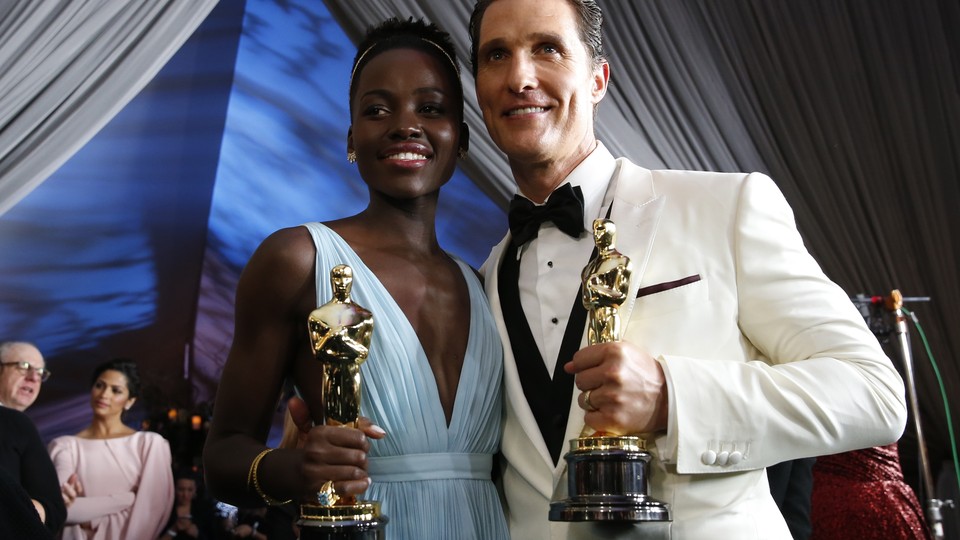 Since the Academy Awards nominations were announced earlier this year, it's been largely impossible to read a story about the Oscars that didn't also contain some mention of diversity. The list immediately amplified a discussion that drew widespread attention in 2015, after the Academy nominated the acclaimed Martin Luther King biopic Selma for Best Picture, but snubbed its director, Ava Duvernay, and its star, David Oyelowo. In response, the activist April Reign started the hashtag #OscarsSoWhite, a term critics took up to challenge the awards' persistent whiteness.
This year, film writers and cultural commentators adopted the hashtag once again to decry the exclusion of actors including Idris Elba, Michael B. Jordan, and Samuel L. Jackson, and the directors F. Gary Gray and Ryan Coogler, who were widely perceived to be contenders. The Academy's president, Cheryl Boone Isaacs, has promised reforms to its voting process, while this year's host, Chris Rock has promised to address the diversity issue during the ceremony. Viola Davis advised people who were dismayed by the all-white slate to "plop your money down to see Race, to see Dope, to see Straight Outta Compton, to see Selma; to support directors like Ava DuVernay, Lee Daniels, Spike Lee."
An Academy Awards that looked like this—that celebrated the tremendous work of artists like Coogler and DuVernay—would be a better, more interesting celebration than the one that'll take place on Sunday. But even so, it would be only the barest hint of progress for an industry that still systematically leaves so many people out. No Asian or Latina actress has won an Oscar in over 50 years. Latinos make up only two percent of the Academy's current membership, while the U.S. Hispanic population tops 17 percent. Asians and Native Americans together make up less than half a percent. Native Americans and indigenous people barely take part in major films produced in Hollywood, let alone at awards ceremonies. Meanwhile, the financial incentives for movies to cast more women and people of color are more pressing than ever—a new report from UCLA found that Hollywood's diversity issues could be costing the industry billions of dollars.
If the industry's answer to #OscarsSoWhite stops at filling the roster of Oscar finalists with only African Americans, Hollywood risks swapping one form of tokenism for another, letting one dimension of diversity stand in for an audience that deserves so many more. The industry isn't close to doing justice to the wealth of talented black actors, directors, and writers within its ranks. But that's merely where the problem begins.
It's worth rewinding for a moment to the 74th Academy Awards in 2002. Hosted by Whoopi Goldberg, the show saw Denzel Washington present an honorary award to Sidney Poitier, the first African American to win an Oscar for Best Actor in 1964. Later, Washington became the second black man to win the Oscar for Best Actor, and Halle Berry became the first black woman to win the award for Best Actress. "This moment is so much bigger than me," she said in an emotional acceptance speech, in which she thanked Dorothy Dandridge, Lena Horne, and Angela Bassett. "And it's for every nameless, faceless woman of color that now has a chance because this door tonight has been opened."
This is the significance of the Oscars, a television program of dwindling popularity that nonetheless functions once a year as a metonym for all of Hollywood. As such, it's a convenient yardstick for measuring how well the film world has kept pace with the evolving values of the country as a whole. Earlier this month, Berry reflected sadly on her Oscar win in an interview with BET. "To sit here almost 15 years later, and knowing that another woman of color has not walked through that door, is heartbreaking," she said. "It's heartbreaking because I thought that moment was bigger than me ... Maybe it wasn't. And I so desperately felt like it was."
The achievements of actors like Berry, Washington, and Poitier—as well as Chiwetel Ejiofor, Lupita Nyong'o, Barkhad Abdi, Jennifer Hudson, and films like 12 Years a Slave—may inform the diversity discussion's focus on black actors and filmmakers, but the reason is also much broader. "Throughout the long history of Hollywood and the history of the Oscars, there has been an ongoing conversation about racism that has often been framed in terms of black and white," said Todd Boyd, a professor at the University of Southern California who studies race and pop culture. The current situation, he said, simply reflects that past.
Renee Tajima-Peña, a documentary filmmaker and professor of Asian American studies at UCLA who was nominated for an Oscar in 1987 for her work on the documentary Who Killed Vincent Chin?, said the civil-rights movement of the 20th century indelibly shaped how the country, and by extension, Hollywood, thinks about race. But it's an anachronistic mindset. "Now, on the ground, when people think of race, they think of this whole range of white, black, brown, yellow, red, and all the nuances and layers," she said.
Expanding the Oscars discussion beyond black actors and filmmakers doesn't diminish them or the unique challenges they face. After all, their relative visibility hasn't translated into anything close to decent representation throughout the industry. Though blacks are slightly over-represented in terms of Oscar wins in acting categories, for example, they're under-represented in directing (especially black women), according to a USC study. As The Economist noted:
These are the numbers that critics of Hollywood should be most concerned about, along with the dearth of top roles for Hispanic and Asian actors. Best Actor nominations and wins—in which black actors have done decently, 2015 and 2016 excepted—seem to be the wrong target.
I spoke with several people of color who have worked for decades as producers, directors, writers, actors, and agents in the film industry to get a better sense of how they've dealt with Hollywood's whitewashing problem over the years, and what they make of the situation today.
Involving all minority groups in the mainstream diversity discussion is necessary, but it also raises complicated questions about the merits and limits of solidarity. To what extent should people of color focus on increasing opportunities for all people of color, versus their own communities?
After all, the systemic issues in Hollywood that hurt black directors are the same ones that make it hard for Asian Americans to get top film roles, or for Native Americans to receive non-stereotypical portrayals. As Boyd told me, "When you say that Hollywood is overwhelmingly white and male that's to the exclusion of everything else." But blacks, Asians, Latinos, and Native Americans also have different histories in this country, which means different challenges and advantages. Lumping everyone in the same category raises the real risk of ignoring those differences rather than better understanding them.
* * *
In the midst of the #OscarsSoWhite discussion, the Jane the Virgin star Gina Rodriguez started a similar hashtag of her own—#MovementMondays. In an Instagram post praising the work of Oscar Isaac in Ex Machina, Rodriguez placed part of the blame for the lack of Latinos in Hollywood on Latino viewers themselves.
I am told time and time again, "Latinos don't watch Latino Movies. Latinos don't support each other," and sadly that is true ... If you want to see us represented on film and TV, if you want to see Latinos nominated for Oscars, we NEED to support one another. The industry sees money, the excuse can't be racism.
Asking Latinos to support the work of other Latinos is a noble and practical request: Relative to the U.S. population as a whole, Latinos go to the movies more than any other racial or ethnic group, and Hispanics in the U.S. boast roughly $1.5 trillion in buying power. But though the Latino population grew more than 43 percent from 2000 to 2010, there's "a narrower range of stories and roles, and fewer Latino lead actors in the entertainment industry today, than there were 70 years ago," according to a 2015 report from Columbia University.
The director Patricia Cardoso—who's best known for her 2002 film Real Women Have Curves (which won a Sundance Audience Award)—recalls how she was passed over to direct seven different feature films, and each time, the job went instead to a white male director. "I think people are not willing to take a risk on a director like myself who is a woman and is Latina and doesn't speak perfect English," Cardoso said. This is despite the fact that executives "acknowledge that I'm a good director and that I have talent."
Cardoso knows that she's one of very few minority women directing feature films—one of the 1.3 percent, according to the Directors Guild of America. And yet the list of high-profile male Latino filmmakers includes huge names like Alfonso Cuarón, Guillermo Del Toro, and Alejandro Iñárritu, the latter of whom may win his second Oscar for Best Director in two years on Sunday. They're infrequently mentioned in the broader diversity discussion for two main reasons, Cardoso said. For one, they're Mexican, not Mexican American, so they're seen by many as foreign directors, first and foremost. Secondly, "they're not telling Latino stories," said Cardoso, adding that it's helpful that they're men, unlike herself.
Cardoso thinks financial challenges, often unconsciously discriminatory hiring, and the inherent burdens of being outnumbered are to blame for the Academy Awards' overwhelming whiteness. "So few minority movies get made that we don't get as many chances to make mistakes," she said. When she was voting for this year's Directors Guild of America Awards, she said, out of the 587 films on the ballot, just a handful were from filmmakers of color.
George Takei, who's a member of the Academy, said the same was true with the Oscars this year, using an imperfect metaphor to assert that voters can only acknowledge what exists, not what viewers wish existed: "You can't complain when you go to a restaurant that the dishes are all American dishes and complain I don't have sushi on the menu, because you walked into an American restaurant."
* * *
Most critics lauding the strides Asian Americans have made in Hollywood recently will likely point to television (Elementary, Fresh off the Boat, Quantico, Dr. Ken, The Mindy Project). With the exception of animation, film remains a tougher arena. In the last year, Cameron Crowe and Ridley Scott have faced criticism for whitewashing characters of explicitly Asian descent in their movies. January's horror film The Forest was only the latest example of Hollywood's long history of mediating Asian stories and characters through a white lens (a trend that certainly extends to other people of color).
Like Cardoso, Renee Tajima-Peña found success as a filmmaker despite significant challenges. Years before she got her Oscar nomination, she couldn't even land an unpaid internship after graduating from Harvard. "Even in the [public-broadcasting system] there were hardly any Asian Americans with decision-making abilities. So in the studios and networks? Forget it," she told me. (Even today, film studio heads and TV studio/network heads are  94 and 96 percent white, respectively.) As a result, Tajima-Peña said she and other filmmakers of Asian descent chose to go the independent route. "We just made our own movies. We made our own institutions."
Other filmmakers and producers of different backgrounds I spoke with similarly commented on how independent cinema offers more of a creative refuge for people of color."I moved away from Los Angeles and came to live in San Francisco, where there was an independent film scene that was more embracing," said the Mexican American screenwriter Lourdes Portillo, whose film Las Madres: The Mothers of the Plaza de Mayo was nominated for a best documentary Oscar in 1986. Meanwhile, her son, who's also a filmmaker, has told her about the explicit discrimination his friends have faced trying to get their projects about black or Navajo characters considered by studio executives.
In mainstream film, Asian Americans have their own versions of Cuarón and Iñárritu in the form of Justin Lin and Ang Lee, both directors of Taiwanese descent who have enjoyed critical and commercial success. "They've transcended the perception of even being Asian," Kevin Iwashina, a former agent with Creative Artists Agency and the founder of Preferred Content, told me. "Ethnicity sort of becomes irrelevant once they're at that point [of success]." Like M. Night Shyamalan, Lin and Lee are proof of how far Asian American directors can rise making movies that aren't about Asian American people or experiences.
"Asian American" often conjures up the attendant stereotypes about "model minorities," which may be one odd reason there's little serious discussion about Asians in Hollywood. "I don't think we're considered a disadvantaged minority," said Iwashina, who emphasized that he was expressing a deeply personal opinion. "There is this idea that minority status is one thing, but then another thing is: Are you a disadvantaged minority?" "Asian American" is often a rhetorical mask that hides a demographic reality: Not all groups that fall into that category are equally prosperous, educated, or respected in the U.S. But as long as the "model minority" perception endures, the feeling that Asian Americans are doing well in this country won't be dimmed much by the fact that the last time an Asian actor won an Oscar was in 1985.
* * *
It's when discussing the state of Native Americans in Hollywood that the concept of "looking out for one's own" takes on a particularly pointed meaning. To explain the state of Native Americans and indigenous people in the industry, the film and TV director Chris Eyre recalled his initial reaction to the attention surrounding the Nat Turner biopic film The Birth of a Nation, which sold for a record $17.5 million after premiering Sundance this year. "I was thinking to myself, 'If this is where the conversation starts, at this 'Birth of a Nation,' then there are births out there that no one's recognizing," said Eyre, who belongs to the Cheyenne and Arapaho Tribes. "There's a history of this nation that happened before slavery."
Eyre's words reminded me of something Parul Sehgal wrote in her New York Times Magazine piece about the word "erasure": "Our identities and our privileges are not static but deeply contextual. We who are silenced may yet silence others." More so than other minority groups, natives in the industry hardly register in the comprehensive studies meant to quantify their exclusion (take the big 2015 UCLA report on diversity in Hollywood for example, in which Native Americans don't even appear in charts showing the demographic breakdown of different areas of representation).
Given this, it's easy to understand Eyre's resistance to what he calls "trickle-down cinema." "I'm not believing that because we all band together as minorities that we're going to have the same translation of success, because our story is different," Eyre told me. Whereas the Asian and Hispanic populations in the U.S. are often discussed for either their growth or their sizable presence, Natives are regarded as a tiny part of the country's demographics. The American Indian and Native Alaskan population makes up an estimated 1 percent of the country (2.9 million), which jumps to 1.7 percent (5.4 million) when combined with other races (this doesn't count federally unrecognized tribes or indigenous peoples of other regions). But focusing on their relatively small numbers leans on the assumption that the other 98 percent of the country isn't interested in seeing more Native Americans in their popular culture.
"It's different for us than it is for other groups in terms of people of color," said Heather Rae, a producer, director, and actress of Cherokee ancestry. "There's such an investment on the part of the psyche in this country to avoid the reality of how this country was formed." Touching on a similar point, Eyre recalls the words of Roger Ebert, who saw Eyre's second movie Skins when it premiered at Sundance. "The thing that he said that stuck with me to this day is: 'When it comes down to Native Americans in movies, most Americans can't differentiate what they see from how they see it.'" Which is to say the existence of natives in film is a deeply passive one: They are a people used to having their stories and history told by others, with few exceptions. (Eyre's first feature, 1998's Smoke Signals, being one: It was the first film written, co-produced, directed, and performed by Native Americans.)
Of all the films Hollywood's currently enamored with, there's one that stands out to Eyre as being particularly deserving of praise for its depiction of Native Americans: The Revenant. He noted how Leonardo DiCaprio's character 's son was a native person audiences could identify with, and in a piece for Indian Country Today, Leo Killsback called the film a "game-changer" for its fair, humanizing portrayal of American Indians. The film's Oscar nomination comes more than 40 years after the actress and activist Sacheen Littlefeather appeared at the Academy Awards on behalf of Marlon Brando, who boycotted the ceremony in part to protest the industry's mistreatment of Native Americans.
The Revenant was directed by Iñárritu, which resurfaces the ways in which people of color can and do engage with the deeply specific tales of others. Even in acknowledging their own particular challenges as Asian Americans, Latinos, Native Americans, or African Americans, the filmmakers I spoke with brought up their admiration for the work of other people of color. Rae held up Steve McQueen, Nate Parker, and DuVernay as directors unafraid to confront an ugly past, and went on to lament how little Americans know about, say, Guatemalan American stories. Or Comanche American stories. Or Vietnamese American stories. A sign of how, she said, "We really don't know about ourselves as a nation."
The people I spoke to also, unsurprisingly, expressed varying degrees of optimism for the future of people of color in film. Most recognized that, all things considered, Hollywood is a less white world today than it used to be. But nearly everyone remarked on how little the composition of those in positions of power has changed. Yes, the U.S. will have a plurality of racial and ethnic minorities in just a few decades, but there's no reason to believe this will automatically change Hollywood on a structural level. Boyd, along with Tajima-Peña, pointed to the  whiteness of U.S. political institutions. "If you got a table, and there's 10 seats at the table and 40 people who need to sit down, you've got two choices," Boyd said. "You can either get a bigger table, or somebody's got to get up." He, for one, doesn't see many people being eager to volunteer their seats.
Some recent comments from well-established white figures in Hollywood help illustrate why Boyd and others don't see progress as inevitable. For instance, many critics (and even ostensible allies) have framed the push for diversity as an existential threat to excellence. Michael Caine urged frustrated non-white actors to "be patient" and argued that, "You can't vote for an actor because he's black ...  You have to give a good performance." Charlotte Rampling, who was nominated for her role in 45 Years, has said of #OscarsSoWhite, "Perhaps the black actors did not deserve to make the final list." Joel and Ethan Coen have said they feel diversity, not the Oscars, is important, but took offense at the idea that they, as artists, should shoehorn characters of color into their films. Joel elaborated in an interview with The Daily Beast:
You don't sit down and write a story and say, "I'm going to write a story that involves four black people, three Jews, and a dog,"—right? That's not how stories get written. If you don't understand that, you don't understand anything about how stories get written.
Coen's sentiment seems to boil down to the idea that the story must come first, and the (racial) identities of those characters should be secondary. But buried somewhere in this idea is a delusion shared by many: that diversity and artistry are somehow at odds with one another. Hollywood's persistent failure of imagination, its unwillingness to consider the infinite ways in which a really great story can emerge with a person of color already there, not squeezed in at the casting stages, is yet another reason why #OscarsSoWhite.
The misperception that advocates for diversity in Hollywood care only about awards and optics—about adding a few black or brown faces here and there—allows those with clout to trivialize the problem and deny their ability to fix it. It allows influential individuals to pay lip service to diversity as an abstract virtue, to insist the problem is "important" but ultimately one that's not theirs. And it creates an environment where a profoundly impoverished "conversation" about race—one where millions of minorities are regarded as afterthoughts—can be applauded as "progress."