Remembering Harper Lee
The iconic American author of To Kill a Mockingbird died a few months shy of her 90th birthday.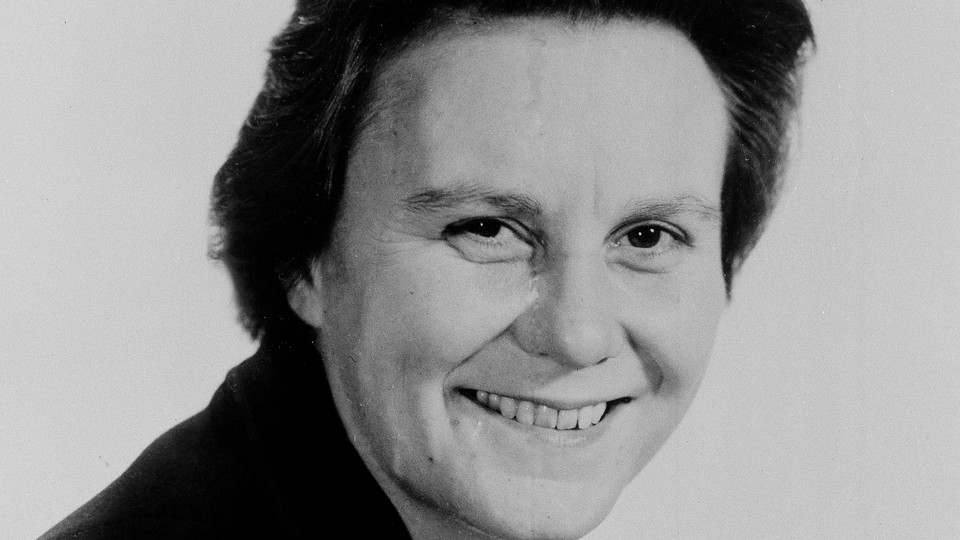 Harper Lee, the iconic American author of To Kill a Mockingbird, died Friday in her hometown of Monroeville, Alabama, her publisher, HarperCollins, confirmed.
In a statement, Michael Morrison, the publishing firm's president, said:
The world knows Harper Lee was a brilliant writer but what many don't know is that she was an extraordinary woman of great joyfulness, humility and kindness.  She lived her life the way she wanted to—in private—surrounded by books and the people who loved her.
Lee, the youngest of four children and the daughter of a prominent lawyer in segregated Alabama, was a few months shy of her 90th birthday. The famously reclusive author had suffered a stroke in 2007 and she spent the last several years in a nursing home not far from her childhood home.
In The Atlantic's 1960 review of Mockingbird, our critic characterized what would eventually become one of the most important works of 20th-century American fiction as "respectable hammock reading" and "sugar-water served with humor."
It is frankly and completely impossible, being told in the first person by a 6-year-old girl with the prose style of a well-educated adult.
It's true that were Lee's seminal book to be released today, it would probably qualify as a Young Adult novel, but its style didn't stop the work about racial injustice from winning the Pulitzer Prize for fiction in 1961, becoming the basis for a wildly popular film, or from seeming dangerous.
As Maria Popova noted in The Atlantic in 2012, entities like Virginia's Hanover County School Board banned the book on the grounds that it was immoral, prompting a reply from the author. Here's one section of Lee's letter from 1966:
Surely it is plain to the simplest intelligence that To Kill a Mockingbird spells out in words of seldom more than two syllables a code of honor and conduct, Christian in its ethic, that is the heritage of all Southerners. To hear that the novel is "immoral" has made me count the years between now and 1984, for I have yet to come across a better example of doublethink.
In a classic flourish, Lee included a "small contribution to the Beadle Bumble Fund" so the members of the school board might enroll in first grade and learn how to read. To Kill a Mockingbird remains one of the most frequently taught books in American schools.
That same year, Lee accompanied her childhood friend Truman Capote to western Kansas to help him research his critical book In Cold Blood. She resisted the literary fame she had been assured, making rare public appearances.
"I never expected any sort of success with Mockingbird," she said in a 1964 radio interview cited by The New York Times. "I was hoping for a quick and merciful death at the hands of the reviewers, but, at the same time I sort of hoped someone would like it well enough to give me encouragement."
The flood rush of praise and encouragement she did receive was, in her words, "just about as frightening as the quick, merciful death I'd expected."
Decades later, the national discourse still drifts along the dividing lines amplified by her first great work. Last year, the long-sought follow-up to Mockingbird, Go Set a Watchman, appeared, but not without controversies over whether Lee had wanted the work published at all as well as the late-in-life tarnish placed on Atticus Finch, the first book's unimpeachable hero.