Hannibal Buress: Enough With the Cosby Business
The comedian's hour-long Netflix special, Comedy Camisado, is a polished riff on his growing fame.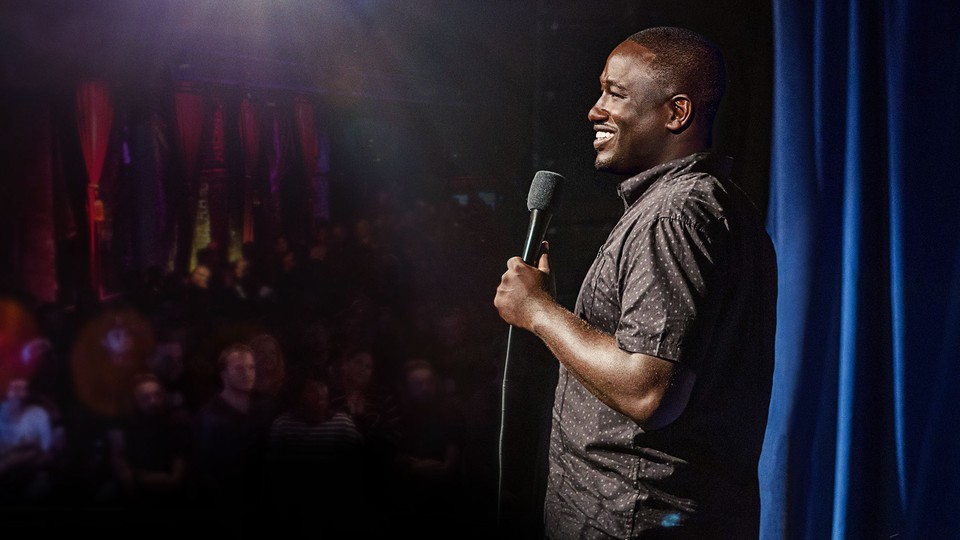 Hannibal Buress was already a well-known standup with three great albums to his name and a burgeoning acting career when he became known as the comic who spurred the downfall of Bill Cosby. It's a strange note to have on any resumé, and from the looks of Buress's latest Netflix special Comedy Camisado, it's one he's eager to live down. Filmed in a smallish Minneapolis theater, the hour-long set sees Buress largely discussing his life on the road, but he also touches on the newspaper headlines about his Philadelphia standup bit that referenced the long history of rape accusations against Cosby.
"I was just doing a joke at a show! I didn't like the media putting me at the forefront of it. They were sly, dissing me in the news: 'Unknown Comedian Hannibal Buress...'" he jokes. "'Homeless comedian Hannibal Buress took the stage in Philly, covered in rags…'" Comedy Camisado is being hyped as Buress closing the book on his reputation as a Cosby-slayer, but it's more a work of bemused reflection on that time in his life. Buress has the confidence of a comedian who was already a rising superstar before a slew of newspaper headlines began wondering who he was, and his latest special coasts on that trajectory rather than trying to move in a new direction.
Buress, to his credit, has always been very self-aware about the Cosby business, recognizing the irony that it took a male comedian talking about the accusations against him to ignite the issue in the media again. Though his comedy often slyly tackles issues of race and institutional discrimination (the shaggy dog story "Apple Juice," from his second album Animal Furnace, is a required listen), Buress isn't a polemical standup. In a recent appearance on The Daily Show With Trevor Noah, Buress recalled a disastrous appearance in South Africa, where some attending journalists knew him only as an advocate and were surprised when he started telling jokes.
With Comedy Camisado, Buress is pumping the brakes and getting back to what he does best—telling strange, windy stories of surreal encounters in airports or bizarre chats with strangers that somehow manage to elicit belly laughs even if they don't lead toward a conventional punchline. Buress has always had one of the most captivating delivery styles in the comedy business: quiet, conversational, then suddenly building to amused rage. It's what helped him stick out as the supporting character Lincoln on Broad City, it's what's helped him carve out a burgeoning film career in comedies like Neighbors and Daddy's Home, and it's what keeps Comedy Camisado afloat even as it struggles to match the strength of his previous hours.
Buress is still a pleasure to watch, but he's run into a problem that besieges a lot of observational comedians as they get more and more famous: His material is mostly about life as a comedian, doing tours, and grappling with increasing recognition as occasional TV appearances blossom into full-fledged, on-screen careers. One of Comedy Camisado's longest stories is about a hotel clerk denying Buress access to his room because he forgot his ID, even as he protests that she can just look him up online. It's funny (and he pulls it off by never quite sounding outraged), but the bit skirts close to Buress asking "Don't you know who I am?"
On his first album, My Name Is Hannibal, Buress tended more toward the absurd, whether he was noting the pointless existence of the "Fire SUV" that travels along with the fire trucks, or spending minutes musing on the flavorful potential of pickle juice. On his second album Animal Furnace, Buress was more focused on love and intimacy, bluntly tapping into real emotional turbulence alongside his more whimsical digressions. But on Comedy Camisado, things sound like they're generally going well for Buress. He has a career, he's in a solid relationship, and his big joke about Cosby amounts to, "Hey, I was already pretty famous when these papers started writing about me." His confidence even comes through in the small venue he chose to film the special in: Buress has nothing left to prove, nor should he.
If anything, Comedy Camisado (the name refers to a military term for a sneak attack at night, but has no bearing on the jokes within) feels like a holding pattern for Buress as he decides what to do next. It's not dissimilar from Aziz Ansari's Madison Square Garden album, or Louis C.K.'s Live at the Beacon Theater, all of which came at high points for their respective stars, and were followed by stranger, more introspective TV works. Buress's first solo television show, Why? With Hannibal Buress on Comedy Central, failed to catch fire, but he's already started talking about branching out and doing something scripted for Netflix. He'll never stop being funny onstage, but the lesson of Comedy Camisado was that there's perhaps no new ground left for Buress to break on that front. A change could do him good.