Grease: Live Makes the Best Case Yet for the TV Musical
The Hamilton director Thomas Kail offered up a spectacularly creative and unexpectedly successful production.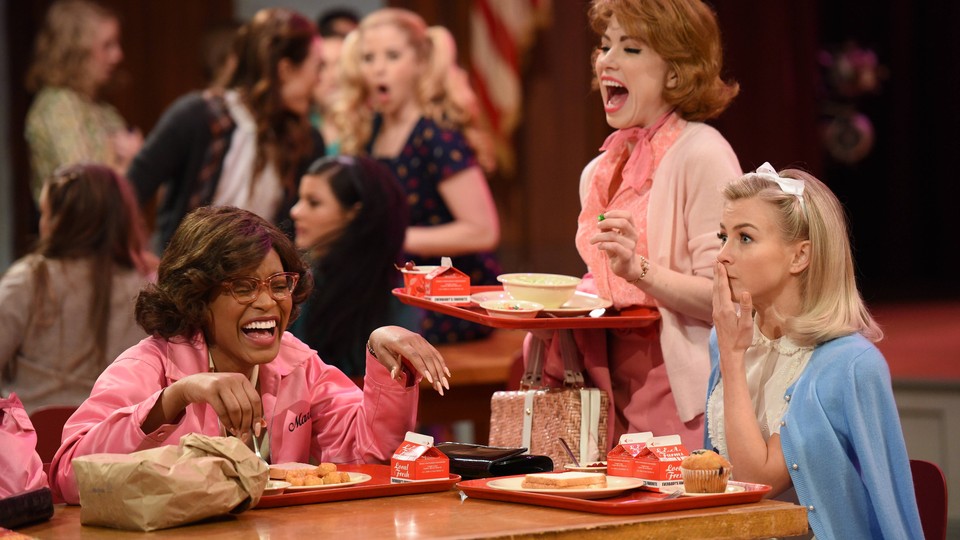 At the end of Grease: Live, when the cast of the three-hour televised production bounded offstage, loaded into branded golf carts, and drove through the rain to get to a vast, arena-sized funfair, singing all the while, it felt like Fox giving a polite but pointed middle finger to NBC. It was, after all, the peacock network who kickstarted the live musical event™ revival with 2013's The Sound of Music Live!, but it was Fox who proved definitively on Sunday night that the genre can be something other than fodder for hate-watching and tweetable moments.
There are a considerable number of reasons why this might be: The direction by Thomas Kail, better-known for a musical you've perchance heard of about one of the Founding Fathers that rhymes with schmamilton; the cast; the fact that Grease, being the highest-grossing movie musical of all time, is simply a better product to work with than, say, the eccentrically dorky Peter Pan. But the one factor that seemed to work in Fox's favor more than any other came from something NBC has now thrice eschewed: an audience. The presence of teenage spectators, who did double duty throughout the night playing extras in gym scenes or crowds at a pep rally, gave Grease: Live an energy that all its forebears have lacked, despite the zingy exclamation point NBC tacks on to the title of all its Live! events.
What was so remarkable about the production was how adept Kail, a theater director, seemed to be with the medium of television. NBC's three live musicals have been shot on a closed soundstage in Queens, incorporating the worst elements of high-concept theatrical shows (endless rehearsal time, low-rate special effects) and network television specials (ridiculously frequent ad breaks, stilted acting). Kail, by contrast, filmed Grease: Live on 22 acres of outdoor space at the Warner Bros. Studio lot in Los Angeles, allowing cameras to zip between scenes, through sets, and around the actors as they hand-jived in the gymnasium and high-kicked at cheerleading practice outside the school.
In some ways, the production felt like a faithful remake of the 1978 movie adaptation starring Olivia Newton-John and John Travolta, scaled out to meet its actors' most long-cherished musical-theater dreams (and with its more risqué lyrics pruned for younger viewers). Julianne Hough, a TV veteran at the tender age of 27 thanks to her recurring appearances on Dancing With the Stars, played the doe-eyed ingenue Sandy, with her backstory edited to better reflect Hough's (she's from Salt Lake City, not Australia). The Broadway star Aaron Tveit played the greaser Danny Zuko, and if he left viewers occasionally longing for some of Travolta's edge, both he and Hough proved to be powerful performers, with an extra cheerleading scene thrown in to showcase Hough's dance skills.
Still, Grease is truly an ensemble piece, and the cast Kail assembled around his two leads almost threatened to obscure them. The actress and singer Keke Palmer, playing Marty, simply crushed a fantasy scene inserted into a sleepover, where the song "Freddy My Love" became a USO show spectacular for Marty to entertain the troops. As Rizzo, Vanessa Hudgens (High School Musical) demonstrated the theatrical chops that recently earned her the starring role in an ill-fated Broadway revival of Gigi, capturing her character's combination of ice-cool composure and crushing insecurity. The former Saturday Night Live star Ana Gasteyer and Haneefah Wood, as Principal McGee and her much-maligned assistant, Blanche, acted as superb comic relief, although the script's Cold War-era zingers about fallout shelters and "duck and cover" training possibly went over the heads of younger viewers who'd tuned in to see Joe Jonas.
About that: Jonas was mostly relegated to eye candy with his band, playing jive numbers amid punch-spiking and dirty dancing and the ritual humiliation of Patty Simcox (the aptly hyperactive Elle McLemore). But for anyone who missed him, there was Carly Rae Jepsen as Frenchy, singing the show's only clunker of the night, a new song called "All I Need Is an Angel" that seemed like a glaring tonal error. And for (slightly) more mature viewers, there was Boyz II Men, a few decades older but no less deft with the harmonies, joining forces to play Teen Angel. If there were to be a critique of this moment, which only the most mean-spirited person could offer, it would be that Boyz II Men are lovers, not haters, and thus the acerbic nature of Teen Angel's wisdom ("spending all that dough to have the doctor fix your nose up") was mostly lost amid the soulfulness.
Still: Boyz II Men. And Mario Lopez, playing Vince Fontaine. And Jessie J, kicking off proceedings in a tube top singing the title song. And Grease's original Frenchy, Didi Conn, playing Vi the diner waitress, and its original Doody, Barry Pearl, playing Mr. Weaver. And Wendell Pierce (The Wire's Bunk Moreland) as Coach Calhoun. It's like Fox took all the best elements of the British pantomime tradition (aggressive celebrity cameos, audience interaction) and fused them with big-budget movie-making and Tony-winning direction to make a musical-theater experience NBC could never, ever top.
But Grease: Live was also a reminder that casting goes a long way. No small amount of Laura Benanti can make up for a Maria who's more wooden than an alpine skiing lodge, and for the most part, Kail's main ensemble boasted serious live-theater chops. It remains to be seen whether Fox's upcoming The Rocky Horror Picture Show Event or a Tyler Perry-hosted live production of The Passion will emulate this success. But for now, the network has shown what can be done with live theatrical events, and set the bar higher than many skeptics (ahem) might have ever imagined possible.