Can Art Trump Trump?
Two artists have repurposed the presidential candidate's campaign bus in order to critique his controversial views.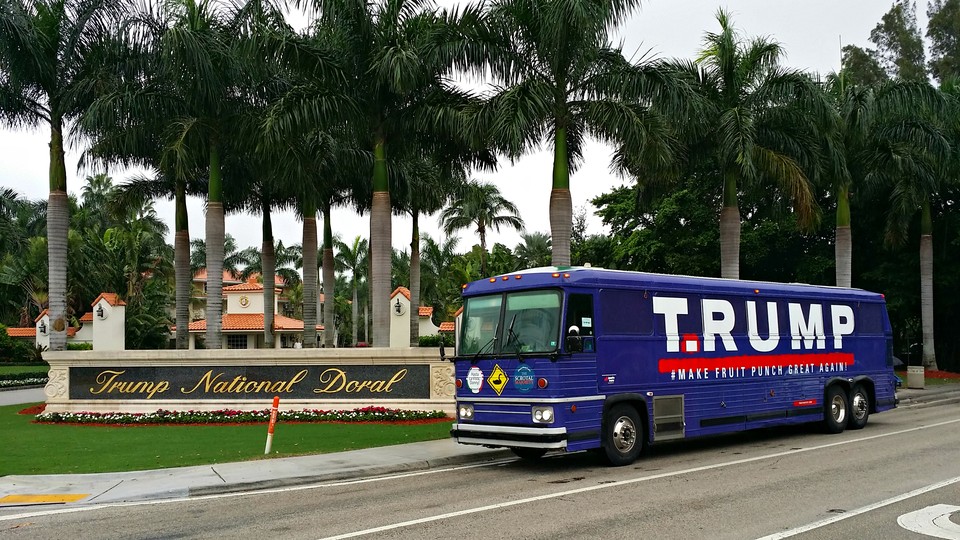 In October 2015, the artists David Gleeson and Mary Mihelic purchased a Donald Trump tour bus on Craigslist.
It was the start of an art project that for the last few months has seen the newly dubbed T.RUMP Bus on the trail from Philadelphia to Miami Beach to Iowa. Gleeson and Mihelic, who cofounded the art collective t.Rutt, began by reappropriating the bus with a cheeky first accent—"Make Fruit Punch Great Again"—but the Republican presidential candidate's controversial declarations soon sparked new additions.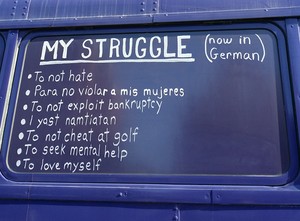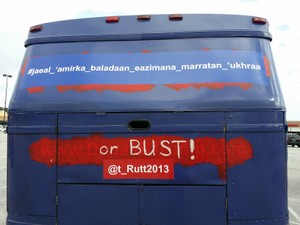 After Trump proposed banning Muslim immigrants from the U.S., the artists added an Arabic translation of "Make America Great Again" on its back windows; after he claimed he could shoot someone in the middle of New York City without hurting his campaign, they appended a bullet-point list of Trump's "struggles," based on Adolf Hitler's Mein Kampf, that includes "to not hate," "to not exploit bankruptcy," and "to not cheat at golf." When the artists park at a rally, Gleeson takes to the bus's roof to hit balls covered in Trump's face with a golf club.
T.RUMP Bus is one of a host of art works inspired by the 2016 election, many of which feature distortions of the Republican frontrunner's visage. Like the candidate himself, some aim for cheap shots rather than substantive commentary: One reinvention of Shepard Fairey's iconic 2008 "Hope" poster calls Trump a "potato with butthole lips"; the street artist Hanksy's painting on a building in New York explicitly compares Trump to feces; a U.K. mural of Trump's face was painted only to be defaced by the artist, who reportedly threw eggs at it after he was finished. But the T.RUMP Bus in particular seeks to complicate the public's understanding of the GOP's most controversial figure by using his own performative tactics against him.
"When this huge bus pulls in, it's such a spectacle," says Mihelic, who calls Trump a "performance artist" in his own right. "It actually draws all the people over, and we really engage with the public in a great way about Donald Trump—with the lovers, the haters, and the undecided."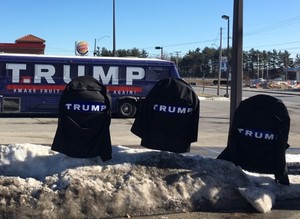 The bus normally causes a stir wherever it goes. On the road, the artists regularly get Trump supporters taking selfies with the bus and Hillary supporters calling them Nazis—until each group realizes what the bus is actually saying. Most recently, the artists have started showcasing burqa-covered Trump campaign posters near the bus when they're parked.
"We try to create a moment or a pause," says Gleeson. "We have something that is equally grand that counterbalances that big emotional presence that [Trump] tries to stoke. Hopefully it enables people to think about what the American political process is, and who this man is, and why is he has such an appeal, and to hopefully get a little smile out of it too."
Other artists who've been inspired to satirize Trump have similarly focused on his inflammatory remarks. The artist Sarah Levy used a tampon to paint a visceral portrait of Trump out of her own menstrual blood after his now infamous remarks about the Fox News anchor Megyn Kelly. In a defense of her work, she wrote, "I think there's a way to use art, especially if it's a little humorous, to begin to deflate Trump's arrogance," and emphasized that her painting was meant to provoke conversation about women's issues. Conor Collins, a British artist, created an image of Trump purely out of the statements from the candidate's Twitter, speeches, and interviews that he viewed as racist, sexist, or bigoted in some way—implying that Trump's fear-mongering language is the only thing he's made of.
Trump isn't the only candidate to inspire art—street artists have also critiqued Hillary Clinton and Bernie Sanders through several series of posters. Meanwhile, Ted Cruz has emerged as the darling of some anonymous street artists, who have used his name in conjunction with the Mockingjay symbol from the popular series The Hunger Games in order to paint him as a revolutionary.
"[Gleeson and I] don't do this stuff lightly," says Mihelic—the two artists have discussed the possible impact T.RUMP Bus could have on their personal safety. Just days after Trump's anti-Muslim comments, someone threw a pig head at a mosque in the Philadelphia neighborhood where the bus was parked. But Mihelic counts among her heroes the radical feminist art collective the Guerrilla Girls, and ultimately believes the risk of engaging in political dialogue with her art is worth it: "The role of the artist in history is to implement change."