Alexander Chee on What Writing Parties Reveals About Characters
The author of The Queen of the Night describes how a scene by Charlotte Bronte showed him the dramatic stakes of social interaction in fiction.
By Heart is a series in which authors share and discuss their all-time favorite passages in literature. See entries from Karl Ove Knausgaard, Jonathan Franzen, Amy Tan, Khaled Hosseini, and more.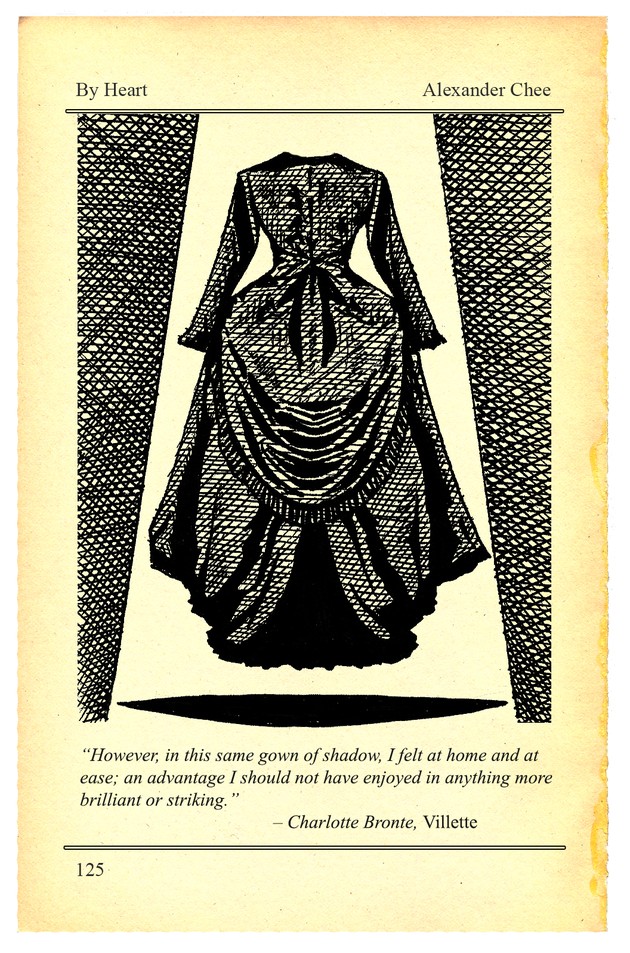 A few years ago, the publishing imprint Picador asked writers to share their favorite party scenes from literature. Many classics were cited—the finale of Mrs. Dalloway, Joyce's winter-bleak "The Dead," Bilbo's birthday celebration in The Fellowship of the Ring, Jay Gatsby's wild Friday nights. But one writer, the award-winning novelist Jim Crace, had a different take. "I hate parties," he wrote. "Come on, admit it, everyone hates parties. Stop pretending."
It's a reminder that parties, as fun as they can be, often also provoke profound anxiety and dread—and that dichotomy is one reason Alexander Chee, author of The Queen of the Night, loves writing about them. For Chee, parties are essential dramatic tools in fiction: They're supercharged with action, intrigue, and uncertainty. In our conversation for this series, Chee looked closely at a pivotal scene in Charlotte Bronte's Villette, where a play is put on during a lavish ball. In Chee's view, Bronte offers an apt metaphor for how parties work: We're all acting, and the roles we choose and costumes we wear say everything about us.
It's been almost 15 years since Chee's acclaimed first novel, Edinburgh, was published in 2001. It's clear why this one took him so long: The Queen of the Night is a multi-stranded, thoroughly researched epic about the world of 19th-century French opera. The main character, a soprano with a harrowing past she is ashamed of, is offered a starring role in an production written specifically for her by an anonymous composer; to her horror, she discovers that the work contains details about her secret life. In our discussion, Chee explained how Villette helped him become more comfortable writing about 19th-century mores, and imbue performance scenes with dramatic force.
Chee's essays and stories have appeared in The New York Times Book Review, Tin House, Slate, Guernica, NPR, and Out, among others. The winner of a 2003 Whiting Award, he inspired the idea for the much-discussed "Amtrak residency" and curates the Dear Reader reading series in New York City, where he lives.
---
Alexander Chee: I had a writing teacher once who told us writers should never describe parties. If possible, she said, we should avoid it. It might have been her own disinclination for parties, even though she seemed to be a very social person. Or it may have been that she was simply tired of the way undergraduates wrote about parties. But her advice made the description of parties incredibly taboo to me, and gradually, I knew, I would have to write about them.
The qualities that make parties such a nightmare for people—and also so pleasurable—make them incredibly important inside of fiction. There's a chaos agent quality to them: You just don't know who's going to be there, or why. You could run into an old enemy, an old friend, an old friend who's become an enemy. You could run into an ex-lover, or your next lover. The stakes are all there, and that's why they're so fascinating.
In my first novel, there's a party scene that I'm incredibly proud of, which I would hold up as a model to anyone. But that was the kind of party I was very used to—kids in college, someone's family isn't home—which made it easy to write. My new novel presented a very different challenge. I had zero experience with the parties of the 19th century. (Most of us alive, I guess you could say, really don't.) When you're writing historical fiction you have to think a little farther into the situation: what the average social interactions were, what was acceptable behavior. What did people think was fun, what did they find unhappy, and why?
I knew I wanted the parties in The Queen of the Night to be convincing, beautiful, and also dramatic, situations where significant things happened on a scale that was both grand and intimate.
There were several texts that helped me think about how to do this and one of the most important ones was Charlotte Bronte's novel Villette. The heroine, Lucy Snowe, is not particularly beautiful, but is incredibly intelligent, and was born into unfortunate circumstances. She has ruthless standards of behavior for herself and others that she believes protects her, and so parties are almost like battles for her, over her identity, even her soul.
There's a party in Chapter XIV, "The Fete," which beautifully demonstrates the dramatic stakes. Lucy has left England for France, and is working as a teacher at a boarding school for young women there. The party is an annual one, celebrating the headmistress, Madame Beck, and involves a short play performed in her honor as well as dancing.
On the grand scale, it brings out the world of the novel and the larger political context of the era. The students and teachers are from different parts of the world, and there's a lot of commentary about what is English and what is French, so their two nations' longstanding conflict with each other gets rendered as a sort of banter. That was useful for me to see as the parties in The Queen of the Night have international guests, some of them very important diplomatic or aristocratic figures, some of whom had been at war or were about to be at war, or were spying on each other. Seeing how that plays itself out in the minutiae of these parties was part of what I was looking for.
But "The Fete" does its best on a smaller scale, bringing out dynamics between the main characters. One of the things that's really important in Queen of the Night is how people communicate with their clothes. We start to see that, here, before the party even begins. There's a great scene where Lucy is thinking about how everyone will dress, and also how she will dress, and is anxious about it. As she watches a group of young girls preparing for the evening, dressed in muslin, she can't see herself in their brilliant white outfits:
In beholding this diaphanous and snowy mass, I well remember feeling myself to be a mere shadowy spot on a field of light; the courage was not in me to put on a transparent white dress: something thin I must wear—the weather and rooms being too hot to give substantial fabrics sufferance, so I had sought through a dozen shops till I lit upon a crape-like material of purple-gray—the colour, in short, of dun mist, lying on a moor in bloom. My tailleuse had kindly made it as well as she could: because, as she judiciously observed, it was "si triste—si pen voyant," care in the fashion was the more imperative: it was well she took this view of the matter, for I, had no flower, no jewel to relieve it: and, what was more, I had no natural rose of complexion.

We become oblivious of these deficiencies in the uniform routine of daily drudgery, but they will force upon us their unwelcome blank on those bright occasions when beauty should shine.

However, in this same gown of shadow, I felt at home and at ease; an advantage I should not have enjoyed in anything more brilliant or striking.
Lucy is anxious to look appropriate to the situation even as she does not want to draw attention to herself. She's hoping to choose her dramatic role in the evening, aware that the whole thing is a play of a kind, not just the one rehearsed event. Party clothes say so much about what someone wants to communicate to other people about themselves, as well as what they're also feeling about themselves, and whether what they're making makes them feel more or less powerful. And the "gown of shadow," is such a fantastic phrase: turning her mousy attire into something transfiguring and even powerful for a brief moment. At the beginning of that section she's a shadowy spot on a field of light. And by the end of that description, she's the gown of shadow.
And, as I read it, I can see how this phrase, "gown of shadow" became incredibly important as an image in my own novel, and I suspect this is where it comes from. Also this sense of being dressed and hidden at the same time.
In fiction, I think, you're always working with who your characters are and who they believe they are. You're telling a story that's about both of those people. At a party you see, most of all, who they aspire to be, a kind of theatrical role they hope to assume—it's not just Lucy Snowe doing this. And so the costume we are in, as it were, matters hugely—and Bronte makes that overt in this scene, when an emergency requires Lucy to play a part in the little play that's going to be put on: One of the male actors has fallen ill, and she's forced to step in. She's told she must dress as a man for this. And so, she's unwillingly being drawn into the center of attention even as she's already being disguised by the costume that she must wear. That is a wonderful paradox of forces to subject someone like Lucy to—someone who is hoping to simply wear that gown of shadow and slip by, watching from the edges and certainly not be at the center of attention.
These kinds of entertainments were very common back then; it was typical, at these parties, to have a tableau vivant or charade, play, or operetta, as part of the game of the evening. The play doubles as a kind of metaphor for the way a party brings out certain elements of a character's personality, and Bronte pulls that off masterfully here.
Lucy refuses to wear a man's clothes—and instead consents to wear some of each, becoming kind of a hermaphoditic presence—and this affects the way the other characters, especially the female characters, relate to her as the night goes on. Meanwhile, one of the other characters, Ginevra, plays the coquette between two suitors, one of whom is the character Lucy is playing—and this is a role Lucy will continue inhabiting during the rest of the evening. For both, the drama they perform in becomes truer than might have been thought.
With this, Charlotte Bronte introduces a story within a story, another thing that I wanted to do in The Queen of the Night with my character who fears her voice is cursed, dooming her to repeat the fates of the characters she's performed. This kind of doubling was important for me to create throughout the novel.
And so I really disagree with my old writing teacher. It's a commonplace of teaching writing that the story really takes off when your characters speak to each other. But I think when your characters go to a party, so much more is possible than can happen in just a simple conversation. The kinds of surprising developments here are exactly what you want to have come forward in the novel. Parties aren't to be avoided—they could even be said to be paramount.