Black-ish and How to Talk to Kids About Police Brutality
The sitcom aired a powerful episode centered entirely around a family discussion of race and the criminal-justice system—a too-rare event for network TV.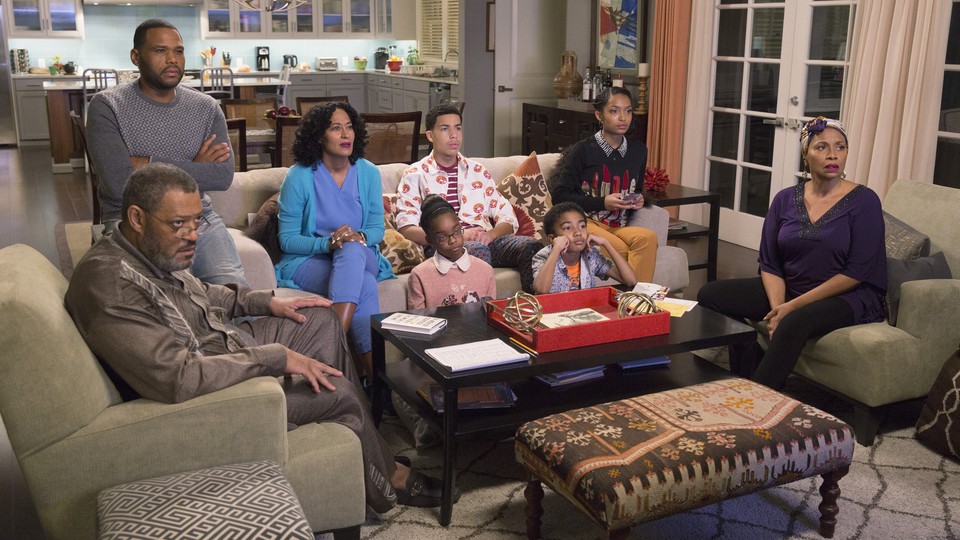 There are disappointingly few shows on network television right now that could air the kind of episode Black-ish aired on Wednesday. Not only did "Hope" consist entirely of black voices discussing police brutality, the shootings of unarmed civilians, and a legal system that seems geared toward protecting bad cops; it also managed to be a funny sitcom at the same time. This was despite the fact that it took place in one room and bore the marks of a "very special episode," the kind of preachy material that frequently graced American televisions in the '80s and early '90s. "Hope" was a special episode done right.
The ABC sitcom, now in its second year, is not the only show on network TV that grapples with these issues. Scandal's "The Lawn Chair," in 2015, reflected the nightmare of Ferguson in a powerful episode; NBC's wonderful sitcom The Carmichael Show structures itself every week around an issue affecting the African American community, including a fantastic episode titled "Protest" that used a fictional instance of police violence against an unarmed suspect as a jumping-off point. But The Carmichael Show, where the youngest characters are in their 20s, focused more on generational divides, while Black-ish's "Hope" saw its protagonists talking out the issues with their confused, angry, and thoughtful children.
The show's creator Kenya Barris told The New York Times he was inspired to do the episode after watching protests over Eric Garner's death and debating how to frame the debate, and answer the questions, of his young children. In the episode, Andre (Anthony Anderson) and Bow (Tracee Ellis Ross) are divided over how honest (and bleak) a picture they should paint for their kids, including their teenagers Zoey (Yara Shahidi) and Andre Jr. (Marcus Scribner), and their younger twins Jack (Miles Brown) and Diane (Marsai Martin). The show is usually an airy family comedy that pokes at Andre's relative affluence compared to his tougher self image; but while it frequently includes issues of race in its sitcom plotting, "Hope" dealt with its subject matter with uncommon seriousness.
The episode's format was, as Barris put it, like an "overheard conversation," taking place in the living room as the family watched the news to see if a police officer would be indicted. While the case was fake, the family members invoked many real names in their discussions: Garner, Tamir Rice, Sandra Bland, Freddie Gray. Part of their overall despair came from the increasing difficulty of keeping so many distinct travesties of justice straight. Andre tended toward pessimism (his typical lane on the show) while Bow worried about tarring every cop with the same brush. Still, their divides felt emotional rather than ideological, focused on the most truthful ways to talk about the protests and shootings with their children, which kept the entire half-hour from getting too didactic.
Like The Carmichael Show (a laugh-track sitcom much more in the classic Norman Lear style that is very much worth seeking out), there was also plenty to be mined from different generations' perspective. Andre's father Earl (Laurence Fishburne) grunted that cops were just thugs, while Junior started talking about larger structural racist systems in place, inspired by The Atlantic's Ta-Nehisi Coates. The episode included video footage of Coates speaking on TV, and Barris said that while the usage was cleared with him, the clip wasn't recorded specifically for the show—"The footage we used worked perfectly because this is something that has happened time and time again," he told The Times.
Eventually, the episode's arguments began to ping-pong a little too smoothly—Bow's defenses of the justice system grew a little too vociferous, perhaps in an effort to make sure every side of the discussion was fairly represented. But "Hope" ended on a monumental note, as Andre reminded his wife of the family's pride at watching President Obama take office, balanced against their fear that he'd be taken away by an assassin's bullet even before his inauguration had finished, dashing the hopes they dared have for their children. It was a theatrical speech that could have landed poorly, but Anderson managed to sell it completely with genuine heart. Just as powerful was his daughter Zoey's confession that she felt hopeless in the face of so much dialogue about seemingly never-ending tragedies—an acknowledgement from the show that no matter how much talking happens, real change never seems to come.
Hearing all that, you might find it hard to believe that "Hope" was a funny episode of television, but it was, somehow mixing all of this debate with the zippy banter the family engages in every week (mostly involving Dre's hilarious mother, Ruby, played by Jenifer Lewis). Black-ish's continued presence on the small screen, and ABC's willingness to let it talk about more charged issues in depth, is a strong reminder of why network television needs more families that look like the Johnsons on screen. This kind of episode doesn't need to air every night—but they don't air nearly often enough.