Why Short Films Are Still Thriving
Though the medium is no longer mainstream, the Internet has given filmmakers the space to challenge Hollywood's creative shortcomings.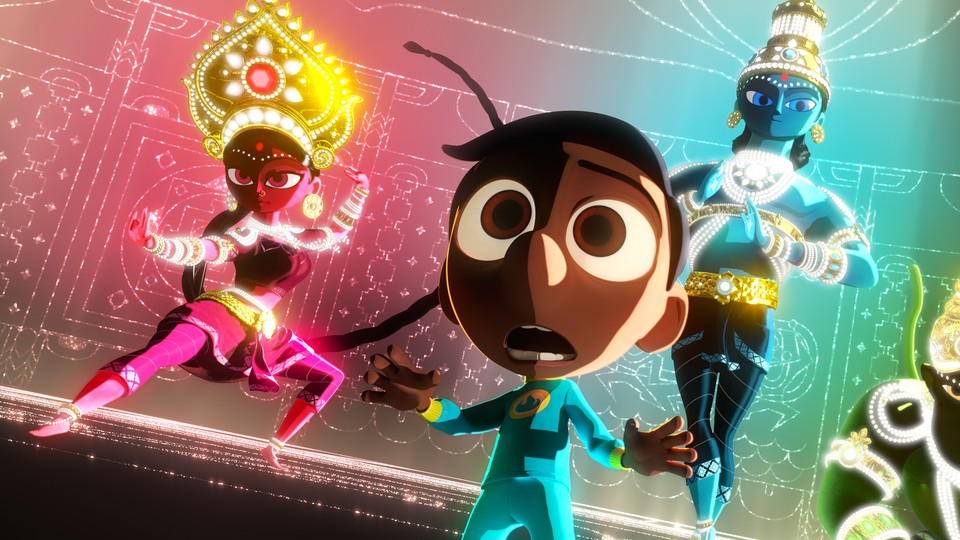 It's night. The city lights twinkle. A man and woman stand in the middle of an empty road. They're awkward, but adorably so. He's about to kiss her until—
"CUT! I don't like this." A man explodes out of his stomach—the kisser is revealed to be a puppet, controlled by someone else, who isn't happy about how the first-kiss scene is proceeding. Another "puppeteer" erupts out of the woman's body and retorts, "Get back in your people puppet; this is amazing!"
"It's clichéd, I've seen it before!" says the first man, unimpressed.
The two exasperated puppeteers discard their human-sized dolls and begin to fight with fists; in a whirlwind, a sword, a cat, and a jar full of coins materialize as weapons. "This movie could have been awesome!" one exclaims before landing a punch—until it's revealed that the puppeteers are also puppets themselves. With an irreverent spirit and a pointed twist on the repetitive conventions movies often rely on, the film Puppets, created by the directing team Daniels, manages to set up and invert the viewers' expectations—all in less than three minutes.
Puppets is one example of how some of the most creative and engaging stories today are being told through short films, even as the genre remains marginalized in the cultural mainstream. Defined by the Academy of Motion Pictures and Sciences as any film under 40 minutes, the medium has never quite established a model for profitability, and only a few shorts attain the hundreds of thousands of views that most Buzzfeed videos gather within a matter of hours. But more recently, the Internet has allowed people outside the studio system to create and distribute their own work, and has helped filmmakers reach viewers around the world with unprecedented ease. As a result, short film is again becoming a vibrant and original medium in a blockbuster-driven, reboot-riddled industry.
Part of the challenge with short films is that there are very few ways for their creators to make money off them, which means often the only people working in the field are students and a handful of auteurs. But the lack of pressure to be profitable also enables short filmmakers to take risks, and the subculture surrounding shorts rewards pioneers in the genre. In order to be successful, a short film has to build up characters and conflict within minutes, if not seconds. It's what Nicole Grindle, the executive producer of Sanjay's Super Team, calls "a storytelling puzzle," but while it's extremely challenging, she says, it's also "inspiring and rejuvenating for all involved."
This year's Oscar-nominated animated and live-action short films are a celebration of the medium's creativity. My colleague David Sims has noted how the animated short World of Tomorrow is one of the most original and thought-provoking films across all categories. Sanjay's Super Team, Pixar's first cartoon by a director of Indian origin, is considered one of the studio's best, and has been lauded for its personal take on immigrant parents and their more assimilated children. The live-action vignettes transport viewers around the world, from Albania to Afghanistan, and tell heart-wrenching stories of friendship, family, and war.
But the Oscar-nominated shorts represent just a fraction of the breadth of stories being told through the format, especially online. Shorts provide a rich training ground for aspiring filmmakers and artists, and some even make it to the big screen: Daniels, the directing duo behind Puppets, just won the Sundance directing award for their first feature, in which Daniel Radcliffe played a farting corpse; the Duplass brothers (Safety Not Guaranteed, Togetherness) began their careers making shorts; and the directors Jason Reitman (Juno, Up in the Air), Jean-Marc Vallee (Dallas Buyers Club), and Jason Winer (Modern Family) all used shorts to display their talents before moving toward features and television. Other Hollywood luminaries like Spike Jonze and Wes Anderson have continued to make short films even after achieving box-office success.
Short film also has a well-established presence at festivals, and there are now dozens of shorts-specific fests: The Palm Springs International ShortFest is the largest showcase of shorts on the continent, and the Sydney-based TropFest claims to be the largest short-film festival in the world, having gathered an audience of more than 100,000 for its 2016 festival on February 14. This year's Sundance Film Festival showed a renewed commitment to shorts, adding them to two new categories that previously only screened features.
But according to Cynthia Felando, a film and media studies lecturer at University of California Santa Barbara, Hollywood's tendency to view shorts as useful only as "calling cards" that demonstrate the talent of a new filmmaker actually marginalizes them further. By relegating the medium to second-tier, the film establishment tends to ignore shorts' stand-alone creative potential. Some "proof of concept" shorts, like Damien Chazelle's Whiplash or Ruari Robinson's mind-boggling The Leviathan, are made specifically to give potential investors a taste of a filmmaker's vision. "Hollywood seems not to recognize the value of shorts as a unique and worthy production form, in terms of both art and entertainment," Felando told me in an email.
Beyond being largely discounted by their own industry, short films don't draw a large audience in the cultural mainstream either. Despite the increasing popularity of the Oscar-nominated shorts' theatrical screenings in the months leading up to the ceremony, short films aren't the type of content to frequently pop up in your newsfeed; they can be difficult to find unless you go looking, either at a film festival or online. In a 2014 piece in The New Yorker, Richard Brody points out that there's no established mainstream showcase for shorts, and that "good short films don't get the attention they deserve." However, he argues that short film "can act as the fling of a stake far into uncharted territory ... the short film doesn't supplant the feature; it nourishes it." Having a thriving, supportive short-film community enables individual artists to challenge the established conventions of the feature and test out ideas that wouldn't necessarily bring in studio backers, but are invigorating to watch—a sentiment often associated with independent film in general.
Shorts didn't always operate on the cultural periphery. The first films in history would qualify as shorts: The first motion picture, Arrival of a Train at La Ciotat, made by the Lumiere Brothers in 1895, is only 46 seconds long. Even after the feature took over as the prominent form starting in the 1910s, shorts remained a fixture through the mid-1950s. One of the most famous shorts of all time, Luis Buñuel and Salvador Dalí's famous 1929 work of surrealism Un Chien Andalou—remembered in particular for the unsettling scene where a man slits a woman's eyeball open—had an eight-month run in Paris when it first was released. From the late-'40s to the mid-'50s, all the major film studios actively produced and screened shorts in movie theaters, usually right before the feature started (a practice only Disney and Pixar have continued). But due to commercial pressures in the '50s and '60s, theaters shifted toward showing more previews instead of shorts, and by the end of the '60s, short films had all but disappeared from the mainstream.
However, as the '90s boom in cheaper technology like camcorders and DSLRs lowered the barrier of entry for filmmakers, short film began to make something of a comeback, albeit on the fringes. The revival was cemented with the founding of YouTube in 2005, which created a widespread platform to both distribute and view short films. Ten years later, the Internet is full of short-form videos, from how-tos to memes to music videos to vlogs. So it might seem like animated and live-action short films, distinct in artistic intent, would be ideally suited for the 21st century. But shorts haven't regained their former glory.
Part of the problem lies with the Internet itself. With seemingly endless choices lurking in the vast amounts of online content, the audience for different media has fractured. "The Internet has redefined popularity," says Jason Squire, an associate professor at USC's film school and the author of The Movie Business Book. "Because it has no borders, the Internet is a salad bowl of all sorts of expression. This is both good and bad for filmmakers who are serious about building a career." While it's easy to put a film up online, it's even more difficult to stand out—especially because shorts, which tend to favor a slower build up for a bigger pay off, have to catch their viewers' interest within seconds in order to capture the Internet surfer's shorter-than-a-goldfish attention span.
On top of that, shorts have a somewhat stuffy reputation. "You say short film, and people think dark rooms in Polish film festivals where there are dogs being chased through forests," says Fabien Riggall, the founder of U.K.-based short-film festival distributor Future Shorts. "But it's not. It's Kanye's Runaway, it's Woody Allen. But if you say short films, but it's a turn off—it's experimental, it's beginner.
Nevertheless, short filmmakers and aficionados have made their mark online, especially if you know where to look. The sheer number of shorts (a search for "short film" on YouTube, for example, yields more than 30 million results) has led to the rise of curation sites like Vimeo Staff Picks, Film Shortage, and Short of the Week.
According to Jordan McGarry, the head of curation at Vimeo, the site isn't focused on unearthing viral videos. "It's about finding a solid audience of people who really appreciate that kind of work," she says. "It's not the same number of people watching a cat video on that other well-known video site, but that doesn't mean it's an insignificant number of people." Other metrics besides view count have become more important—original ideas, high production value, and risk-taking. By decreasing the pressure to appeal to the mainstream, Vimeo Staff Picks has become a leading hub for some of the most innovative work online. For example, the home page this week featured playfully rendered objects dancing along to an electronic beat and a watercolor-esque animation of two elderly swimmers who dive deeper than usual and touch another world at the bottom of the pool.
For Short of the Week's curators, the focus has shifted from the audience to the creators themselves, and the organization works hard to provide constructive criticism on all films that are submitted to them and support to those they do choose to highlight. "Short film didn't take over the Internet unfortunately," says Jason Sondhi, the site's co-creator. "But we saw that there was a huge audience of filmmakers and creative people who were looking at short film on the Internet as a place to get discovered, as a place to get feedback, look for collaborators, and find people who could help push their career forward."
The Academy, which still acts as the most prestigious arbiter of mainstream taste in the film industry, is not as open to short films that get their start on the Internet. In order to qualify for a short-film Oscar nomination, shorts must have a 7-day theatrical release in Los Angeles County with paid admission, win a qualifying award at a festival, or win a Student Academy award before they can be distributed by any other means. On top of that, filmmakers who want their work to be considered are only allowed to show up to 10 percent of their film's running time online, which limits their film's audience to festival-goers, as very few shorts have qualifying theatrical releases these days.
The rules are more relaxed than before, when just having a short film on the Internet was automatically disqualifying, but the Academy has never been an institution to quickly adapt to changes in the industry. Still, the film establishment's resistance to shorts online won't stop filmmakers from taking advantage of the community or convenience of the Internet. The web's short-film guardians will continue to reward the unconventional—regardless of the blockbuster economics of the wider industry. "We as curators want to reward people who are looking for new ways of telling stories," says Sondhi. "We tend to be very biased toward innovation."