Baskets: Zach Galifianakis Is America's Sad Clown
The comedian's new show on FX doesn't look for easy laughs.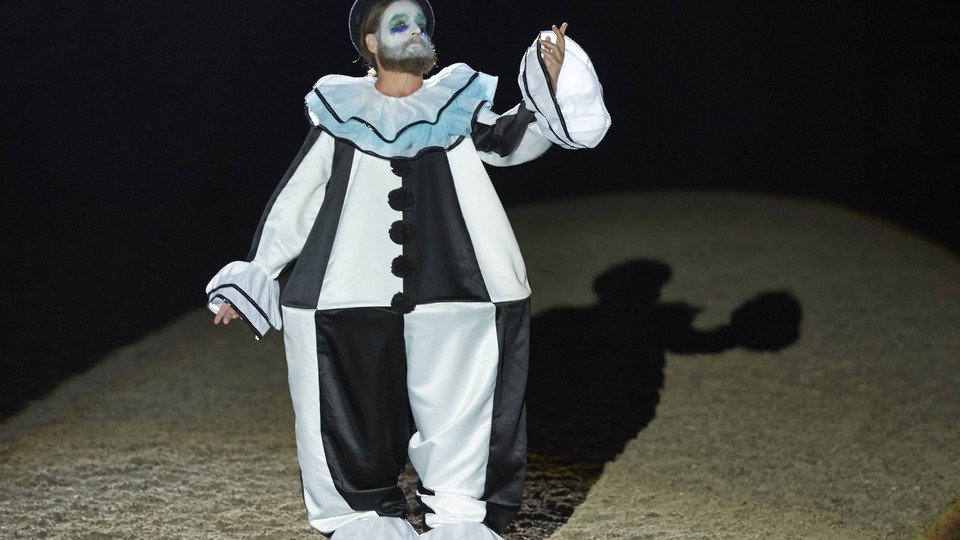 Baskets feels like a comedy that's easy to pigeonhole. Try to resist that urge. Yes, it stars Zach Galifianakis, master of the vacant annoyed stare on Between Two Ferns, as yet another irascible jerk. Yes, it bears a lot of the hallmarks of its FX sister show Louie, from its co-creator (Louis C.K.) to its refusal to shoot for easy or even occasional laughs. But while Baskets is an acidic, sometimes depressing watch, it's much better than that sounds—an incisive, absurd, darkly heartfelt show set not on the stage but in America's dreary urban sprawl.
Chip Baskets (Galifianakis) is a self-important prig, an aspiring clown who sees himself as an artiste, and who never misses an opportunity to tell people he was educated at clown college in Paris, although his education was stymied by the fact that he can't speak French. He returns, broke, to his hometown of Bakersfield, California, with a beautiful French wife (who married him for the green card and otherwise ignores him), and moves into a motel, where his only career prospects come via the local rodeo. Chip is a pretentious jerk, sour to everyone around him, but Galifianakis mines tragic moments of grace from his bitter existence.
The great, sad joke of Baskets is Chip's devotion to the classical art of clowning, a tradition neither respected nor understood by his tutting mother (Louie Anderson), his superficial wife (Sabina Sciubba), or his sarcastic twin brother (also played by Galifianakis). Chip executes melancholy set-pieces in the arena while wearing white face-paint and an oversized suit straight out of commedia dell'arte, then gets mowed down by a charging bull to cheers from the crowd. His pretentious arrogance can be tough to watch, but there's an absurd passion to his quest to become a great clown, lending him the sympathy Baskets needs to work.
It helps that Chip quickly makes a new friend in Martha (played by the stand-up comedian Martha Kelly), a subdued, socially awkward insurance agent who serves as a stoic pincushion for Chip's dark moods. The show takes several episodes to draw out their strange relationship, which mostly consists of Chip belittling Martha every time she offers some level-headed advice. But there's warmth there, as there is in Louie Anderson's gamely low-key drag performance as Chip's mother, who isn't the battleaxe you might expect from such stunt casting. Galifianakis, who co-wrote the show with C.K. and Jonathan Krisel (Portlandia, Kroll Show), has buried an emotional throughline in this tale, but he doesn't make it easy for audiences to unearth.
That's the advantage of airing on FX, the network that let C.K. do whatever he wanted with his own show as long as the budget was low enough (the critically acclaimed, risk-taking Louie sometimes aired five-part episodes that lacked a single easy punchline). Galifianakis has had plenty of mainstream success thanks to The Hangover films, but he emerged from, and remains rooted in, the traditions of alt-comedy. Baskets is the kind of passion project you might expect from him, but like Louie, it doesn't feel self-indulgent. The tone is often grim, and the audience will probably be small, but this is a fully-realized work, rather than some anti-comic noodling from a superstar who's bored of his own fame.
There's a reason Chip Baskets wants to be a clown, after all—and from all the hallmarks of his performing, he's the classic sad clown, the self-important fool who's crying on the inside. Despite being broke, Chip is too proud to live with his mother, and loudly refutes any stranger who presumes the plainly-dressed Martha is his girlfriend, instead continuing to pursue his sham wife even as she treats him venomously. Galifianakis has long excelled at fleshing out these tragic figures who cover for their anxieties with cruelty, from The Hangover's demented Alan Garner to the prickly Ethan of Due Date. Chip is a horrible person to consider, but when he's getting chased around the arena by a charging bull, his vulnerabilities are finally laid bare. Galifianakis clearly wants to play the role of America's sad clown—he just doesn't care whether we laugh along with him.