Why the Oscars Had to Change
The uproar the Academy's proposed membership changes have sparked indicate how necessary they are.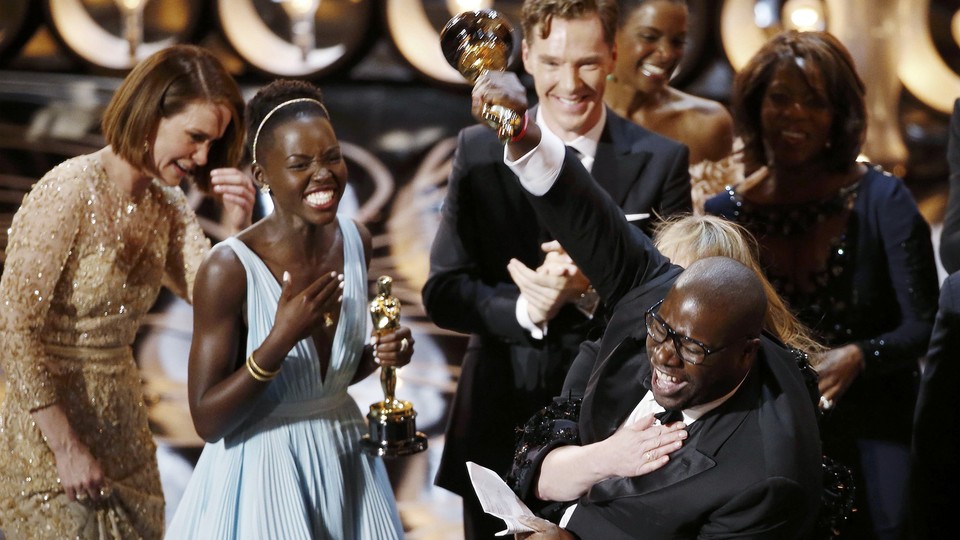 In 2014, Steve McQueen made history at the Oscars as the first black director of a Best Picture-winning movie, 12 Years a Slave. It was a heartening moment for the Academy of Motion Picture Arts and Sciences, coming at the end of a telecast that was the most-watched Oscars ceremony in more than a decade. But since then, the Oscars have failed to nominate a single actor of color for two successive years, and the continued outcry has led to significant action being taken by the Academy's president, Cheryl Boone Isaacs.
The proposed new measures aim to prune Academy members who no longer actively work in the film industry, while doubling voters of color and female members over the next four years. There are clauses and loopholes, of course, and members who lose voting rights will retain "emeritus" status (basically allowing them to still receive screeners of Oscar-nominated films), but the move could still radically reshape the 6,000-member voting body over the next few years. It's a huge development that comes just a week after Spike Lee announced he wouldn't attend the ceremony this year. And the more individual Academy members protest over the changes, the more it seems like they were long overdue.
Just a year after 12 Years a Slave's worthy victory (which some right-wing blogs dismissed as a triumph of "white guilt"), the Oscars were pilloried when Ava DuVernay's Martin Luther King biopic Selma received only one major Oscar nomination, for Best Picture. It seemed strange that a film so suited to the Academy's taste—so steeped in history and widely praised, with such a transformative performance at its center—could miss with voters. Some blamed a lackluster campaign, while others anonymously bashed the film as "artless," but one familiar voice pointed out a wider trend in typically candid fashion.
"Anyone who thinks [2015] was gonna be like last year is retarded," Spike Lee told The Daily Beast in an interview. "There were a lot of black folks up there with 12 Years a Slave, Steve [McQueen], Lupita [Nyong'o], Pharrell. It's in cycles of every 10 years. Once every 10 years or so I get calls from journalists about how people are finally accepting black films. Before last year, it was the year [in 2002] with Halle Berry, Denzel [Washington], and Sidney Poitier. It's a 10-year cycle. So I don't start doing backflips when it happens."
Lee was perhaps too pithy, as he often is—several notable black actors won Oscars between 2002 and 2014—but his larger point seemed prescient. Despite the historic nature of its victory, 12 Years a Slave wasn't indicative of a larger trend in Hollywood toward embracing stories made by and starring people of color; if anything, the opposite was true. The 2015 and 2016 nomination lists had their standouts, their critical favorites, their big-budget blockbusters, but there were a number of works they consistently overlooked.
On the surface Creed or Straight Outta Compton might not seem like typical "Oscar-bait," but both were Hollywood success stories through and through, with the kind of mythmaking the Academy recognizes all the time. Every question as to why they hadn't fared better circled back to a depressing statistic: Academy voters are 93 percent white and 76 percent male.
This is what Isaacs is hoping to address. In a memo presented to members, she noted that the closed-circle, invite-only perception of the Academy might have hurt its chances of attracting new people. "The concern has been that a lot of highly qualified potential members were falling outside our radar," she said. "Many thought they had to wait to be invited, and didn't know they could apply for membership, through a sponsorship process. We are not lowering any standards, we're widening our net."
Tell that to the voters. A series of op-eds published by The Hollywood Reporter has exposed the entrenched nature of incumbency, as members who've contributed little to film in recent decades publicly rail at the perception that they're part of the problem. Of course, these voices reflect only a small segment of the Academy's 6,000 members. But they're revealing nonetheless.
Stephen Geller, a screenwriter whose last major work was a 1972 adaptation of Slaughterhouse-Five, wrote an open letter to Isaacs calling diversity a "false flag issue" and arguing that the Academy had never "dealt with contemporary realities." Milton Justice, who won an Oscar for Best Documentary Short in 1987, called the changes "insulting to black people," saying Selma's only problem was that not enough voters liked it. Tab Hunter, a member of the actor's branch with his own fascinating Hollywood history, described the changes as a "thinly-veiled ploy to kick out older white contributors." The actress Penelope Ann Miller seemed personally affronted, writing, "To imply that this is because all of us are racists is extremely offensive … it was just an incredibly competitive year."
The idea that voters simply didn't like Selma enough ignores the larger issue of representation in the voting body. The Academy, like any other large voting group, tends towards a consensus, but it's likely that consensus might shift if its voters looks more like the country around it. The changes proposed by Isaacs may work, or they may not be enough. Beyond them, the film industry has many other structural issues it will need to address before real progress can be made.
Asked about the recent controversy, Steve McQueen said that while voter demographics need to change, that isn't enough. "The real issue is movies being made," he told The Guardian. "Decisions being made by heads of studios, TV companies, and cable companies about what is and is not being made. That is the start. That is the root of the problem." He's right—and yet one of the biggest things that informs those decisions is whether a film has Oscar potential. It's a Hollywood economy onto itself, one that spurs the funding of independent and big-budget films alike. The Academy matters, and if its voting body can change, a lot of Hollywood might start to change with it.