When Diversity Is a Spokesmodel
Fashion houses, and brands in general, are capitalizing on the marketing value of inclusion.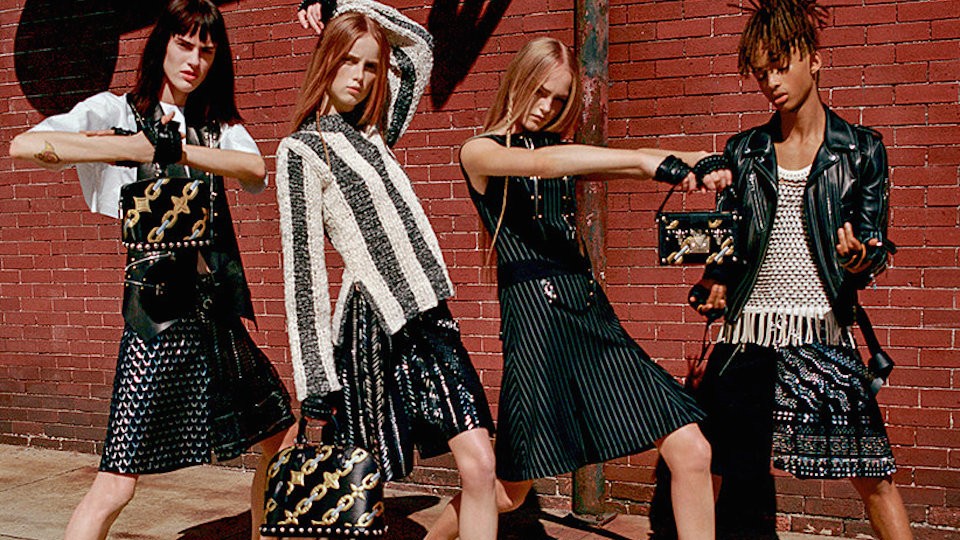 If fashion houses can have "faces," then Marc Jacobs has a new one: Lana Wachowski. This is notable not just because Wachowski is a film star of the behind-the-camera variety—she directed, among many other recent classics,
The Matrix
—but also because she is a transgender woman. Jacobs announced that Wachowski would co-star in his Spring/Summer 2016 ad campaign
on Instagram
, where he noted that "the people featured in our campaign … embody and celebrate the spirit and beauty of equality." He did so during the same week that Dolce & Gabbana
announced a collection of high-end hijabs and abayas
, and that Louis Vuitton featured a skirt-wearing Jaden Smith, the teenage son of Will, as
the house's latest womenswear model
.
These are on the one hand cynical moves, designed to get their brands talked about (and, in D&G's case,
extended to an $8.7 billion market
). They are also, however, evidence of cynicism of a more salutary strain: They suggest that fashion, with its typical combination of flamboyance and sluggishness, is trying to become more inclusive. Jacobs and Vuitton and D&G are attempting to sell their wares through the middleman of progress itself, by welcoming and celebrating people outside the mold the industry has propagated for so many years.
As models, those people are all, in one sense, traditional: gorgeous, in a totally unique and also totally universal way. But in another sense they are also extremely, and importantly, non-traditional: Their beauty is only part of the point. They are not merely clothes hangers who stomp and shimmy and
smize
. They are people, and they carry the fleshy freight of personhood. Through their stories and their histories, they inject politics into fashion. They suggest that, whatever the clothing they are helping to sell, inclusivity is the best thing to accessorize it with.
In that, certainly, they're helping fashion to do what it has always done, which is to borrow from, and then give back to, the culture at large. In the year after Obergefell v. Hodges, the year after Transparent and Caitlyn Jenner made their various marks, the year after the Dove Men+Care ad campaign and the launch of The New York Times' "Men's Style" section and the launch of the TLC show I Am Jazz, the year that could well find The Danish Girl being celebrated not just by critics, but by Oscar voters—inclusivity is a fashion statement.
And that's true far beyond the quirky echelons of high fashion. Campbell's recently featured soup ads (inevitable hashtag: #realreallife) starring a toddler and two doting fathers.
Kohl's 2015 holiday ads
featured an interracial, same-sex couple
. And late last year Mattel made the heavily symbolic move of
featuring a boy, for the first time, in an ad for a Barbie doll
. Last year, too, found brands using social media as an excuse for ad-hoc performances of progressivism, as brands will. When the
Obergefell
decision was announced in June, companies from American Airlines to Bravo to FreshDirect to Jell-O to Maytag to Target came out, so to speak, with
their own celebrations
. (So did, unsurprisingly, Oreo, which three years earlier made waves with its "
pride cookie
.")
Taken individually, these are all small steps, and limited ones. The culture of
Orange Is the New Black
is the same culture that finds
Hasbro meeting controversy
for its failure to include
a Rey figurine
in its
Star Wars
-themed
Monopoly set. The culture that
put Caitlyn Jenner on the cover of Vanity Fair
is the same one that found
South Park mocking the impulse
to celebrate her as "stunning and brave." The Fashion Week that put Madeline Stuart on its runway is the same one that generally subscribes to the human-hanger school of models. The fashion industry that is claiming to espouse diversity and gender fluidity is the same one that holds, in other areas, terrible records when it comes to race and workers' rights. And, again, ads being what they are, even the most progressive campaigns are implicitly cynical: They're designed as much to sell stuff as to make a statement. They're conflating the illusion of progress with a more palpable version.
Still, though. Ads don't simply reflect culture; they
are
culture. And the fact that they are designed with marketing so thoroughly in mind makes them especially revealing: They make declarations and assumptions about what beauty is, what style is, what family is, what
worth
is—and on behalf of us all. Ads that exploit a vaguely political agenda suggest, on the whole, something salutary: that beauty, on its own, is a little bit boring. And that the way fashion has typically conceived of beauty—white, thin, young, straight, and in general fundamentally conservative—is a little bit boring. Through converting people—Wachowski, Smith, Didion—into "faces," t
he brands are making an obvious, but also extremely beneficial, assumption: that business, like culture itself, is at its best when it's inclusive.