​The Tao of the Reaction Shot
At the Golden Globes on Sunday, a feather-ruffling host and some expletive-laden speeches elevated an awards-show standby.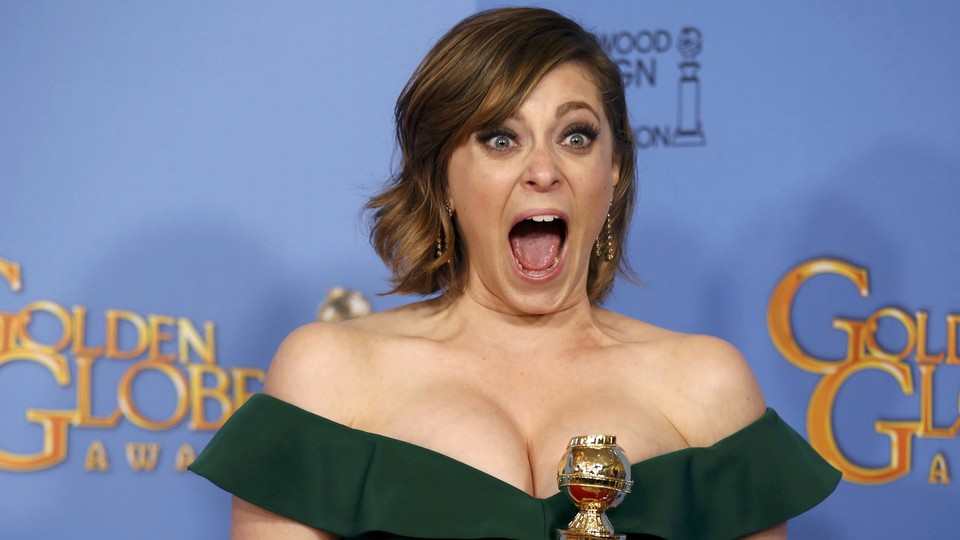 Awards telecasts, for better and often for worse, double as ultra-glitzy reality shows. There's the highly scripted pretense of unscripted human drama. There is, underneath a veneer of studied chumminess, a decidedly not-here-to-make-friends vibe. There are the intra-contestant tensions, amplified by canny producers. So it was fitting that, during Sunday night's Golden Globes, producers did what they could to Real Housewives-ify the 73rd incarnation of the venerable awards ceremony. They sat actors competing in the same nomination categories at the same tables. They made sure the champagne flowed freely. And, most obviously, they brought in one of Hollywood's most reliable feather-rufflers, Ricky Gervais, to act as host.
Gervais's return to the Globes stage was the rough equivalent of the return of former contestants Amber and Becca to compete for the affections of Ben Higgins on the current season of The Bachelor: It was weird, and awkward, and evidence of a certain dark genius. Gervais's presence—that impish smile, that agent-of-chaos flair, that menacing glass of beer—meant that insult comedy would be the order of the evening. ("With all these rich, beautiful celebrities having the time of their lives," Gervais said at the outset, tauntingly, "let's hope no one spoils that.") Which in turn meant that literally anyone—literally everyone—in the audience was a potential target of his mockery. All of which combined to amplify the role of a traditional mainstay of the live-broadcast awards show: the reaction shot.
How would the stars react to Gervais's terrible jokes? What would they make of the return of Mel Gibson? What would Tarantino do? On Sunday, tellingly, the stage was almost the secondary story. The real action—the real drama—was taking place among the booze-laden tables crammed into the Beverly Hilton. The whole thing was like an episode of The Real Celebrities of the Beverly Hilton. There was:
- Leonardo DiCaprio, looking dramatically shocked as Lady Gaga strode past him to accept her Best Supporting Actress award.
- Alan Cumming, 😱-ing after Gervais made a bleeped-out joke to Mel Gibson.
- Aziz Ansari, prepared for the moment when the camera would pan to him during his nomination announcement, reading a mocked-up book titled Losing to Jeffrey Tambor With Dignity.
There were also (seemingly) unscripted reactions that happened to take place onstage. There was Jamie Foxx, reacting to Quentin Tarantino's inexplicable reference to classical music's "ghetto." There was Matt Damon, reacting to Gervais's joke about The Martian star being "the only person Ben Affleck hasn't cheated on." There was Cate Blanchett tut-tutting and Brad Pitt did-he-really-ing to Gervais's antics, and Viola Davis hmm-ing to Taraji P. Henson's dinner-table cookie schtick. There were America Ferrera and Eva Longoria, using their moment on the Globes stage to poke fun at the Globes itself.
It's telling that, in the immediate news coverage of the Globes, outlets have focused on those moments of reaction-shot-ed serendipity. "Leonardo DiCaprio's Face When Lady Gaga Barged Past Him Was Superb," Yahoo News reported. "Alan Cumming Had the Best Reaction to Mel Gibson & Ricky Gervais's Golden Globes Exchange," Just Jared enthused. In addition to the reaction summaries you'd expect—"Golden Globes: Winners React"—there have been gifs of Jamie Alexander swearing at a faulty teleprompter ("Who's typing this shit?"), and of Rachel Bloom, accepting her award vaguely bum-first, and of Leo's failed double-fist-bump.
The reaction shot is an awards show standby for a reason: It's one of the few places left where a telecast can offer real human drama—live, unpredictable—to its audiences. This is what Amy Poehler and Tina Fey mocked when they placed themselves in the audience, boxes of popcorn in hand, during 2013's Emmys. It's what David Letterman was trying to invoke with his infamous "Oprah-Uma" gag. But Sunday's proceedings—otherwise dull, otherwise conventional, otherwise replete with heavily manufactured dramas—took things even further: They relied on reaction shots as part of the telecast. Understanding how the show would be consumed by people outside the Beverly Hilton, its producers primed it for gif-able moments.
And during a telecast that found much of its scripted dialogue inaudible to audiences because it had been censored out, ostensibly on account of presenters' use of expletives, the reaction shots became even more useful. Audiences at home had to rely on the stars who were in the room—on their shocked or indignant or amused reactions—to get a sense of what was actually said onstage. The stars stood in for the rest of us, telegraphing our confusion and indignation and delight. They brought a dose of reality to an otherwise highly staged production, making for moments that were, in the best way, awkward and weird and human.