The Lady in the Van: Maggie Smith Dazzles Once More
At 82, the celebrated actress is very much in her prime.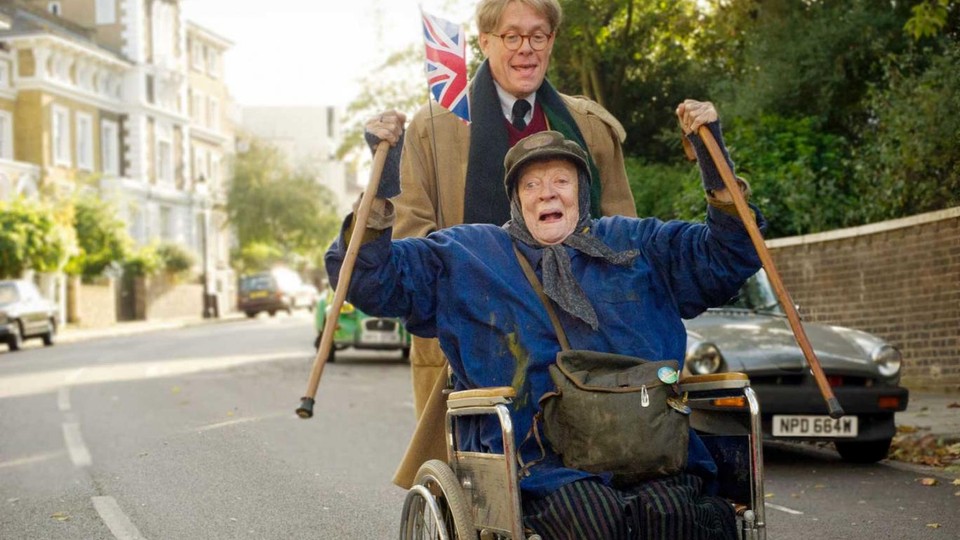 Two Academy Awards (out of six nominations), five BAFTAs, three Emmys, three Golden Globes, four Screen Actors Guild Awards, and a Tony. It's exhausting just to list the accolades that Dame Maggie Smith has accumulated over her decades on screen and stage: Imagine how tiring it must have been to earn them all.
Yet at 82, Smith seems, if anything, more lively and ubiquitous than ever before. She's appeared in 20 films over the past 15 years, notably as Minerva McGonagall, the benevolent headmistress of Harry Potter's beloved Gryffindor House. And over the past five years she's also won two Emmys (and been nominated for two more) for her portrait of Violet Crawley on Downton Abbey. It's a schedule that might break a performer half her age.
For her latest feat, Smith rescues Nicholas Hytner's film The Lady in the Van from the confectionery uplift that otherwise might have swallowed it. Smith plays Mary Shepherd—or, more accurately, someone who has chosen to go by the name "Mary Shepherd"—a real-life homeless woman who, for 15 years, parked her van in the driveway of the real-life playwright Alan Bennett (played here by Alex Jennings). It's a role Smith has played twice before: in Bennett's 1999 stage play of the same name (also directed by Hytner) and in a 2009 BBC radio production.
The story begins when Bennett moves into the bourgeois-boho London neighborhood of Camden Town in the early 1970s. (A typical exchange takes place with a neighbor played by Roger Allam: Bennett: "I've got a play on in the West End"; neighbor: "Of course you do.") Shepherd is already a fixture on the block, moving her dilapidated van from curb to curb as needed. None of the resident families are particularly happy to have her park in front of their homes; but all feel ideologically bound not to complain. "That's Camden," one explains. "People wash up here." Or as Bennett himself puts it, "They tolerate Ms. Shepherd, their consciences absolved by her presence."
Shepherd eventually moves her van—painted a sickly, custard yellow—to the curb in front of Bennett's house and, later, into his unused driveway. There, as if assembling a breakwater in preparation for a flood, the vehicle gradually barricades itself among bags of refuse and human waste. (It is made apparent on numerous occasions that Shepherd's olfactory presence is at least as great an imposition as her physical one.)
There's not much more to the tale than that. Bennett endures an uneasy peace with his determinedly ungrateful quasi-tenant, and bit by bit elements of her past become clear: the sources of her fluent French and fierce Catholicism; the purposes of the smiling blackmailer (Jim Broadbent) who occasionally comes a-tapping on her windshield.
Throughout, there is an underlying theme of doubling: Bennett watches Shepherd age and decay even as he watches his widowed mother do the same. And the playwright is himself split in two. As he explains, "The writer is double. There is the one who does the writing. And there is the one who does the living." The two halves—both played by Jennings—are in constant, ambivalent dialogue about whether it would be proper to use his experiences with Shepherd as material for a play. It's the kind of narrative stunt that could easily go awry, but Jennings (a three-time Olivier award winner whom it would be nice to see more often onscreen) pulls it off with understated aplomb.
Yet it all comes back, of course, to Smith. In other hands, Ms. Shepherd might have joined in cinema's long litany of saintly vagabonds. But Smith, as is customary, foregoes the saccharine in favor of the astringent, and thus keeps Hytner's film on its toes. It's little wonder that neither he nor Bennett has seen fit to cast any other actress in the role, whatever the medium.
I'm reminded of 18 years ago, when Gloria Stuart was nominated for an Academy Award for her supporting role in Titanic. With all due respect, the nomination was openly absurd: Stuart's part was a bit one and, while perfectly adequate, she did nothing memorable with it. Rather, she was nominated almost entirely because she was 87 years old at the time—the oldest person ever nominated in an acting category. Maggie Smith is just five years younger than Stuart was then. But while her performance in The Lady in the Van was very much in the discussion for Best Actress this year, her age was scarcely brought up at all. Which is exactly as it should be. Smith has no need for such handicapping. She is not a gimmick; she is a treasure.