The 2016 Golden Globes: Messy, Drunken, Absurd
The Revenant and The Martian were the big winners at a cacophonous ceremony hosted by a grimly unfunny Ricky Gervais.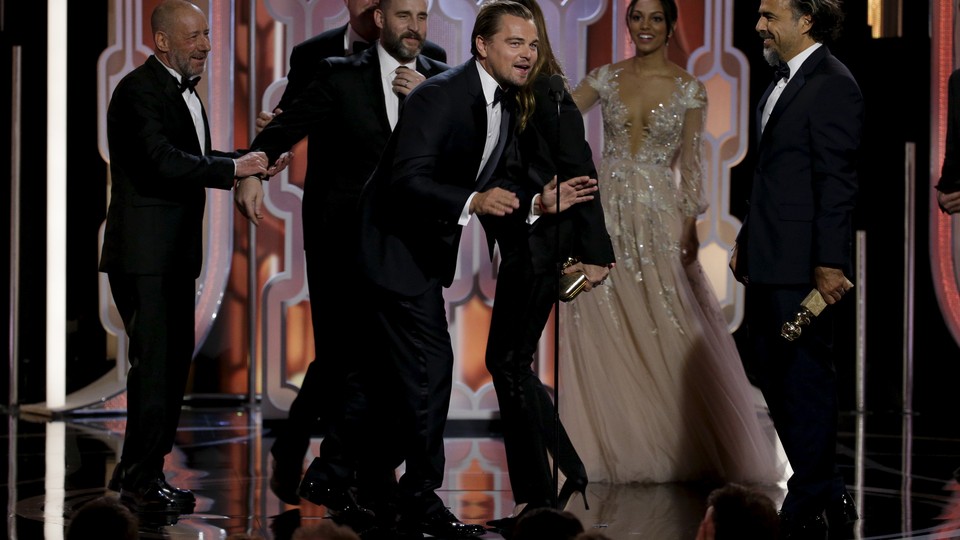 The Golden Globes are known for being one of the more raucous events of awards season, but even going by those standards, the 2016 ceremony stood out. From the British comedian Ricky Gervais's tone-deaf presenting job to an oddball group of winners who shed little light on a confusing Oscar race, the overall impression was one of chaos. Frequently throughout the show, the crowd could be heard loudly chatting amongst themselves, perhaps because they were as confused as viewers about what was going on. Even some of the winners seemed to have overindulged, stumbling over their speeches, forgetting to thank people, and defiantly refusing off-screen instructions from producers to "wrap it up."
Gervais opened and closed the show with some purportedly humorous observations about on-screen representation of transgender people in 2015, from Caitlyn Jenner to Transparent to The Danish Girl, but his outrageous shtick mostly failed to land as anything but an annoyance. Gervais, who's now hosted the Globes four times, prides himself on lancing the egos of Hollywood's rich and famous, but mostly tripped up on terrible topical references. A later encounter with Mel Gibson, who was introducing a clip from the Best Picture nominee Mad Max: Fury Road, was similarly awkward, although like much of the material from the live broadcast, half of their combative dialogue was edited out by censors.
The Globes, awarded by the Hollywood Foreign Press Association, tend to pride themselves on pointing to Oscar favorites, but in a year with few clear frontrunners, they did little to help. Steve Jobs, Danny Boyle's biopic of the Apple founder, had seemed to vanish from contention after faring poorly at the box office, but collected trophies for Best Screenplay (Aaron Sorkin) and Supporting Actress (Kate Winslet). The Revenant, Alejandro González Iñárritu's grueling tale of survival on the American frontier, won for Best Drama Picture, Best Director, and Best Drama Actor (Leonardo DiCaprio), and while DiCaprio is an Oscar favorite, it's hard to imagine Iñárritu winning the big awards just a year after sweeping them with his previous effort, Birdman. Meanwhile, critical favorites like Spotlight, Carol, and Mad Max: Fury Road all failed to win anything.
Brie Larson was named Best Drama Actress for Room, anointing her the favorite for that Oscar trophy in February. The Comedy film awards largely went to films no one would label as comedy. The Martian, an action thriller set in space, won Best Picture and Best Actor (Matt Damon), while David O. Russell's biopic Joy won for Best Actress (Jennifer Lawrence). Sylvester Stallone's Best Supporting Actor win for Creed drew a sentimental standing ovation from the crowd, but he forgot to mention his director and co-stars in his speech (a fact he quickly realized and rectified at the show, but after the broadcast had cut to commercial).
While the film awards usually go to Oscar favorites, the Globes' TV awards are more eclectic. Most of 2016's winners were from shows few are watching: Amazon's streaming series Mozart in the Jungle, set in New York's classical music scene, won for Best Comedy Series and Best Actor (Gael García Bernal); USA's acclaimed hacker drama Mr. Robot won for Best Drama Series and Best Supporting Actor (Christian Slater); and Rachel Bloom, of the CW's Crazy Ex-Girlfriend, won for Best Comedy Actress and excitedly praised her network for supporting a show that had been rejected everywhere else she pitched it. Then Lady Gaga collected a trophy for Lead Actress in the poorly reviewed American Horror Story: Hotel, which seemed to validate the common complaint that the Globes voters prefer star power to quality.
There were some bright moments—like Jamie Foxx rolling his eyes at Quentin Tarantino's rambling speech for The Hateful Eight's original score, or Eva Longoria and America Ferrera acidly referring to each other as "Salma" and "Charo" as they introduced an award. Denzel Washington accepted an honorary award with his family on stage, but cut his speech short because he'd left his glasses at his table, a blunder that was one of the more charming moments of the night. Taraji P. Henson, who won Best TV Drama Actress for Empire, took to the stage distributing cookies amongst the crowd, in honor of her character Cookie Lyon. But these highlights were few and far between in a three-hour ceremony that was as forgettable as Gervais's punchlines.
The full list of winners:
Best Film (drama): The Revenant
Best Film (comedy): The Martian
Best Director: Alejandro Iñárritu, The Revenant
Best Lead Actor (Drama): Leonardo DiCaprio, The Revenant
Best Lead Actress (Drama): Brie Larson, Room
Best Lead Actor (Comedy): Matt Damon, The Martian
Best Lead Actress (Comedy): Jennifer Lawrence, Joy
Best Supporting Actor: Sylvester Stallone, Creed
Best Supporting Actress: Kate Winslet, Steve Jobs
Best Screenplay: Aaron Sorkin, Steve Jobs
Best Original Score: Ennio Morricone, The Hateful Eight
Best Original Song: "Writing's on the Wall," Sam Smith and Jimmy Napes, Spectre
Best Animated Film: Inside Out
Best Foreign-Language Film: Son of Saul, Hungary
Best TV Drama: Mr. Robot
Best Lead Actor, TV Drama: Jon Hamm, Mad Men
Best Lead Actress, TV Drama: Taraji P. Henson, Empire
Best TV Comedy: Mozart in the Jungle
Best Lead Actor, TV Comedy: Gael García Bernal, Mozart in the Jungle
Best Lead Actress, TV Comedy Rachel Bloom, Crazy Ex-Girlfriend
Best Supporting Actress, TV: Maura Tierney, The Affair
Best Supporting Actor, TV: Christian Slater, Mr. Robot
Best Limited Series or TV Movie: Wolf Hall
Best Lead Actor, Limited Series: Oscar Isaac, Show Me a Hero
Best Lead Actress, Limited Series: Lady Gaga, American Horror Story: Hotel