Taking Literature to the Streets
From vending machines to coffee sleeves, a number of projects around the world are using guerrilla marketing tactics to promote reading.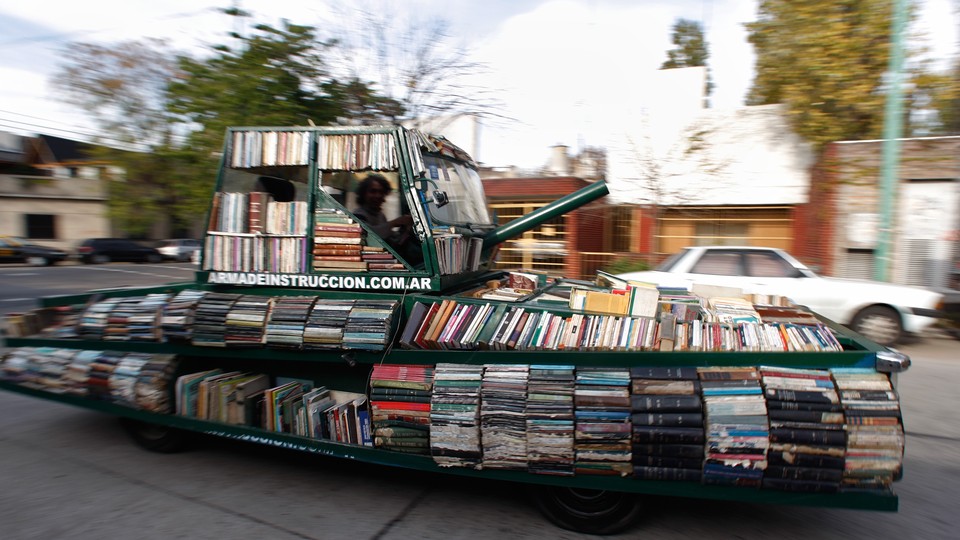 In 2013, an employee at Minneapolis's Coffee House Press opened the day's mail to find an unexpected delivery: 10,000 coffee sleeves promoting the television show Portlandia. The show's network, IFC, had made the not uncommon mistake of assuming that the independent publishing company was actually a java joint, and was taking the opportunity to offer up some self-promotional freebies. But the mixup sparked an idea—using the guerrilla marketing tools beloved by bigger brands to promote literature.
Reading, one of the world's most enduring pastimes, hasn't historically needed clever ads or flashy marketing campaigns to convince people of its worth. But Coffee Sleeves Conversation, as the Coffee House Press project became known, is one of a number of growing efforts around the world to advertise literature as a whole—by taking the message that reading can be accessible, enjoyable, and life-improving to unexpected places, from vending machines and subway cars to fast-food chains.
"It's a way of putting literature in a public space and giving people a literary experience that isn't reading a book," says Caroline Casey, Coffee House Press's managing director. "You don't know how people will experience what's on the sleeve but you know that they will experience it." The company decided to print excerpts of poetry and prose written by local writers of color on 10,000 coffee sleeves, which it will distribute around the St. Paul area. For Casey, the project is a way to create complexity and visibility, as well as to help break down preconceived notions about literature's elitism.
The same kind of thinking can be found in programs like London's Poems on the Underground. The project, which turns 30 this year, features poetry on the walls of Tube cars, and has been copied in many cities across the U.S. including New York, with the now-defunct initiatives Poetry in Motion and Train of Thought. In London, the only requirement for the selected poems is that they fit within the limits of an advertising space. Poems on the Underground's founder, Judith Chernaik, has described the program as "an implicit contradiction of the assumption that poetry is an elitist art," stating that "the tube poems are popular because they offer an escape from the combined pressures of advertising and daily work. They invite the traveller to share the dreams and visions of another human being, speaking across time and place."
Newer projects, Coffee Sleeve Conversation among them, focus less on traditional ad spaces and instead mimic the tactics used by guerrilla marketing, an idea pioneered by Jay Conrad Levinson in 1984. The strategy relies upon imagination rather than a big budget to advertise a product, and emphasizes the unconventional and unexpected to make a bigger impact. Earlier this year, the publisher Short Edition installed eight short-story vending machines in the city of Grenoble, France—to read a short story, free of charge, pedestrians press buttons indicating story length, and then the machine prints out one of 600 available stories. In Argentina, the artist Raul Lemesoff constructed a "weapon of mass instruction," a 1979 Ford Falcon modified into a military-style "book tank" with exterior shelves that could hold 900 books. In celebration of World Book Day in March 2015, Lemesoff delivered books to citizens for free (as long as they promised to read them).
In Los Angeles, the self-described "online video literary magazine" GuerrillaReads promotes videos of writers reading their work on street corners and in public spaces rather than the "rarified atmosphere" of bookstores or libraries. And in São Paulo, the publishing company L&PM Pocket convinced people to read on the subway by giving away copies of classics such as Sherlock Holmes, The Great Gatsby, and The Art of War that also served as subway tickets, with each book allotting readers 10 free rides. The project, dubbed Ticket Books, has since been made permanent and expanded to other Brazilian cities.
Literature has what's referred to in the marketing business as "high stopping power," meaning it's able to effectively capture people's attention. "Letters and words have symbolic value to people," says Thales Teixeira, a marketing professor at Harvard Business School. "We still as a society have some fascination with books." The effect is amplified when literature turns up in unexpected places, like on a billboard or a grocery bag.
The Chicago-based project Poems While You Wait trades on the novelty of old-school technology by having poets take typewriters to public spaces and sell original, on-demand works to passersby for $5. The price is cheap, but the project's co-founder, Kathleen Rooney, says it's about proving that poetry has value.
"Without being too high-minded or crusadery about it, [we want] to show people who've gone years without thinking about poetry that poetry can make their lives better, even in a tiny way, even in 10 minutes," she says. And, by turning a poem into a product and using savvy marketing to attract an audience, she and her fellow poets give their customers "a social script," a different way to interact with literature. Similar projects have sprung up in cities from Seattle to Oklahoma City, most of them with similar aims: to show people that poetry can be accessible, and even fun.
While projects like Coffee Sleeve Conversation, Ticket Books, and Poems While You Wait have idealistic intentions, they reflect literature's power as a marketing tool, even when it comes to products you wouldn't find in a bookstore. "Literature, and art, have a halo effect over other products and services that aren't so aspirational," Teixeira says. Marketers have learned that by pairing their products with art and literature, customers tend to see them in a better light, a tactic called priming.
A notable example is Chipotle's Cultivating Thought program, which places short stories and quotes from famous authors on the fast-casual chain's food packaging. On Wednesday, the brand announced that the second installment of the program will features writers like Amy Tan, Jeffrey Eugenides, and Neil Gaiman—helping bring the company some much-needed good PR after a spate of lawsuits regarding food-borne illnesses.
While Chipotle's use of literature to elevate its image is self-evident, Teixeira believes even seemingly altruistic initiatives can often have more nuanced motives. Along with exposing more people to literature, projects like Poems on the Underground or Ticket Books may help distract subway riders from delays. Raul Lemesoff's book tank was commissioned by the beverage company 7Up as part of a major rebranding campaign. Coffee Sleeve Conversation, while not necessarily publishing the press's writers, raises the company's visibility and positions it as a forward-thinking icon in its own community.
Still, this isn't necessarily a bad thing. "I think about it more as connecting rather than promotion," says Bronwyn Mauldin, an author and the co-founder of GuerrillaReads. "It's about building a community—a literary community is really at the heart of this."