Sweat: The Hottest Accessory
Target's latest collaboration—with the spinning brand SoulCycle—hints at the many ways that exercise has infiltrated fashion.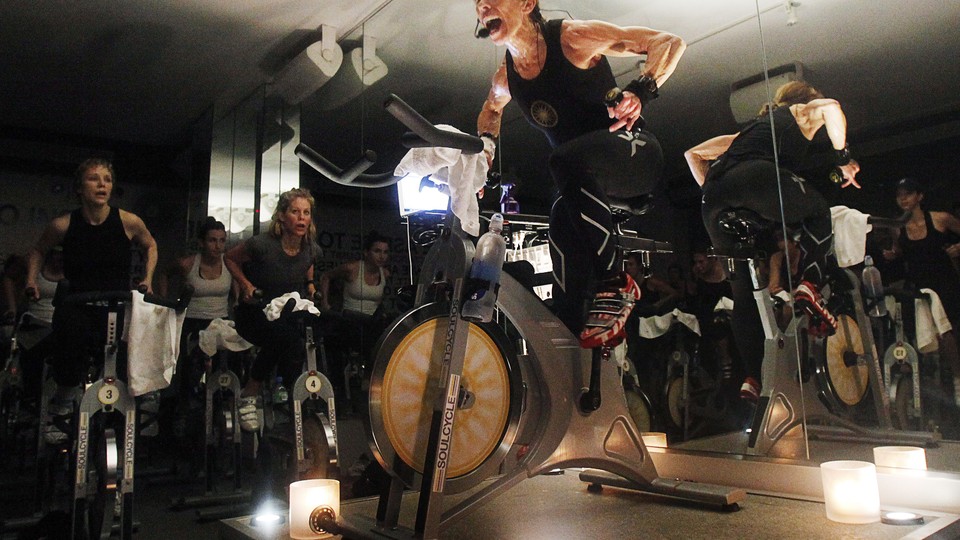 Target has announced yet another collaboration with a high-end brand—the brand, in this case, being SoulCycle. As part of the partnership, Target stores will offer not just co-branded workout gear—t-shirts and sweatpants and the like, festooned with both SoulCycle spokes and Target bullseyes—but also, at select locations across the country, SoulCycle classes. "SoulCycle's signature studio cycling classes are a rising trend," Target declares, noting that "the 45-minute, high-intensity workouts (complete with candlelight and rocking music) have already captivated fitness enthusiasts in several U.S. cities. Now, we're broadening the program's reach to give even more guests unprecedented access to this highly sought-after experience."
Which is … actually pretty weird. Target, as a gym! The big-box store, selling not just paper towels and light bulbs and Kraft Macaroni and Cheese at low-low prices, but also "energizing new experiences"! And yet the weirdest thing here isn't Target's positioning of itself as a mass personal trainer. It's what its collaboration with SoulCycle suggests about the future of fashion.
The SoulCycle partnership, after all, is only the latest of Target's high-end collaborations—which have, up to this point, involved clothing. While many other brands have teamed up with high-end fashion houses (see: H&M and Balmain, Macy's and Giambattista Valli, JCPenney and Charlotte Ronson, etc.), Target has become particularly known for such collaborations. Mizrahi in 2002. Rodarte in 2009. Lilly Pulitzer in 2015. The retailer, ever since Michael Graves introduced his Target-ed teapots to the store in the 1990s, has made a canny branding strategy out of its "[designer] x Target" capsule collections, helping to transform its stores from mere big-box outlets—uncool, drably pragmatic, dully Walmart-esque—into places that are, in their way, fashionable. Target became Tar-JAY. (Or, if we're being phonetically accurate about it, Tar-ZHEY. Or maybe even better yet, Targé.) Target stores, under the marketing regime of the late '90s and early 2000s, were bathed not just in fluorescent lighting, but also in the warm glow of cultural aspiration.
Target did all that, though, mostly through clothing. It did that by establishing relationships with fashion houses, and absorbing some of their branding into its own.
SoulCycle, for its part, may be a fashion house, but if so the "fashion" it offers is extremely non-traditional. That's precisely what makes the company's collaboration with Target so revealing: What the retailer is selling via the partnership isn't just apparel (yoga pants, sports bras, sweat-wicking camis, the typical stuff of "athleisure"). What's also on sale, via the SoulCycle classes, are "goods" only in the broadest sense: experiences. Exercise. Health. Wellness. Soul. As the SoulCycle co-founders Julie Rice and Elizabeth Cutler put it, "SoulCycle embodies the inspirational and active lifestyle that Target is celebrating as part of its focus on wellness. We're thrilled to be working with Target to bring SoulCycle to more people and help them find joy in movement to kick off the New Year."
Active lifestyle. It's a fraught phrase regardless of how casually marketers have taken to throwing it around. It suggests a lifestyle—"lifestyle" being fraught in its own way—that can afford the time it takes to exercise, that can afford to buy healthy foods, that can afford to keep up with all the news about whether or not butter is good for you. An "active lifestyle" implies a relatively wealthy lifestyle. A privileged lifestyle. As The New York Times recently remarked,
Every era gets the fitness culture it is meant to have. The aerobics craze, propelled by Jane Fonda, took off in the 1980s when the hedonism that distinguished the '70s began to give way to a new urban ethic of busyness, long hours, and the march toward more and more money. Beginning in the '90s and continuing into this century, cities like New York and Los Angeles saw the rise of high-end gyms (David Barton, Equinox), which ensured that working out, like drinking coffee, would become another socially tiered experience with occupiers of top tax brackets doing it one way and secretaries and civil servants another—left to leg lifts in front of their televisions or discounted gyms that did not aim to make you feel special.
Gyms, in other words, are places of privilege, and places of performance. They offer classes in every sense of the word. And now Target is tapping into all of that. It's taking the peculiar, revealing logic of SoulCycle—exercise as soulcraft, and soulcraft as commodity—and distilling that, cannily, into its own branding. It's capitalizing on an assumption that has leaked into the culture ever since Jane Fonda donned fluorescent legwarmers and scissor-kick-friendly sneakers: that fitness is fashion. No longer is exercise behind-the-scenes labor, the stuff that people do simply to look decent in their real clothes. Exercise now, in some sense, is the clothes: It is aesthetic. People wear it. They advertise it. They use it to share elements of who they are. SoulCycle.
It's notable, in that sense, that the new CEO of Target, Brian Cornell, was also the guy who, when he was in charge of analytics at Safeway, foresaw the organic-food craze and created the chain's "O Organics" brand of products. (He also exercises twice a day, and encourages employees to do the same.) And here is Cornell, now, partnering with SoulCycle. That partnership, perky and chirpy as its branding may be, is ultimately cynical and data-driven. It's the result of savvy marketing. It's what happens when a retailer surveys the culture and tries to figure out what trends will drive it forward. And Cornell has settled on SoulCycle.
Which: Weird! And also: Of course. This is the era, after all, of "athleisure." It's the era of Lululemon. It's the era of The Biggest Loser. It's the era that finds Beyoncé marketing a vegan diet and Victoria's Secret models marketing themselves as athletes and people wearing Fitbits and Apple Watches, not just as personal data-trackers, but as fashion accessories. It's the era that, one pricey yoga pant at a time, is blurring the line between the "active lifestyle" and the fashionable one.