Sundance 2016: One Huge Hit, Two New Players, and a Flatulent Corpse
The buzz from this year's festival, from the historical drama The Birth of a Nation to a bizarre comedy starring Daniel Radcliffe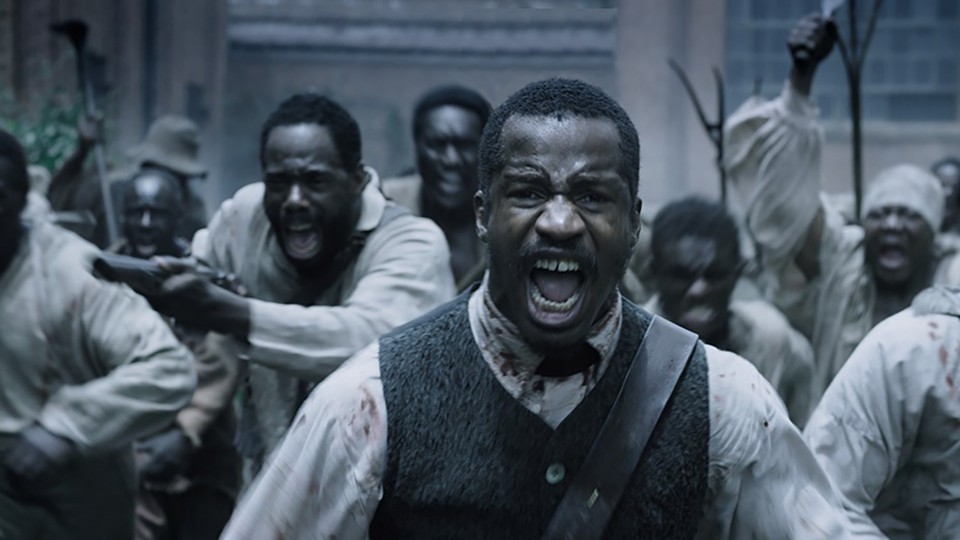 The Sundance Film Festival occupies a curious spot in the Hollywood timetable. It falls just before the Oscars, but is attended largely by critics and industry insiders who are already looking to set the narrative for the next year's race. Even by those standards, though, the buzz from this year's festival felt serendipitously timed, given that the most-talked-about film was easily The Birth of a Nation, a depiction of an 1831 slave rebellion led by Nat Turner. Also noteworthy: the presence of Netflix and Amazon, whose aggressive bidding indicated a sea change in the world of indie-film distribution.
The Birth of a Nation was made by the actor and first-time filmmaker Nate Parker, who stars as Turner, and its labored development echoed the ongoing discussion about how difficult it is for black filmmakers to break out in Hollywood. An intense bidding war ended with Fox Searchlight paying a record $17.5 million for the rights to distribute it. Is this a classic case of "festival fever," where hit Sundance movies disappear in wide release after their buzz has dissipated? Or is it the beginning of a larger shift in Hollywood thinking after the meaningful furor around #OscarsSoWhite?
Parker, best known for his performances in films like Beyond the Lights and Red Tails, began writing a screenplay for a Nat Turner film in 2009 and eventually took a break from acting to make it himself, scraping together a $10 million budget and shooting the film in 27 days. Parker told The Hollywood Reporter that he'd been "frustrated" with the roles that came his way as an actor, and that while developing The Birth of a Nation (the title is a knowing reference to D.W. Griffith's landmark, but deeply racist 1915 work of silent cinema) he was frequently told it would be unmarketable to a wide audience.
"Resistance lives in the air in this current moment," Parker said. "Anyone who sees this film should leave the theater and feel compelled to be a change factor with respect to relations that are taking place in this country. But also, they should be proud to be an American. This country was built on rebellion." At a Q&A session after the film's Sundance screening, Parker added, "I think anytime we're dealing with our history, specifically with slavery, I find that it has been desperately sanitized. There's a resistance to dealing with this material."
His isn't the only film making waves at Sundance this year, but if it proves to be a success, it may break the mold of the typical festival hit—small-budget, quirky indie movies that find favor with Oscar voters. From Little Miss Sunshine to Beasts of the Southern Wild to In the Bedroom, Sundance usually produces at least one or two memorable films a year, but rarely on scale with The Birth of a Nation, which apparently draws from epics like Braveheart.
Other big hits out of the festival, which draws to a close on Sunday, were more along the usual Sundance lines. Manchester by the Sea, a new film from the Oscar-nominated director and playwright Kenneth Lonergan, sparked a bidding war that was eventually won by Amazon for $10 million. Starring Casey Affleck, Michelle Williams, and Kyle Chandler, the film is said to be a quiet meditation on grief and family, a specialty of Lonergan's (whose previous films were You Can Count on Me and Margaret).
Amazon's blockbuster acquisition capped a busy festival for streaming networks seeking to bolster their libraries of original films. But one hurdle the Internet-based services still face is the skepticism around their films not getting a wide theatrical release, partly because of cinemas' resistance to the encroaching reach of home entertainment. Beasts of No Nation, Netflix's first major film, grossed nothing in theaters and was passed over by the Oscars despite early acclaim. Netflix reportedly bid $20 million for The Birth of a Nation and lost out to a lower bid, perhaps as a result of the lingering stigma.
Other offerings this year included Whit Stillman's film Love & Friendship, an adaptation of Jane Austen's novella Lady Susan (acquired by Amazon); Tallulah, a well-received dramedy starring Ellen Page as a single mother (which went to Netflix); Weiner, a documentary about the disgraced former Congressman Anthony Weiner (bought by IFC and Showtime); a female-led Wall Street drama starring Anna Gunn called Equity (Sony); and a gentle comedy called Morris From America about a black family moving to a predominantly white city in Germany (which went to the indie powerhouse A24).
You also may have read about a film called Swiss Army Man, simultaneously praised and reviled by critics, which features Daniel Radcliffe as a corpse and Paul Dano as someone stranded on an island who uses Radcliffe's magically flatulent body to escape, as some sort of fleshy jet-ski. It's been called "ridiculously infantile" and lauded for its "tremendous imagination," but as with so many films from Sundance, it may fade on arrival in theaters. Forgettable farces from the past like Hamlet 2 and Happy, Texas, which were acquired for millions and bombed on release, linger as a warning for overzealous distributors. But if anything, this infusion of original features—from stirring historical dramas to farting-corpse comedies—should at least stand out in a release calendar otherwise dominated by franchises, reboots, and superheroes.