How Son of Saul Captures the Reality of the Holocaust
More than any other in its genre, the Oscar-nominated Hungarian film brings to life an atrocity that's at risk of becoming an abstraction.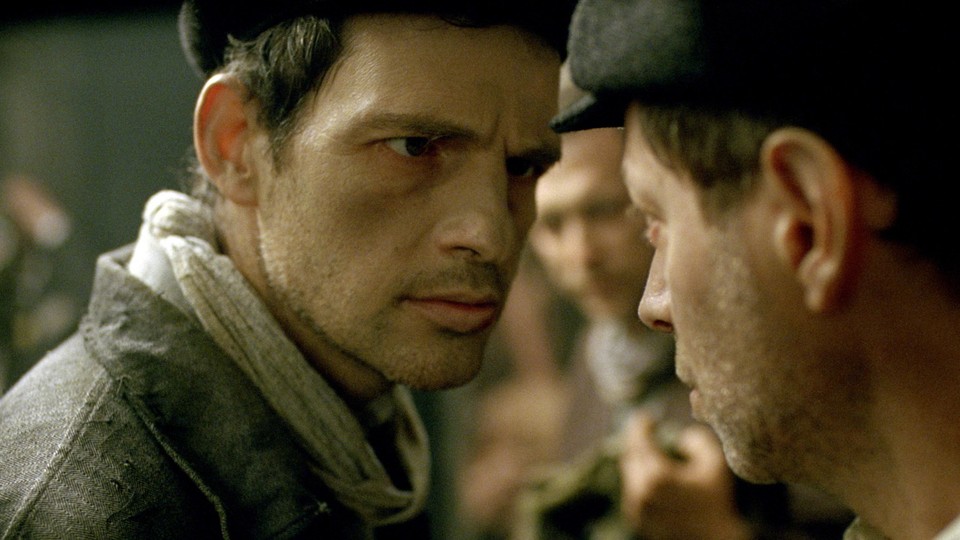 When the 2016 Oscar nominees were announced last week, few who have followed Son of Saul's prize-winning trajectory would have been surprised that the Hungarian drama secured a Best Foreign Language Film nod. The movie's unusual camera work, its haunting story, and Géza Röhrig's remarkable lead performance as a prisoner in the Auschwitz-Birkenau death camp in 1944 have earned it international accolades. It recently won a Golden Globe—Hungary's first—after claiming the Grand Jury Prize at its Cannes debut last May.
Now, Son of Saul is poised to join the long list of Holocaust-related dramas the Academy has feted, including The Diary of Anne Frank (1959), Judgment at Nuremberg (1961), The Shop on Main Street (1966), The Garden of the Finzi-Continis (1971), Sophie's Choice (1982), Schindler's List (1993), The Pianist (2002), The Reader (2008), and Ida (2014).
But it would be a mistake to simply categorize Son of Saul (originally titled Saul fia) as yet another award-worthy Holocaust film in a critical but some might say fatigued genre. "I didn't want to make a film with a distant, detached point of view," says its director, László Nemes. To avoid that, he sought to "place the audience in the shoes of one person in the middle of the killing machine. Otherwise the Holocaust becomes an abstract concept and the audience can back away." In this way, Son of Saul sets itself apart from its predecessors—revitalizing a subject at risk of losing resonance so many years later.
The project's place in the canon of Holocaust movies begins with its backstory. Nemes, himself the descendant of Shoah victims, discovered a French publication of actual testimonies buried at Auschwitz-Birkenau by the Sonderkommando—primarily Jewish prisoners whom the Nazis conscripted to usher their brethren into the gas chambers and crematoria. Disappointed with existing methods and angry about what he considered Europe's unsatisfying response to the Holocaust, Nemes created a film within narrow parameters focused on the portrayal of one man's surreal reality in Auschwitz.
As part of the Sonderkommando, Saul (Röhrig) is forced to lead prisoners into the fictitious showers of the gas chambers. With an over-the-shoulder view of Saul's seemingly endless assignments, extended shots of his often silent face, largely blurred backgrounds, and an immersive wall of sound, Nemes creates a claustrophobic hell. Unlike countless other Holocaust films, there is no savior here, no hero who comes to the rescue. There are only victims trapped in the killing zone.
Saul's moral dilemma—to participate in the murder machine or join its victims—is a foregone conclusion. Because the Sonderkommando were summarily executed to remove evidence of Nazi atrocities, his own demise is simply a matter of time. But when Saul finds a boy he believes is his own son, and insists on giving him a proper burial, his humanity awakens.
By focusing on one person's experience, Son of Saul conveys the infinite sense of loss through the finite. Instead of an incomprehensible six million fatalities beyond human understanding, Saul is relatable—even in this madness. And because his fate is doomed, his actions speak for the two of every three European Jews who were murdered. (The lost include my grandparents, two of their children, and countless relatives whose identities I have struggled to identify through decades of genealogical research.)
With its realism, Son of Saul provides insight into the plight of survivors, including my recently deceased father—whom the Nazis forced to dig mass graves as an orphaned teenager. After consuming endless books and movies, conducting interviews with him, and completing a graduate program at Hebrew University, the film still helped me more deeply understand the weight of what my father carried through almost seven post-war decades. As Röhrig, another descendant of victims, says, "First you must survive. Then you must survive survival." Son of Saul depicts Jews forced into what the Nazis described at Nuremberg as an unparalleled form of torture—forced participation in the annihilation of your own people.
When it comes to exploring the dark side of humanity, there's no taking for granted that any one picture will offer the last word. "Every few years there is a film that comes out that ... inspires people to look at the Holocaust again with fresh eyes," says Rick Trank, the Oscar-winning writer and director, whose 15 feature documentaries include 10 relating to the Holocaust. But it took a while for filmmakers to see the artistic potential in the tragedy: It wasn't until 14 years after liberation, that the Academy put a Holocaust-era feature into the spotlight when it named Shelley Winters Best Supporting Actress for her role in The Diary of Anne Frank.
As Hollywood's track record shows, those who lived through the Holocaust and critics don't always agree on what constitutes a noteworthy project. Many survivors consider fictional material, including comedy-dramas such as Roberto Benigni's Oscar-winning 1997 film Life Is Beautiful, a farce. In contrast, the 2008 action movie Defiance scored no prominent awards for its factual portrayal of the Bielski brothers' triumph as partisans. But the film earned high praise from survivors and their families for its realistic adaptation of Nechama Tec's historical account, Defiance: The Bielski Partisans. In the middle of a theater screening, my father, whom American troops liberated from Buchenwald in 1945, turned to me in the dark saying, "This is how it was." As I watched Son of Saul, I could practically hear him whisper those words again.
Many survivors prefer films that reflect stark reality as a way to both educate the uninformed and counter Holocaust deniers. Sentimentalizing narratives is an affront to their suffering. "You do a 'dis-justice,' if I can say such a thing, to what happened to the six million Jews," Jack Adler, an 86-year-old survivor of Auschwitz, told me. "You should either show facts or don't show anything." Adler's son, the cinematographer Eli Adler, details his survival in a new documentary titled Surviving Skokie. The story of the Shoah, and its witnessing, is still unfolding. And as fewer witnesses remain, works depicting authentic historical events take on greater significance.
Experts who have no personal connection to the tragedy agree the gap between all other films and Son of Saul is so great that the movie essentially ushers in a new era of Holocaust cinema. "It is the most personal, intimate, and believable account of what it must have been like for those who interned in the camps and annihilated," says Tom Nunan, the Oscar-winning producer of Crash and a lecturer at UCLA's Graduate Film and Television School who calls Son of Saul the most important Holocaust motion picture ever made. "It even brought to life the monsters who ran the camp more effectively than any other Holocaust film."
The only other picture that comes close to achieving what Son of Saul does debuted 57 years ago. The Diary of Anne Frank remains a classic in print and on screen. It is also an effective teaching tool because it's so relatable. As it depicts a young girl's constant struggles and tiny joys—her first love, food shortages, and continued conflicts with unlikely roommates under the endless threat of discovery and deportation—the reality of her tiny, nocturnal existence becomes all the more real to viewers.
With a similar combination of factual material and thoughtful artistry, Son of Saul provides a window into the evil of conscripting human beings into the machinery of extermination. By celebrating one man's determination to express his free will, the picture reveals the redemptive beauty of connecting to the transcendent—if only for a fleeting moment. This generates the project's only smile near its dreaded conclusion. In a sea of award-winning films, Son of Saul offers an alternative so powerful, that, by example, it makes room for more. This may be its greatest triumph of all.