The Joyless Pop-Star Freakout of 2016
Rihanna's Anti and Sia's This Is Acting pair interesting ideas with forgettable songs.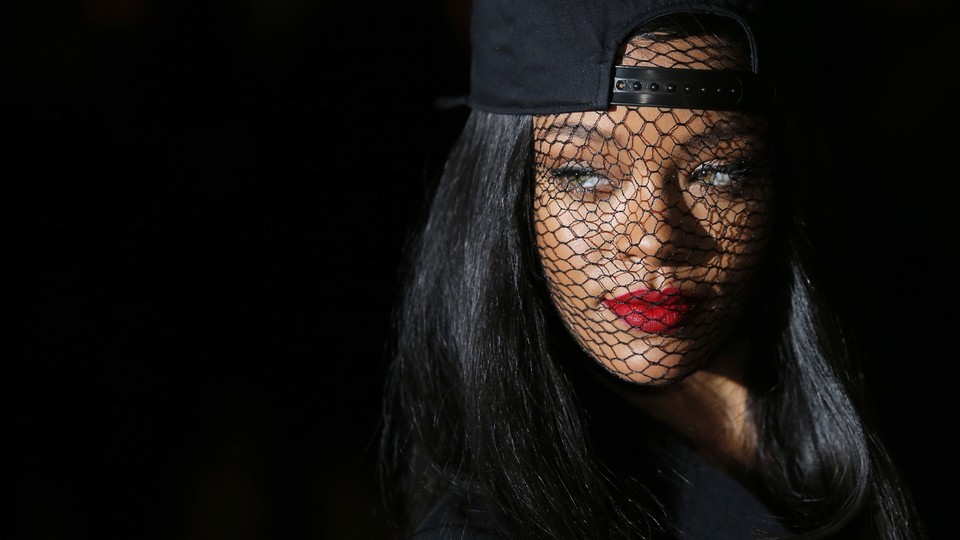 When Rihanna dropped "Work," her charmingly monotonous single about sweating for success, I wrote that she should be considered pop music's goddess of money. I may have to revise that statement. Later that same day, the streaming platform Tidal accidentally uploaded Rihanna's long-awaited album Anti onto the Internet, kicking off a frenzy of illegal file sharing. The woman who recently made clear that if you mess with her finances your wife will be kidnapped and you will end up with a suitcase full of blood responded by tweeting out a free download code.
Huh? What happened to "all I see is dollar signs"? Is Rihanna feeling the Bern? Surely the wife of Tidal's CEO isn't being held for ransom right now.
It's probably best to think about Anti's carefree, socialistic launch as part of a larger demonstration of power and wealth. At 27, Rihanna doesn't need anyone else's coins anymore. Nor, apparently, does she need hits. As its title hints, Anti is an act of refusal. She will not be providing any more songs for spin classes. She will not stand by as critics label her a mere creator of product. She will glower and wail as the public thoughtfully nods, impressed by pop's latest lightweight-to-heavyweight transformation.
In what's probably a coincidence, Anti has poached attention from another pop fixture's attempted rebellion against expectations this week. Sia's new album This Is Acting actually is meant to be a collection of spin-class jams—but also an exposé of how the modern song machine works. It's an anti-Anti in sound, but somewhat akin in its intentions. Taken together, the two albums suggest that even pop stars are getting worn out by the industry they've profited from and the culture they've shaped. They also, in their mediocrity, offer a reminder that self-awareness is a lot easier to achieve than a good pop song.
* * *
By ditching the sonic signifiers that made her popular in favor of something thicker and more complex, Rihanna joins a tradition that goes back at least to the Beach Boys' Pet Sounds. Beyoncé is probably the last artist to successfully pull this kind of move off (though, before you hit "comment," know that I'm not trying to equate any of these titles in quality). In fact, Beyoncé's self-titled 2013 album has a lot in common with Anti in that it tamped down the expected dosage of fingernapping fun to instead offer Halloween atmospherics and nap-time BPMs. But Pet Sounds had "God Only Knows," "Sloop John B" and "Wouldn't It Be Nice." Beyoncé had "Partition," "Drunk In Love," and "Flawless." The early contender for Anti's best song, "Kiss It Better," would rank among the second tier of Guns 'N' Roses ballads.
As with many splashy left-turn albums from pop acts, Anti's production is an achievement: the result of experimental impulses executed with all the studio firepower money can buy. The mix is very loud—I've had to hit pause and rest my old ears a few times while listening—but the volume helps when appreciating the low-end on songs like "Consideration" and "Desperado," where you can imagine watching the bass strings vibrate in slo-mo on a 3D IMAX screen. The jazzy synth noodling for the interlude "James Joint" may still sound futuristic in 2116. "Woo" joins a trend toward confrontational atonality in recent hip-hop and R&B—thank you Yeezus—but somehow the song's stabby noises are even more frightening than anyone else's. Throughout, Rihanna's voice has never been more magnificent—texturally scuffed up but able to hit big notes.
Also impressive are Rihanna's intentions in rounding up a forward-thinking set of producers and songwriters to create a cohesive statement about defying expectations. The excellent opener, "Consideration," has Rihanna using a loopy, bewitching melody to disarm her critics: "I got to do things my own way, darling, will you ever let me? Will you ever respect me? No." On songs like "Desperado," she's looking for a partner in love who will also be her partner in nonconformity; the tabloid reader's impression will be that she's referring to her boyfriend Travi$ Scott, the rapper who reportedly encouraged Rihanna to keep tinkering on Anti. And the easiest explanation for why she has a six-minute karaoke cover of a stupendous psych-rock track from Tame Impala's 2015 album is that its first verse encapsulates her Anti mentality perfectly:
I can just hear them now
"How could you let us down?"
But they don't know what I found
Or see it from this way around
But admiring how Anti sounds and what Anti says is not the same as loving the songs. "Work" stands out from the rest because of its uptempo beat and clear interest in delivering a hook, but it's in line with the rest of the album in how it coasts on one good idea, declining opportunities to develop, transform, or even really circle back to offer a sense of completion. DJ Mustard's "Needed Me" is another act of self sabotage, with attitude-packed verses—"Didn't they tell you that I was a savage / Fuck your white horse and a carriage"—that give way to a tiresome moan of a chorus.
Sometimes the leave-it-unfinished approach works, as on the silky comedown of "Yeah, I Said It" or in the desperately sad, sonically diverse closing trio of ballads. Mostly, though, the refusal to offer moments of joy or transcendence feels like a miscalculation. This is an album about how badass it is to take your own way. If Rihanna doesn't seem to be enjoying the trip, what's the point?
* * *
Of course, transcendence comes cheap in pop music, and Sia Furler has been one of the best sellers of it for years. The hallmark of the 40-year-old's career as a Billboard 100 songwriter has been anthems about overcoming that you can both belt along with and dance to. Switch on This Is Acting to binge on her incredible, smoky voice mumbling about adversity in verses and then surging in the chorus, using blunt metaphors about birds set free or people come alive.
But the most fascinating thing about this album is not the music it contains but the story it's been sold with. The title refers to the fact that Sia's a total mercenary; when she writes these wrenching tunes, she does it by imagining herself as an A-list pop star in need of their next hit. Indeed, we've been told that almost every song here was offered to someone else—Adele, Beyoncé, and yes, Rihanna—but each one was declined. So Sia decided to sing them herself and see whether they'd catch on.
She explained all of this and more in a Rolling Stone interview that is essential reading for its small, frank details about what it's like to make a living off of trying to guess what Shakira or Katy Perry might want to sing about next. Contrary to all the coverage that portrayed John Seabrook's lovely, explanatory 2015 nonfiction book The Song Machine as some sort of investigative-journalistic revelation, pop fans have long known about Max Martin, who's written nearly as many No. 1 hits as John Lennon or Paul McCartney. They are familiar with the fact that Sia penned "Diamonds" and "Pretty Hurts." They get that part of what makes Anti radical is that Rihanna didn't use songs from either of the above songwriters. But they haven't ever been confronted with something quite like This Is Acting: an industry hack showing her work, with no stated aspirations to profundity.
Two years ago, when she was just becoming a household name, Sia acted slightly less cavalier about her intentions. She said that her breakout solo single, the modern classic "Chandelier," was inspired by her own struggles with alcoholism. Other challenges in life, supposedly, informed the record it came off of, 1,000 Forms of Fear. Listening to that album remains a highly emotional experience. The opposite is true for This Is Acting, which presents her volcanic choruses in the most generic context possible. The songs where Sia is singing about nightlife or where she's channeling Destiny's Child do in fact feel like acting—poor acting. And the production is so straightforward as to make the tunes interchangeable: Oh another anthem with military drums and echoing piano, how nice.
So Sia's gone in one direction, toward radical ordinariness, to deflate pop's pretenses toward meaning. Rihanna's gone in the other, to show that someone widely considered pop's most easily commodified voice actually has something to say. It would be mean-spirited to tell either of them to go back to their lane. But to wish they'd blended their approaches a bit—that some of Sia's science pepped up Rihanna's soul, or that some of Rihanna's sonic creativity influenced Sia's predetermined palette—is not to wish for compromise. It's to wish for the very magic that can make pop music great art.