Remembering Natalie Cole
The American singer died Thursday at the age of 65.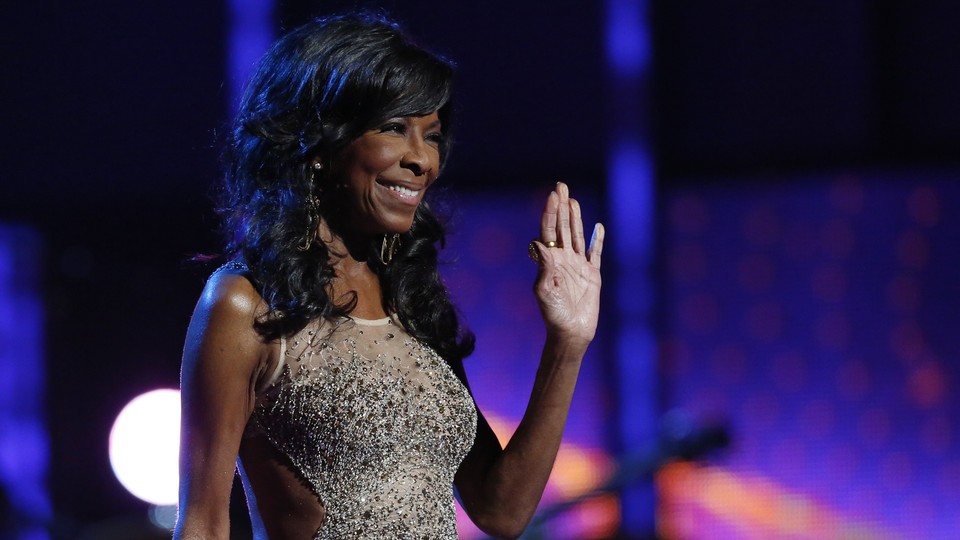 Natalie Cole, the Grammy award-winning American singer known for R&B hits like "This Will Be" and "Our Love," has died. She was 65.
Cole died Thursday night at Cedar Sinai Hospital in Los Angeles of "complications from ongoing health issues," according to a statement from her family.
"Natalie fought a fierce, courageous battle, dying how she lived ... with dignity, strength and honor," her sisters, Timolin Cole and Casey Cole, and son, Robert Yancy, said in a statement Friday. "Our beloved Mother and sister will be greatly missed and remain UNFORGETTABLE in our hearts forever."
In her decades-long career, Cole followed in the footsteps of her famous father, Nat King Cole, who died of cancer in 1965 when his daughter was 15 years old. When Cole was young, her father, already a star when Cole was born in 1950, would bring home a variety of records for her and her siblings. "There was always music playing at our house in one room or another," Cole wrote in her 2000 memoir, Angel on My Shoulder.
Cole started singing at music clubs while in college at the University of Massachusetts. Her debut album, Inseparable, released in 1975, earned Cole her first two of nine Grammy awards. It was an instant success, and Cole went on to release more than 20 albums, including her best-selling Unforgettable … With Love, a 1991 collection of Cole singing her father's classic songs.
Off the stage, Cole struggled with drug and alcohol addiction for many years. She spent six months in rehab in the 1980s. "Just like a baby who wants to put everything in its mouth or stick its finger in every hole—I wanted to try everything—good, bad, and indifferent," Cole wrote in the same memoir. "Looking back, it seems that I dove head first into every black hole I encountered, and before I knew it I was stuck and having to claw my way out."
Cole was married three times, and divorced from her husband in 2004. In 2007, Cole was diagnosed with hepatitis C, which doctors said she likely contracted years earlier when she injected heroin. Cole successfully underwent chemotherapy for the disease, but the treatment led to kidney failure. Cole received dialysis three times a week, but continued to perform. Cole told Larry King during an appearance on his show in April 2009 that doctors said she needed a kidney transplant. A month later, she had a donor—a fan. Cole described how it happened to the Daily Mail in 2013:
Natalie's donor was a young woman called Jessica from El Salvador who died while heavily pregnant with her baby boy Lucas. Jessica was the niece of a nurse called Esther, who had once tended to Natalie. It's a miracle Jessica's kidney was a match. "I'd had surgery in LA for an infection and Esther looked after me," says Natalie. "A couple of weeks later she was watching Larry King with Jessica.

"She said to her, 'I took care of that lady for a day and she was so nice. I wish we could find her a kidney.' A few weeks later Jessica passed away. She was eight months pregnant and had a stroke. They saved the baby and the family gave all her organs away. Esther said, 'I know a lady who needs the kidney.' It was a perfect match. It was meant to be."
On the morning of the operation, Cole's sister Cookie, the orphaned child of her mother's aunt whom the Coles adopted, died of cancer. Cole's mother, Maria, a singer herself, died in 2012 of stomach cancer.
Cole documented her health troubles and kidney transplant in a second memoir, Love Brought Me Back, published in 2010.
Cole performed sold-out shows in the United States this summer, but canceled appearances in November and December to recover from a medical procedure. At a concert in Atlanta in June, Cole sang a "duet" with her father, crooning "Unforgettable" along with the original vocals. "Her sumptuous, buttery vocals are the kind of rare treasure that needs only the twinkling of a piano, the snapping of fingers, and the thump-thump-thump of a stand-up bass," wrote Jamila Robinson for The Atlanta Journal Constitution.