Remembering Alan Rickman
The British actor, who was perhaps best known in the U.S. for his roles in the Harry Potter films and Die Hard, was 69.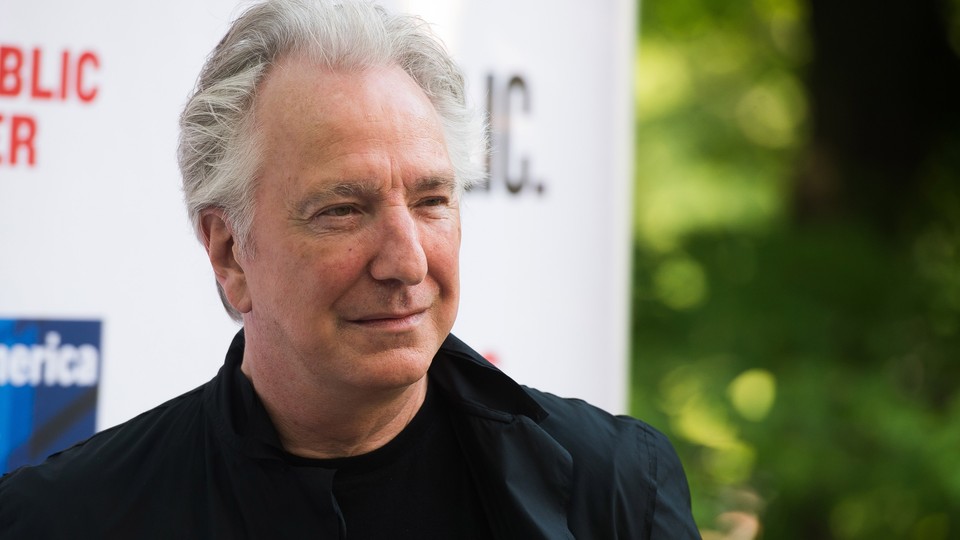 Updated on January 14 at 10:56 a.m. ET
Actor Alan Rickman, who captivated audiences in his role as Severus Snape in the Harry Potter films and as the Teutonic villain Hans Gruber in Die Hard, has died in London. He was 69, and the cause was cancer.
News of his death was confirmed by a spokesman for the London-based Independent Talent Group, which represented Rickman.
"The actor and director Alan Rickman has died from cancer at the age of 69," said a family statement, cited by the BBC. "He was surrounded by family and friends."
The actor Stephen Fry, a longtime friend of Rickman's, tweeted:
What desperately sad news about Alan Rickman. A man of such talent, wicked charm & stunning screen & stage presence. He'll be sorely missed

— Stephen Fry (@stephenfry) January 14, 2016
Daniel Radcliffe, who starred in the Harry Potter films, posted:
Rickman's defining role was as Vicomte de Valmont in the Royal Shakespeare Company's 1985 production of Les Liaisons Dangereuses. He came to Hollywood's attention three years later through Die Hard, in which he played Gruber, the icy villain, opposite Bruce Willis's John McClane, and through 1991's Robin Hood: Prince of Thieves, in which he played the villainous Sheriff of Nottingham.
But while onscreen villainy might have brought him recognition, Rickman's touching performances in Truly, Madly, Deeply, the 1991 Anthony Minghella film in which he starred opposite Juliet Stevenson, and Sense and Sensibility, the 1995 Ang Lee film in which he acted alongside Emma Thompson, earned him critical acclaim.
His recent film roles bought him more global fame: He played Snape, the complex and morally ambiguous teacher in the Harry Potter film series, and the role of Thompson's unfaithful husband in Love Actually.
Thompson, with whom Rickman worked for years, said:
The Guardian adds:
Yet it was Rickman's work on stage that established him as such a compelling talent, and to which he returned throughout his career. After graduating from Rada, the actor supported himself as a dresser for the likes of Nigel Hawthorne and Ralph Richardson before finding work with the Royal Shakespeare Company (as well as on TV as the slithery Reverend Slope in The Barchester Chronicles).
Survivors include Rima Horton, his partner since 1965 whom he married in 2012.