Is the Baseball Hall of Fame Changing Its Mind About Doping?
The 2016 class consists of two star players, Ken Griffey Jr. and Mike Piazza, with the latter prompting speculation that its attitude toward performance-enhancing drugs may be shifting.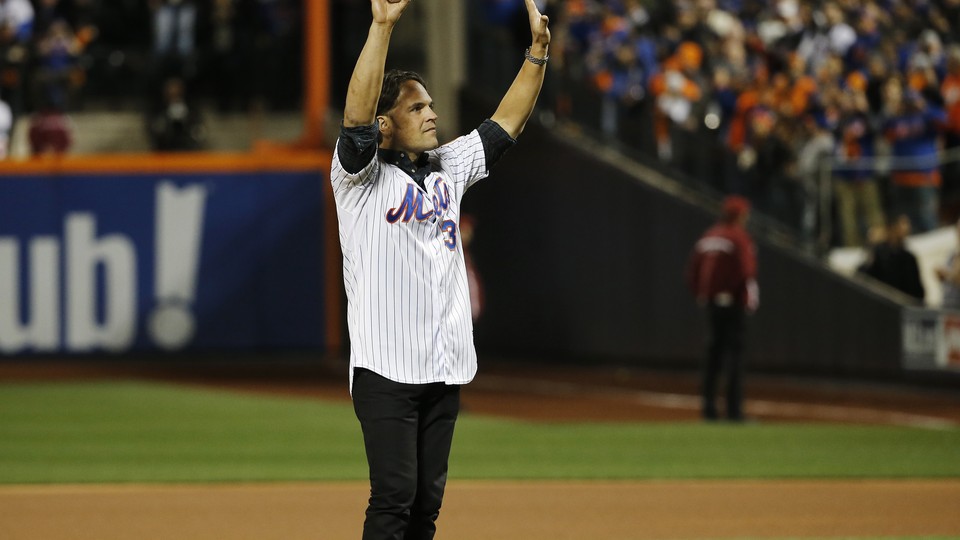 Every year, Major League Baseball's Hall of Fame continues to wrestle with the sport's complicated legacy of steroid use, and 2016 is no different. On Wednesday, its notoriously selective voters admitted just two new members: the outfielder Ken Griffey Jr. and the catcher Mike Piazza. Griffey, who appeared on 99.3 percent of ballots cast (a new record), is a baseball icon who remained untainted by scandal in the sport's most tumultuous years, while Piazza, who gained entry on his fourth try, has long been dogged by speculation that he used performance-enhancing drugs.
The Baseball Hall of Fame has always been a tough judge, usually admitting somewhere between zero to two new members a year. Candidates need 75 percent of the vote (this year, 440 ballots were submitted) to get in, or 5 percent to be able to try again next year (they're eliminated after 10 attempts). No one, not Babe Ruth nor Jackie Robinson nor the previous record-holder Tom Seaver, has ever been elected unanimously. Griffey, who was baseball's poster boy in the 1990s and one of its most prolific home-run hitters, helped revitalize the MLB's image after a 1994 strike cancelled the World Series that year, and has always avoided any association with performance-enhancers.
His election was never a question—he will likely be enshrined as a Seattle Mariner, the team he played for from 1989 to 1999 before returning in 2009 and retiring there in 2010 (he also played for his hometown Cincinnati Reds from 2000 to 2008). Piazza, by contrast, was one of numerous candidates who took time to break through to the Hall, mostly because of voters' discomfort with the rumors surrounding him and many other players who played in the '90s and early '00s, before the MLB started rigorously testing for steroids in 2003.
By the numbers, Piazza was a cert for the Hall. He's a 12-time all-star, possibly the best-hitting catcher in the sport's history with 427 career home runs (a record for the position), and his career is a classic Cinderella story. He was picked in the 62nd round of the 1988 draft, as the 1390th overall player, by the Los Angeles Dodgers as a favor to his father, who was friends with the Dodgers' manager, Tommy Lasorda. The team signed him to a tiny contract, but he quickly proved himself as a hitter and was named Rookie of the Year in 1993, his first full season in the major leagues.
He was traded in 1998, bouncing to the Florida Marlins and then to the New York Mets, where he led the team to the World Series in 2000. He contributed one of modern baseball's most significant moments on September 21, 2001, during the Mets' first game in New York after 9/11, when he hit a home run in the eighth inning, prompting wild celebration from a tense crowd. (He's also the only baseball player with a Belle and Sebastian song named after him.)
But Piazza, always a bulked-up player (as was the trend among sluggers in the 1990s), has long endured rumors that he used steroids, partly because of his unusual leap to success from obscurity deep in the draft. Though he admitted to using a substance called androstenedione, favored by many hitters in the early '90s when it was available over-the-counter and hadn't yet been banned by the MLB, he denied any serious steroid use in his memoir, Long Shot, released in 2013. Either way, the rumors were undoubtedly what kept him from gaining entry to the Hall in his first three tries, and his admission in 2016 could be a turning point in the museum's attitude towards the steroid era.
Stars like Barry Bonds and Roger Clemens, who would be automatic first-ballot Hall of Famers had they not been linked to performance-enhancing drugs, both saw upticks in their vote totals this year, to 44 and 45 percent respectively. The museum has purged some of its older voters from the rolls—you now can't participate if you haven't written about baseball in 10 years—and younger voters may have a more inclusive attitude, looking to acknowledge baseball's stars, warts and all. Both Clemens and Bonds have been on the ballot for four years; the question is whether attitudes will shift that much before their time runs out.