Breaking the NFL's Glass Ceiling
Kathryn Smith of the Buffalo Bills has been named pro football's first full-time female coach.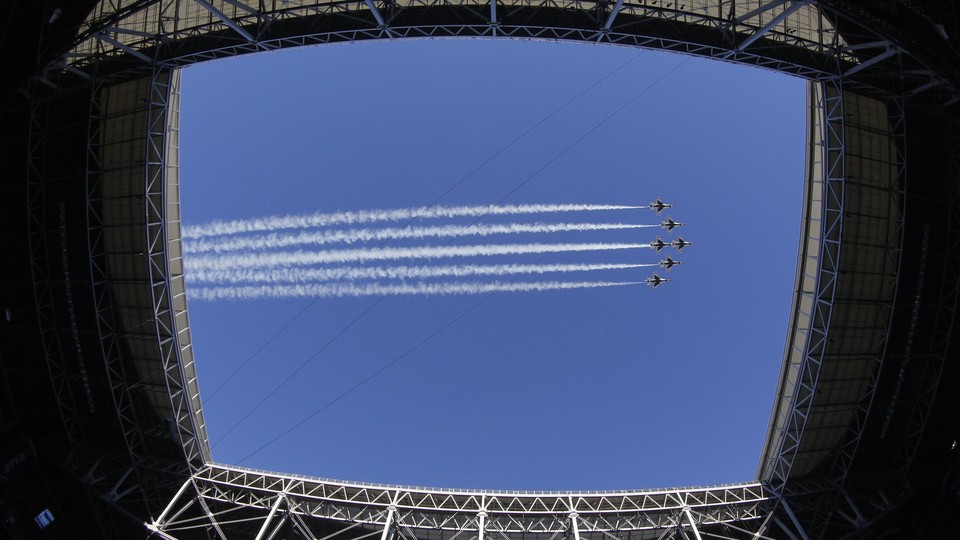 Professional football, despite its reputation and its dangers, is becoming an increasingly inclusive place. Female executives have populated the front offices of NFL teams for decades. Michael Sam, the college defensive standout and first openly gay player to be drafted, got a chance to fight for a roster spot on two different teams before walking away from the sport last year.
On Wednesday night, Kathryn Smith, who has worked in the NFL for several years, became the first woman to be named a full-time member of a coaching staff. Smith will serve as a special-teams coach for the Buffalo Bills under their charismatic leader Rex Ryan. (Coincidentally enough, in 2014, Daniel Snyder argued in The Atlantic that Michael Sam would have made a great fit for Ryan's defense.)
In announcing the hire, Ryan eschewed mention of the noteworthiness of the moment and choose to highlight Smith's extensive resume instead:
Kathryn Smith has done an outstanding job in the seven years that she has worked with our staff. She certainly deserves this promotion based on her knowledge and strong commitment, just to name a couple of her outstanding qualities, and I just know she's going to do a great job serving in the role of Quality Control-Special Teams.
If you thought reaction to Smith's hire was going to be universally positive or, perhaps encouragingly seen as not a big deal, prepare yourself for disappointment.
On Thursday morning, Kevin Kiley and Ken Carman of CBS Cleveland's radio sports talk show "Kiley & Carman,"devoted an entire segment to lampooning and second-guessing Ryan's decision to hire Smith.
"I'm sure if I'm running 100 miles-per-hour under a kickoff and miss a tackle, I'm gonna wanna hear from Kathryn on how I could have done it better. That's exactly what I want to hear," Kiley begins a heavily sexist bit punctuated by the titters of his co-host. He continued: "There's no place for a woman in professional sports in football coaching men. Men will not take to it."
Meanwhile, Buffalo Bills guard Richie Incognito, known best for his general lack of grace, was among the first to embrace the news about Smith.