Kanye West's 2016 Rap Resurrection
"Facts" has him returning to the hip-hop fray after a year of ignoring it.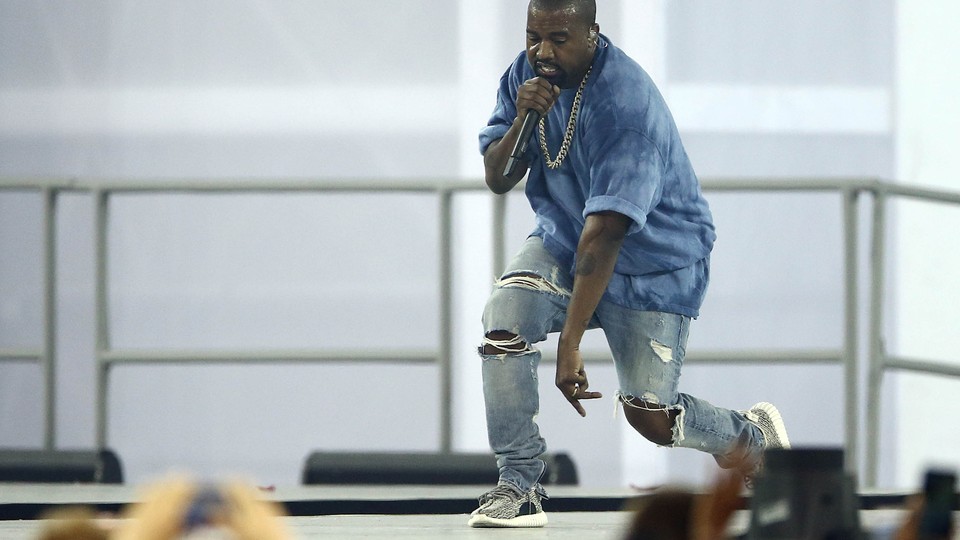 It's 2016, so what's Kanye West going to do now? Kanye asked himself the same sort of question on 2011's "Monster," and helpfully provided a reply:
Whatever I wanna do! Gosh, it's cool now!
Know I'm gonna do: Ah, it's the new now!
Which is a nice distillation of Kanye West's musical attitude. He sets trends by following his whims, often while referencing bro comedies of the mid-aughts.
A year ago, he began a campaign to show the world just how little he cares about its expectations. The New Year in 2015 brought a tender ode to fatherhood recorded with Paul McCartney, later followed by a country song, an ambient mood piece, a remix from an experimental classical arranger, a lot of weird clothes, and just one true rap song. But he's rung in 2016 with "Facts," a tossed-off-seeming brag track whose big twist is just how conventional it is. For the first time in a while, West doesn't sound like he's in his own universe; he's wading straight into the middle of current hip-hop culture to remind people of why he matters in the first place.
The song is a sendup of Drake and Future's recent hit "Jumpman": West steals that song's vocal cadence, and its obsession with Michael Jordan, basically to say that he's better than Michael Jordan, Drake, and Future. The first assertion is explicit, with West repeatedly shouting "Yeezy just jumped over Jumpman!" He's talking about shoes, about how his sneakers line for Adidas has the hype and sales to compete with the iconic Air Jordans. He also spends a lot of time dissing Air Jordans' maker, Nike, West's ex-partner-in-fashion-design. His lyrics claim that Nike would have nothing without help from Drake and West's friend Don C, a "fact" that isn't strictly true when it comes to commercial figures and is also plenty arguable when it comes to cultural cred.
Mostly, though, West seems interested in reminding listeners of his cultural cred. He's not only using Drake and Future's flow. He's also for the first time working with the producer Metro Boomin, who's behind a slew of recent hip-hop smashes including, yes, "Jumpman." (The producer Southside, also associated with Future and Drake, contributes too.) "I been trending years, y'all a couple days," West says, a reminder that even though Drake, Future, and many of the guys in Metro Boomin's contacts list are his friends, they're also his younger rivals. In interviews, he's already acknowledged that Drake has him beat in musical popularity—temporarily.
As a rapper, does West re-prove himself on "Facts"? Well, most of the song is not very clever, though I do like the ruthlessness of him bragging about outfitting his toddler in $10,000 furs while "your baby daddy won't even take your daughter shoppin'." But pure lyrical prowess has never been West's appeal. Sound has been. Attitude has been. So here, the production feels bigger, more grandiose, than anything Drake or Future put out in 2015. Even better, West's delivery is absolutely maniacal. He screams, he gasps, and he terrifyingly makes like Joan Crawford in Mommie Dearest for this line: "Every time I talk they say I'm too aggressive / I was out here spazzin', all y'all get the message?" We do, Kanye, we do—you still have less chill than everyone else. Your next challenge: Getting back to music everyone else will imitate.