Has Hollywood Learned Anything About Diversity?
In 2015, movies and TV shows featuring characters of color did big business at the box office, but 2016's biggest projects seem to be looking backward.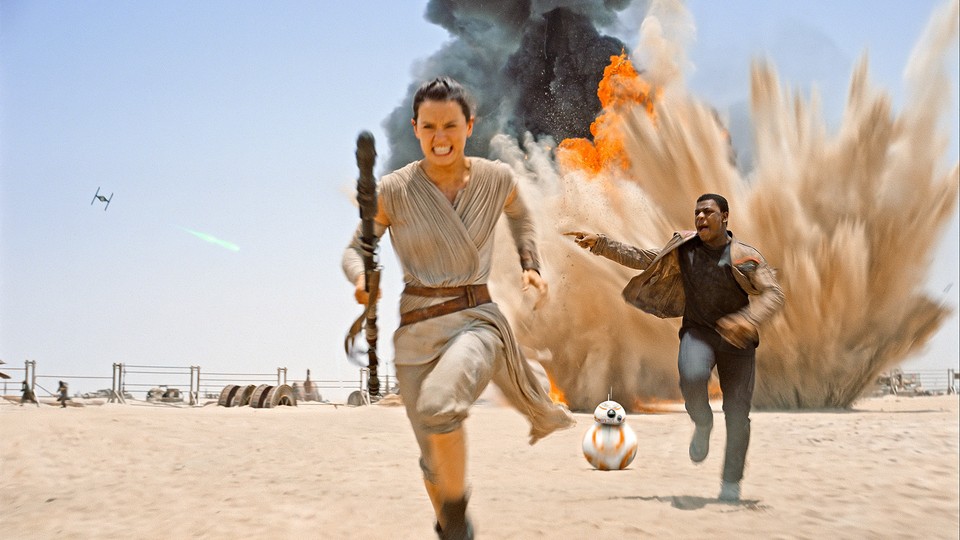 Despite high hopes and higher stakes, 2015 wasn't quite the year that Hollywood solved its many issues with representation. It was a year that saw a depressingly white slate of Oscar nominees in January, followed by Emma Stone playing a character who's half Asian in July's Aloha. In November, The Hollywood Reporter was obliged to call out the whiteness of its annual actress roundtable issue.
And yet it was also a year in which Empire became TV's biggest breakout hit in years, the encouragingly diverse Star Wars: The Force Awakens made more money than any movie ever produced, Viola Davis's Emmy speech made waves, and works like Creed, Furious 7, Fresh off the Boat, and Master of None became critical and commercial hits. So it's particularly baffling now that in looking ahead to the year in TV and film, so many upcoming projects feature primarily white actors. If 2015 proved anything, it's that offering diverse actors and storylines in film and television is good for business. Why do studios seem to be slow in figuring it out?
There's plenty of evidence that the industry thinks 2015's diversity boom was nothing more than a passing fad. Last March, Deadline published a piece about a "trend" in "ethnic casting" for TV that noted how the success of Empire and other shows with diverse casts had inspired studios to look for more actors of color in pilot season. It also included some hand-wringing from agents about their white clients getting less work (and eventually prompted an apology from the site). 2015's fall season included shows like Dr. Ken, Quantico, Rosewood, The Player, and Minority Report with leads of color; but this winter feels a little more lacking, especially on the "prestige TV" front, where new shows like Billions, Vinyl, and even Fuller House are the biggest things on offer.
The premium network Starz has struck gold with prestige shows focused on underserved audiences including Power, Survivor's Remorse, and Outlander, and has publicly acknowledged that it's actively seeking viewers who are largely ignored by other cable networks. But the majority of HBO, Showtime, and Netflix dramas continue to largely focus on that ever-familiar protagonist: the angsty white guy.
The more conservative world of film has been even slower to react to calls for more characters and actors of color, since funding big-budget movies is often a costly gamble. The money-magnet Fast & Furious franchise, which features a notably diverse cast, started out as an unexpected hit for Hollywood in 2001 before it spiraled into a super-franchise; the Star Wars director J.J. Abrams has repeatedly said he thinks "it's important people see themselves represented in film" when asked about his casting of the new movie. But it's considerably harder to imagine studio bosses saying the same things behind closed doors. Abrams's vision was crucial to Star Wars featuring a female Jedi and a black male Stormtrooper as its leads, and it paid dividends. Yes, the movie would have made money no matter what, but it's undeniable that it appealed to the franchise's broadest audience yet. And yet there's nothing at all on the 2016 release slate with a similarly exciting cast.
The Hollywood Reporter at least noted that its 2015 roundtable of actresses in contention for an Oscar nomination was all white—the publication's explanation, deemed lacking by many, was that they couldn't identify a woman of color who was in contention for a major award. The message was: It isn't the media, it's the industry, so blame them. But it would have been easy for the magazine to invite actors of color who were on the fringes of the awards race—thereby using its power to draw attention to a more diverse talent pool.
This year's Oscars might be just as anachronistic as THR predicted—as critical hits like Creed and Tangerine fail to gain traction in precursor awards, another whitewashed acting ballot seems more and more likely. And as the critic Mark Harris pointed out on Twitter, films focusing on female characters like Brooklyn, Inside Out, Carol, and Room have also failed to score with the all-important guild awards in advance of the Oscar nominations. "Are we looking at #OscarsSoMale?" he asked, referencing last year's trending topic #OscarsSoWhite, which so dominated the conversation that the Academy president Cheryl Boone Isaacs publicly promised reform.
That reform has apparently begun in terms of a focus on expanding diversity in the voting ranks, but since there are thousands of Oscar voters, significant change won't be felt for years. And that's a shame: It's easy to shrug off the significance of the Oscars each year, but aside from box-office returns, they're the only thing the industry pays serious attention to. If actors of color receive awards recognition, they get cast in more movies—and studios are always happier to take financial risks when projects have Oscar potential. These are the crucial elements involved in making the industry more diverse as a whole.
Looking ahead to the year in big-budget films, it's hard to be encouraged. Superhero franchises are the name of the game in 2016: The Marvel juggernaut rides on, but its first film featuring a black lead (Black Panther) isn't released until 2018, while its first starring a female character (Captain Marvel) won't hit theaters until 2019. Both had to be pushed back to accommodate a new Spider-Man film, whose star is contractually obligated to be white.
Warner Bros. may move a little quicker with its nascent DC superhero universe—Will Smith is one of the stars of the upcoming Suicide Squad, and Gal Gadot's Wonder Woman appears in this year's Batman v. Superman before her own feature is released in 2017. But like Marvel, its franchise continues to draw from characters created a great many decades ago, leaving less room for casting actors who look and act like today's cinemagoers.
That's why the cast of The Force Awakens inspired such excitement. It's why Creed is that rare Hollywood reboot that manages to explore fascinating new thematic ground while telling a familiar story. It's hard to conceive why their success hasn't driven producers to understand that diversity in entertainment isn't just a worthy goal—it's good business. Progress is progress, but just a glance at 2016's upcoming films and television shows how quickly it can stall out.