George R.R. Martin Accepts the Truth
He won't finish his new A Song of Ice and Fire book before Game of Thrones airs its next season—just as readers have long feared.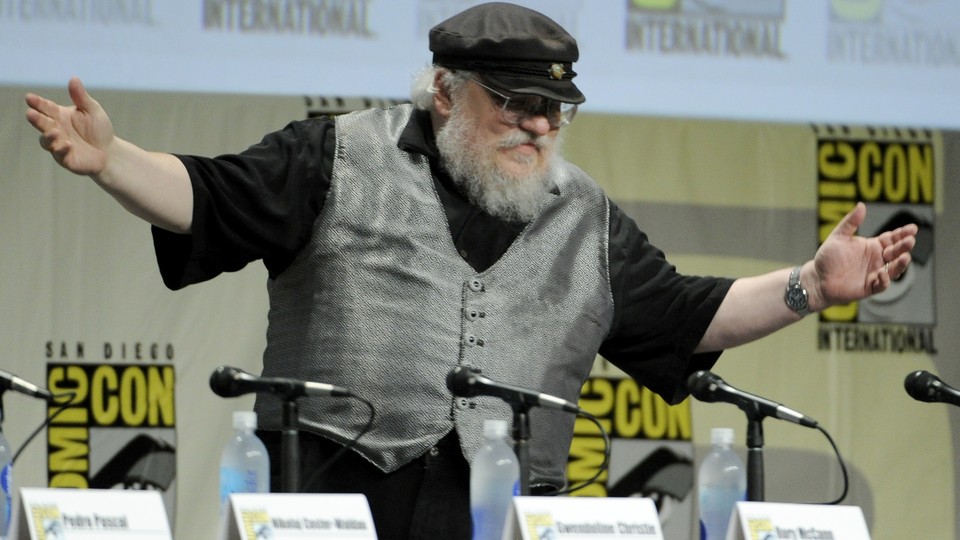 In May 2005, George R.R. Martin, the author best known for his fantasy series A Song of Ice and Fire, made a somewhat curious announcement: His book A Feast for Crows, the fourth entry in the saga, had grown so large that it had become unpublishable, and would have to be split into two books as a result. Crows came out later that year; its other half, A Dance With Dragons, finally followed six years later. So there are plenty of emotions you might feel after reading Martin's latest blog post announcing that Dragons' follow-up, The Winds of Winter, isn't coming out anytime soon. Surprise shouldn't be one of them.
The thing that's changed for Martin since 2005, of course, is the existence of Game of Thrones, the wildly popular HBO show that launched his books to even more stratospheric levels of fame. A Dance With Dragons debuted in 2011, after the first season premiered. Now, all of Martin's books have been adapted for television, and the sixth season that returns this spring will be entering fully uncharted territory for readers and viewers alike. Some fans had held out hope that Martin could push out The Winds of Winter before the show returned, but according to Martin, he blew through an end-of-year deadline that marked the latest date he could hand his publishers the book to ensure a March release. So it's official: Game of Thrones is going to tell Martin's story faster than he can, and will probably conclude before he's published all of his planned novels.
"I still thought I could do it ... but the days and weeks flew by faster than the pile of pages grew, and (as I often do) I grew unhappy with some of the choices I'd made and began to revise," Martin wrote. "And suddenly it was October, and then November ... and as the suspicion grew that I would not make it after all, a gloom set in, and I found myself struggling even more."
It's easy to sympathize (who among us likes deadlines?), but even easier to offer armchair diagnosis of Martin's problems, which the Internet has always been ready to do. His sprawling narrative of war, politicking, and revenge has only expanded with every sequel, and his gimmick of telling every chapter from the point of view of a single character makes it all the more challenging to recount events on a global scale. Martin frequently blogged about what he calls the "Meereenese knot," a complicated bit of storytelling centered around the fictitious city of Meereen in A Dance With Dragons that took him years to untangle. With The Winds of Winter, Martin should be moving his grand saga toward a conclusion, since he has seven books planned overall. That involves tying up hundreds of story threads, so it's no wonder that it's taking a while.
It's not the first time the conclusion of an epic series has been threatened by authorial issues. The Wheel of Time series by Robert Jordan is often cited as the worst-case scenario for a beloved fantasy saga: He spent decades writing them and died at the young age of 58, meaning the final three entries had to be assembled from his notes with the help of a co-author. Martin has always had a pithy response pre-loaded for fans who speculate about his health (namely: "Fuck you"), since much of their concern is less about his wellbeing than it is about who will finish the series. As was the case with Jordan, it's likely Martin's work will not be completed entirely by him—only here it's thanks to the realities of TV scheduling, not to an early death.
Perhaps the most baffling sentence in Martin's blog post about his missed deadline is this: "The show moved faster than I anticipated." Game of Thrones, like 99 percent of television shows on the air, has produced one season per year, and five years have passed since the fifth book came out. Perhaps Martin thought it'd take longer to get through the books, since they're narratively dense—indeed, it took two seasons (the third and fourth) to get through his mammoth third entry A Storm of Swords. But then it only took one season (the fifth) to get through the next two equally massive books combined, suggesting that while Martin's writing remains voluminous, the amount of necessary story he's doling out has considerably shrunk. Game of Thrones has hardly crept up on the novels, but it will now inevitably lap them.
So fans will likely first get the end of A Song of Ice and Fire as told by the TV writers David Benioff and D.B. Weiss rather than Martin himself. HBO's president, Michael Lombardo, has speculated that the show will last for eight years, and it seems pretty unlikely that Martin will write two more books between now and 2018. Of course, as the writer pointed out on his blog, the show will take different routes than his books. "Given where we are, inevitably, there will be certain plot twists and reveals in season six of Game of Thrones that have not yet happened in the books," he wrote. "Some of the 'spoilers' you may encounter in season six may not be spoilers at all ... because the show and the books have diverged, and will continue to do so."
Nonetheless, Martin has been upfront about telling Benioff and Weiss where he imagines the series will end up, and they'll follow his road map in the broadest sense. So, the only real news Martin offered in his blog post was an official declaration that his book wasn't yet finished. It was a fact that Martin appeared to be in denial about for a long time, however obvious it might have been to many frustrated readers. In 2014, he speculated to Vanity Fair that he could still catch up with the show, providing a timeline that seemed wildly unrealistic. Clearly, his attitude has shifted. As disheartening as his announcement is, the bright side is that now that Martin has accepted the facts, he can finally turn his attention to making the end of his series the best it can be. "Winds of Winter should be pretty good too, when it comes out," he said in his blog post. "As good as I can make it, anyway ... Enjoy the show. Enjoy the books. Meanwhile, I'll keep writing. Chapter at a time. Page at a time. Word at a time. That's all I know how to do."