Life as Bowie
Thoughts on David Bowie from a professor who's in the middle of a year spent impersonating him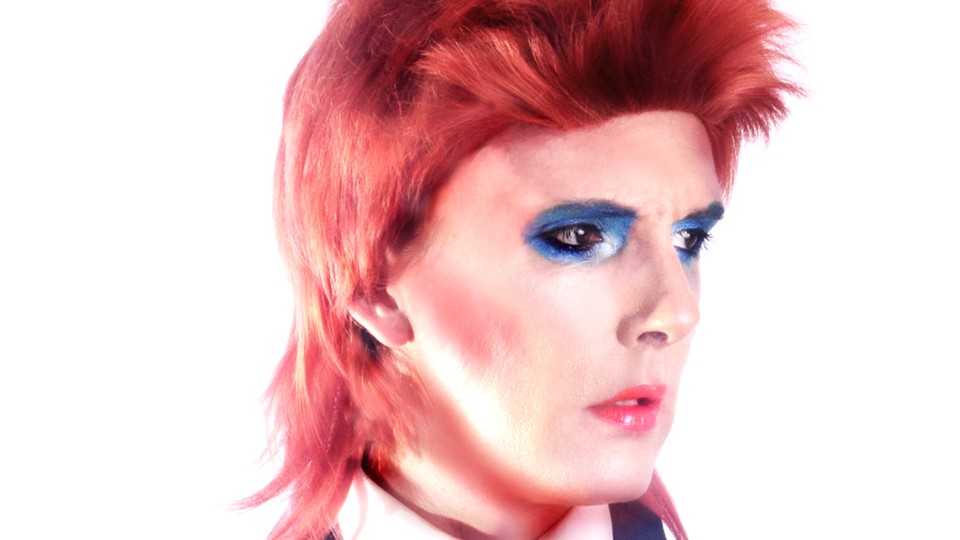 Last June, Will Brooker, a professor of film and cultural studies at London's Kingston University, decided to become one of his heroes, and not just for one day. In the process of writing a book about David Bowie, originally intended to coincide with the rock star's 70th birthday in 2017, Brooker took up a year-long project to immerse himself in Bowie's various phases via costumes, makeup, performances, and even dietary regimes (red peppers, milk, and energy drinks in the place of cocaine for the Thin White Duke period).
I spoke with Brooker on Thursday to get his thoughts on the life and death of his unusual study's unusual subject.
---
Spencer Kornhaber: How'd you find out about Bowie's death?
Will Brooker: Although I'm doing a chronology of Bowie's life and career, I still rely on contemporary technology, so I looked at my phone and saw it on Twitter. I was really in denial, I just thought, "It can't be true." I actually had [just had] a dream about David Bowie, which I often do because I read so many books about him during the day. I'd felt during the night that I'd come to a great revelation, and I woke up to this.
Kornhaber: Do you remember anything about the dream? 
Brooker: Yeah, I do, but I don't really think it was the revelation I thought it was at the time. It was David Bowie in the early 1970s, very young and beautiful and pale, with Ziggy Stardust red hair, wearing a knitted jumpsuit. And I was standing with him above this empty theater and he was saying, "When you no longer shock and interest the people below, the audience, it's time to move on and find something new." I suppose it does seem symbolic: David Bowie looking down at the people below saying, "It's time to move on."
Kornhaber: So in this dream, he was saying he needs to move on because he was no longer shocking people. Do you think that is a good way of thinking about his various changes over the years? That they were driven by a desire to react to how people had reacted to him? Or was it more he was being driven by his own vision?
Brooker: I think more the latter, actually. In the '70s, he was driven more by his own sense of impatience and boredom with himself, and his sense that he must keep on creating and keep on changing. It's really hard to think about what the reasons might be for that, but I think there were various things. He was probably genuinely worried that the mental illness that's prevalent in his family might spread to him somehow. He'd seen it in the case of his half brother, particularly, but also other members of his family had suffered from schizophrenia. I think he genuinely felt he had to get that out, express it creatively, to stop it from infecting him and taking over his mind. [Also] his youth, his ambition, and his drug use during the early '70s drove him to move very, very fast.
I think by the 1980s there was too much trying to second-guess what an audience might want, during the period of what people might regard as his weakest, artistically: From Tonight to the Never Let Me Down album, and some people would say Tin Machine as well. I think there was a change then when he was trying to think "What does the public want?" But I think in the '70s he was feeling, "What do I need to do as an artist, for myself?"
Kornhaber: What would you say was the underlying idea behind the various changes that he went through?
Brooker: What I'm trying to do in my studies is think about underlying structures in his work—tensions and oppositions. There's this feeling in his work that he keeps needing to move on and never stop, that to stop is a kind of artistic death—and also a desire to settle down and a desire to find a kind of peace. And by "his work" I mean various things: interviews, artworks, lyrics. He constantly returns to this idea of being a sailor, an image of travel; there's a song on the Lodger album about literally feeling the constant need to move on, that to settle down would be the end of it. So there's a tension between a desire to find stability, and a reluctance to find stability.
And I think that tipped towards stability and peace from, I don't know, his marriage to Iman and certainly with the birth of his daughter. I would say he found a balance during the 2000s where he didn't feel stagnant and he was genuinely happy and settled as a human being—apart, of course, from his illness, unfortunately.
Kornhaber: You mentioned that when you think of his work you think of interviews and things outside of music. There's always a conversation around any famous person about how to separate their public persona and their actual art. How do you draw that line with Bowie, or do you think it can't be drawn at all?
Brooker: Everything he said and did in public was often very contradictory and playful. It was often straight-out lies, to be honest. And you can understand it, being interviewed that much. Nevertheless we can read in interviews something about what he meant to express—as I say, his patterns and structures. Everything that David Bowie said, as opposed to David Jones, we should count as a public work of art we should call "David Bowie."
And David Jones he kept very separate. It always remained his real name. Iman has always maintained, "I married David Jones, legally he's David Jones." It's funny because Angie Bowie still calls herself Angie Bowie even though they've been divorced 35 years.
Kornhaber: That brings us to what you've been doing, taking on his various personas. What have been the big takeaways?
Brooker: The immersive part—which has become a performance-art project, a Bowie-like thing that I would hope he would appreciate—is really on top of research that I'd be doing anyways: less exciting things like reading and writing and thinking. But I wanted to try the extra dimension and see if it gave me extra insight. And some of the things I've been doing aren't all that unconventional, like going to everywhere that Bowie lived and worked and trying to gain a fuller understanding, a sense of geography and a sense of culture and a sense of physical distance between places.
Some things were just more part of performance art. It wasn't necessary to go on stage and sing, I suppose, but it became something more for me—I think it's almost become a project to see what happens to me. Although it has told me something about, in a small way, what it is to be in public demand, though I don't want to exaggerate—it's nothing compared to the public demand David Bowie was in. When you see photographs of yourself circulating in different languages and on social media and sometimes less-than-flattering critical comments, you can understand something about becoming an object and having your image not belong to you anymore. You discover something about the need for privacy and the need for anonymity and the need to be able to retreat from that.
And there have been other aspects, like literally the lack of sleep, which wasn't entirely deliberate; it had to do with the international travel I was doing. Restricting my diet and things like that: I wanted to see how it affects your physicality or your mind. During his early '70s period, I watched all the films that he is known to have watched and I read all the books that he is known to have read. And I think that's valuable in understanding the cultural framework he was inhabiting. You can understand the references he was making in albums like Station to Station. It can only be partial, but I think even partial understanding is more than nothing.
Kornhaber: Where were you in the timespan of his life when he died?
Brooker: I'd just finished with the 1990s and was about to move into the new millennium. It was actually a period of transition because, as I've found, there are some practical considerations: When you're trying to immerse yourself in one period, you've got to sort things out for the next, like arrange photo shoots and arrange gigs and get other people in place. You can't just say, "Well I'm going to try and do David Bowie's 1990s now." Custom outfits need to be commissioned months in advance. His hair was very different in the 2000s and he had, of course, years to grow the hair. So I was kind of in a period of in-betweenness where I was going to not do anything for a little bit while my hair grew.
I think it's quite appropriate [given his death] because I wouldn't want to be going around saying, "Oh look I'm being Bowie, don't worry he's still here." I think it's appropriate to take a few steps back and speak as myself during that period. But my project will continue, just with a kind of with a sadder cast, really. Now it's a memorial as well as a celebration.
Kornhaber: How did Bowie regard death throughout his career?
Brooker: A big part of him probably didn't expect to survive the 1970s. Partly because the rate he was driving himself was unhealthy in many ways—cigarettes, cocaine, drinking. A lot of young people feel this way, that they're going to burn out in a glorious way. It's the tradition of the Beats, which he very much liked, Kerouac and Ginsberg: the idea that you should flare fast like a fabulous flaming candle.
Also I think he believed some of the apocalyptic stuff he was coming out with in the 1970s. In terms of the cultural context there were blackouts in England, and a sense of paranoia in America as well, with Watergate and Vietnam and the oil crisis. So I think things like his song "Five Years" weren't entirely fantasies to him. He genuinely felt the world might end in nuclear apocalypse.
And I think part of that is why during the 1980s he floundered a little bit, because he hadn't entirely been planning, "What is David Bowie going to be doing in the 1980s?" I think it was a surprise: "Not only am I here, but I am massively successful."
People have said this week, "Obviously [Blackstar] is his farewell album, you can read the signs," and no doubt that's true. But he's often written about death and moving on and saying farewell. That's the nature of an artist: He wasn't always speaking as himself, he was speaking as a character. In various ways he explored ideas of death as he explored many other ideas over decades of work; it's only that now looking at it it's very tempting to see that as a personal expression.
Kornhaber: So you're a little skeptical that he made Blackstar and its videos with a very specific awareness that they'd be received in the context of his death?
Brooker: It's hard to say. [Bowie's longtime collaborator] Tony Visconti has said that. In terms of legitimacy and authority, he's a very plausible figure. But Visconti has also said that Bowie was also planning five songs as a follow-up to Blackstar. So I don't think it's a simple as David Bowie knew when he was going to die, hung on two or three days after his last birthday so he could see the reaction, and then left this Earth.
There are sad and pragmatic and small truths about this. I think that he didn't know how ill he was. There was some improvement, then suddenly cancer took him more seriously quite close to the end. As an artist who has been producing music for so long, he was carrying on planning his next album. I don't think it was fully scheduled as we might like; I think, perhaps even more sadly, he thought that he had more months and he was planning to use those.
If we look at something like the end of the video of "Loving the Alien," he's disappearing into the void like in 2001. If Bowie had died straight after that, we would see it as a fitting farewell too.
Kornhaber: What about the reaction this week has stood out to you?
Brooker: To be honest, I've sort of been avoiding it. And, I have to be honest with you, I haven't listened to Blackstar. I went to see his play Lazarus two weeks ago because I was going to New York anyways as part of the research to see where he lived at various points from the '70s through the 2000s. It's a bit of a cheat really, because I managed to get tickets to Lazarus and it seemed like it would have been perverse to say, "Oh I can't do that." But [other than that] I've not been looking at his recent work: My research has rules, and I think that I should stick to them.
But very personally, I don't really feel helped by looking at other peoples' tributes. I respect that everyone has to mourn Bowie in their own way but for me I've spent three days not reading anything about him and kind of processing it inside. And I don't want to say my relationship to the concept of David Bowie is special any more than anyone else's. One of the great things about Bowie is that a lot of people felt very personal about him: He helped them with their teenage years, with their childhoods, he helped them to form themselves, helped them feel it was okay to be them. So I don't really feel helped through grief about Bowie by reading other peoples' reactions because that's very personal to them.
But it's certainly been a huge culturally, absolutely huge. I had been kind of surprised by just how much it dominated the media for a couple of days. There were certainly times when Bowie wasn't incredibly popular quite recently. People regarded his work with sometimes condescending respect, like, "Oh there he is. He hasn't released a good album since Scary Monsters and Super Creeps but good on for him for keeping on going. The grand old man! The veteran of rock! Still producing his dad rock. Well done." And then after he retired in the 2000s because of his heart scare and then came back with The Next Day [in 2013] he started getting more respect. But it feels to me like "Oh, suddenly everyone loves Bowie do they?" [laughs]. I know that is very personal and not very fair. That's a fan's point of view.
Kornhaber: One interesting thing about the tributes I've read is that there are all these different lenses to see him through. There are people who talk about his musical innovation, his work as an actor, his legacy as a queer icon, and so on. What stands out to you about the most notable part of his legacy?
Brooker: Well my first reaction was that his high-level message was, "Have faith in what you're doing and if you fail, keep on trying." As Adam Ant said, "Ridicule is nothing to be scared of." We wouldn't have had Adam Ant without Bowie, we wouldn't have had Annie Lennox, we wouldn't have had Duran Duran for better or worse, we wouldn't have had Lady Gaga. Many, many figures. So I think he's been a huge influence artistically, but also among millions of normal people, saying "Carve your own route. Do what you want."
And as I said in one of my articles this week, you don't have to be great at everything. Don't stop because you're not ever going to be the best. He wasn't a great painter, and he kept on painting. I don't know if he was a great actor, to be honest—he wasn't a great actor in the sense that Alan Rickman was a great actor—but he kept on acting. When he started out, I don't think he was a technically fantastic singer, really. He was a great performer, he had amazing ideas, but I think he would say himself his singing voice wasn't technically strong, but it certainly became strong.
When he did "Oh You Pretty Things," he was doing what counts as pretty simple piano if you compare it to the accomplished work of Mike Garson on the Aladdin Sane album. So he wasn't great at everything, but he kept on doing it. His energy is inspiring. His bravery is inspiring. A kind of courage and self-belief, I would currently say, is his legacy.
Kornhaber: So many of his personas were seen as original—he came up with this stuff. Your project is obviously about imitation, but do you think he had something to say about originality?
Brooker: Well I think he was a very good bricoleur. Post-modern, before post-modernism was a really well-known term. Ziggy Stardust's visual look had a lot of Japanese influence, for instance. The character was formed in part with his hairdresser at the time, Suzi Fussey, who became Suzi Ronson, now the widow of his guitarist Mick Ronson. Ronson himself was a major contributor to Bowie's rock sound, from Hunky Dory onwards.  Even much-maligned Angie Bowie was a big influence on forming the character of Ziggy Stardust, and the name itself was borrowed from Iggy Pop and the Legendary Stardust Cowboy.
His Berlin work—he was a fan himself of Christopher Isherwood, German cabaret of the 1920s and 30s, German expressionist cinema. He would have never denied himself that a lot of his ideas were influenced by other forms. He was also very good at picking amazing collaborators, sometimes quite early in their career, like the fashion designer Alexander McQueen. He was always open, kind of like the third eye on Ziggy Stardust's head; always open to cultural influences, which he then consumed and put together in different ways . The combination is original, but it wasn't made from scratch.
Kornhaber: Can you talk about Bowie in academia? Are there many people who are teaching him and studying him at universities?
Brooker: I would say not as many as you might think, considering how many people there are that do studies of Buffy the Vampire Slayer and so on. My experience is that academic books about Bowie are few and far between. Most of the books I've seen are tributes written by journalists; there are a lot of biographies.
Just to digress a little bit: The reason I decided to write an academic book about David Bowie was that Lou Reed died in 2013 and I thought we should celebrate people while they're still alive, ironically. I guess I did start celebrating him before he died. I wonder if people have the same attitude as I have: people who are great fans of him don't want to break it by looking too, too closely at it. But I decided to do that because like I said, Lou Reed's death shocked me. I had a thought: "Lou Reed was five years older; imagine if Bowie dies in five years, you'll be sorry you didn't show your love for Bowie through your art." I suppose my form of art is research and writing, so the book was intended as a tribute.
Kornhaber: What's been your favorite era to live through with him?
Brooker: You might have thought the '70s, but, not really. In the 70s, his personas, his attitudes are fun, but beneath it all they're kind of harsh and cruel, actually. The '80s, I'm surprised by how much I enjoyed that, because you think of it as being kind of cheesy and tacky. I was allowing myself to do stuff like go to hotels in these flashy suits and buy my friends lots of cocktails and say "the cabs are on me" to try to get a taste of Bowie's lifestyle. I felt I was living out a 13-year-old's dream; the first time I fell in love with Bowie was with [1983's] Let's Dance, the first album I listened to over and over again and thought, "this is really speaking to me."
The late '90s Bowie is also a lot of fun—the Earthling period. That's his last explosion of youthful energy—I don't think it's unfair to say it was a midlife crisis, he was 50 at the time—before he goes into more of a curatorial, old-man-of-music-looking-back mode. That's when he had his little goatee beard and Union Jack coat. I think of it as Prospero in Shakespeare. The last playful gasp of a wizard.