David Bowie's Perfect Farewell
He used his creativity and the power of silence to set the terms of his exit, and not for the first time.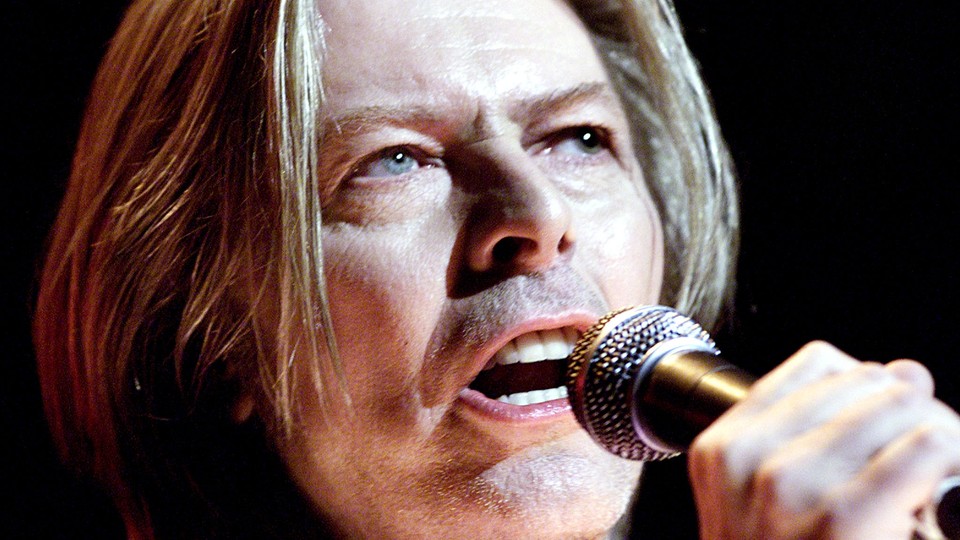 Creating as many characters as David Bowie did over the years means having to also imagine their destruction, a fact that, uncomfortably, has a lot in common with all kinds of human relationships. Bowie never looked away from it. The inevitability of death was in the album title about his most iconic character: The Rise and Fall of Ziggy Stardust and the Spiders From Mars. It was in that album's glorious opening track, "Five Years," where he set a very urgent time limit on all of human life. And it was in the equally glorious closer, "Rock 'N' Roll Suicide," featuring one of the greatest ending refrains ever:
Let's turn on and be not alone
Gimme your hands cause you're wonderful
Bowie retired the Ziggy Stardust character by playing "Rock 'N' Roll Suicide" in London in 1973, announcing it to be his last show ever (he only meant it as a member of the Spiders From Mars, though despairing fans at first didn't realize it). This was reportedly contrary to the desires of his manager, who'd planned on taking Ziggy Stardust around the world for years. Bowie knew better—he knew when it was time to say goodbye and to begin a new phase.
He's performed the trick again, for the last time. Cancer can take people indiscriminately, unpredictably, but from all accounts Bowie faced it with open eyes. Here's what his longtime producer Tony Visconti wrote of the death of his longtime collaborator at age 69:
He always did what he wanted to do. And he wanted to do it his way and he wanted to do it the best way. His death was no different from his life—a work of Art. He made Blackstar for us, his parting gift. I knew for a year this was the way it would be. I wasn't, however, prepared for it. He was an extraordinary man, full of love and life. He will always be with us. For now, it is appropriate to cry.
Death as a work of art: perhaps a troubling idea when applied to most people, but totally plausible in Bowie's case. On Friday, his 69th birthday, he released his 25th album. The world had a weekend to digest its cryptic and ravishing songs about mortal bodies and immortal legacies before Bowie's 18-month ordeal with cancer came to an end.
That he'd been suffering at all was news. A heart attack in 2004 cut short a world tour of his, and after 2006 he stopped playing concerts and giving interviews. But the disappearance wasn't, as was feared for some time, final. With little warning, in 2013 he released The Next Day, whose uptempo and hummable songs explicitly referenced his past and almost felt like a version of a greatest-hits collection. He then staged an off-broadway musical, Lazarus, which returned to the story of The Man Who Fell to Earth, the 1976 film in which Bowie played an alien visiting our planet temporarily (see the appropriate GIFs that have been circulating since news of his death). The strange, jazz-tinged "★" (pronounced Blackstar) honored a still different component of his legacy: that of an experimentalist, rarely repeating himself, listening to a muse that speaks to no one else.
Blackstar could also, as Visconti wrote, be seen as a "parting gift." The imagery around it involved hospital beds and worshipped skulls. The message of many of the songs, as far as I could tell when I reviewed it last week, had to do with Bowie surveying his own life and preparing for death. The final two songs in particular now seem especially fitting: "Dollar Days," an opulent acoustic ballad where Bowie repeatedly sings that he's "dying to" defy expectations, followed by a contemplative electronic song where Bowie seems to endorse to the virtues of leaving people wanting more. On Twitter, the critic Matthew Perpetua proposed that that track, "I Can't Give Everything Away," is "maybe the best final song of anyone's career." He's right. Look at these lyrics—
Seeing more and feeling less
Saying no but meaning yes
This is all I ever meant
That's the message that I sent

I can't give everything away
It isn't unheard of for an artist to continue challenging the public and making great contributions until the very end. Bowie's friend Lou Reed comes to mind as someone who remained provocative and productive till death. But late-career Bowie pulled off a mixture of silence and sound that was unique. No explanatory interviews. No score-settling memoirs. Just the art, as uncompromised as ever and as interested in the bittersweet future as ever. On one of the singles for 2013's The Next Day, he signaled an awareness of what his final transformation would be. "Stars are never sleeping," he sang. "Dead ones and the living."