Remembering David Bowie
Rock's chameleonic maestro died Monday at age 69, his family announced.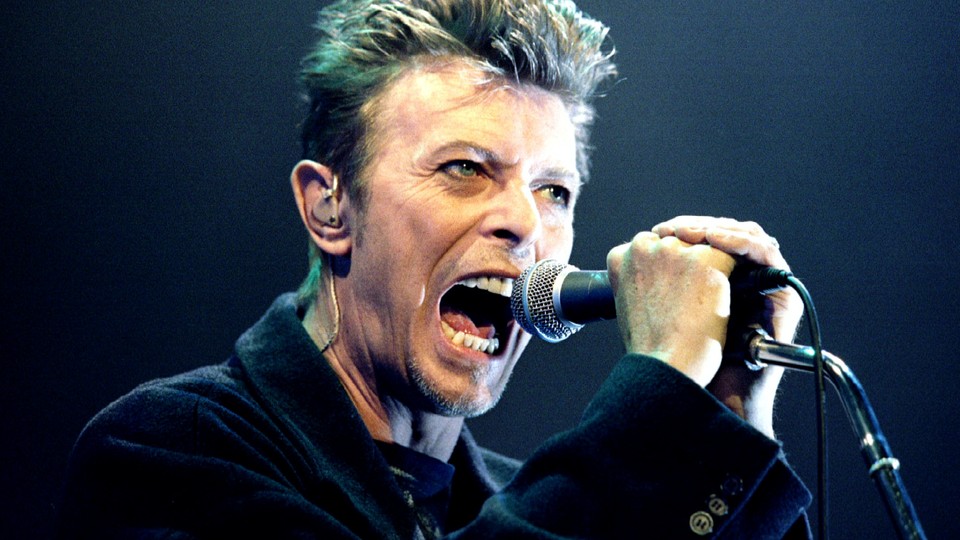 Updated on January 11 at 7:15 a.m. ET
David Bowie, the mercurial British musician and artist who flitted from one otherworldly persona to the next in a dizzying, boundary-bending, four-decade exploration of rock and roll's furthest limits, died on Monday. He was 69 years old.
Family members announced his death through his official website. "David Bowie died peacefully today surrounded by his family after a courageous 18 month battle with cancer," the statement said. "While many of you will share in this loss, we ask that you respect the family's privacy during their time of grief."
His son Duncan Jones also confirmed the news on Twitter.
Bowie's death came three days after his 69th birthday and the release of his 25th and latest album, Blackstar. Although his declining health wasn't publicly known before his death, the album's themes hinted at his mortality. "To me, it's the sound of someone gaining significance by insisting upon their significance; someone hungering to be above, unique, and immortal; someone awing the rest of mankind by standing apart from it," my colleague Spencer Kornhaber wrote about its nine-minute title track in his review last week.
Born in postwar London in 1947, Bowie—originally named David Robert Jones—first embraced music by listening to his father's vinyl records of artists like Elvis Presley and Fats Domino. He burst into the forefront of England's musical scene with the psychedelic 1969 album Space Oddity. From there he began infusing new strains of music into each successive release, ranging from punk and pop to soul and blues to electronica and funk.
With these motifs came new theatrical personae, starting with the iconic Ziggy Stardust, an androgynous spaceman drawn from his 1972 glam-rock album The Rise and Fall of Ziggy Stardust and the Spiders From Mars. Bowie embraced other personae throughout the 1970s and 1980s, also often androgynous, as he continually reinvented himself and his music with each passing album.
Beyond music, Bowie also embraced the mutability of acting, both on stage and in film, in an equally eccentric collection of roles. He excelled at playing the mysterious outcast: as alien visitor Thomas Jerome Newton in the 1976 science-fiction film The Man Who Fell to Earth, as Jareth, the brooding Goblin King in Jim Henson's Labyrinth, as the enigmatic Nikola Tesla in Christopher Nolan's The Prestige.
Heart problems forced him to abandon a 2004 tour and he stopped performing publicly altogether in 2006. Even as he became more reclusive, Bowie punctuated his semi-retirement with two further album releases: The Next Day, a hard-charging, rock-and-roll return to music, and the just-released Blackstar, a more experimental foray recorded as he battled cancer, whose flirtations with the macabre now take on a clearer meaning. In the music video for the third track, "Lazarus," a gaunt, blindfolded Bowie lies on his deathbed and sings about an imminent end.
"Oh, I'll be free / Just like the bluebird / Oh, I'll be free / Ain't that just like me?"
Reaction to Bowie's death was immediate and heartfelt.
The Vatican's culture minister, Cardinal Gianfranco Ravasi, tweeted the lyrics of possibly Bowie's most famous song:  
Ground Control to Major Tom Commencing countdown, engines on Check ignition and may God's love be with you (David Bowie)

— Gianfranco Ravasi (@CardRavasi) January 11, 2016
I grew up listening to and watching the pop genius David Bowie. He was a master of re-invention, who kept getting it right. A huge loss.

— David Cameron (@David_Cameron) January 11, 2016
And Germany's Foreign Ministry tweeted: "You are now among Heroes," a reference to the Bowie song from the 1977 album of the same name, the second installment of his Berlin Trilogy. The song has the lines: "I can remember / Standing, by the Wall."
The song was for many years an anthem in divided Berlin. Bowie himself discussed that in a 2003 interview with Performing Songwriter when he spoke of being moved while performing the song in Berlin in 1987, when the wall was still intact:
I'll never forget that. It was one of the most emotional performances I've ever done. I was in tears. They'd backed up the stage to the wall itself so that the wall was acting as our backdrop. We kind of heard that a few of the East Berliners might actually get the chance to hear the thing, but we didn't realize in what numbers they would. And there were thousands on the other side that had come close to the wall. So it was like a double concert where the wall was the division. And we would hear them cheering and singing along from the other side. God, even now I get choked up. It was breaking my heart. I'd never done anything like that in my life, and I guess I never will again. When we did "Heroes" it really felt anthemic, almost like a prayer. However well we do it these days, it's almost like walking through it compared to that night, because it meant so much more.