Anthropologie Is Selling a Rusty Trash Can for $100
We have officially reached Peak Shabby Chic.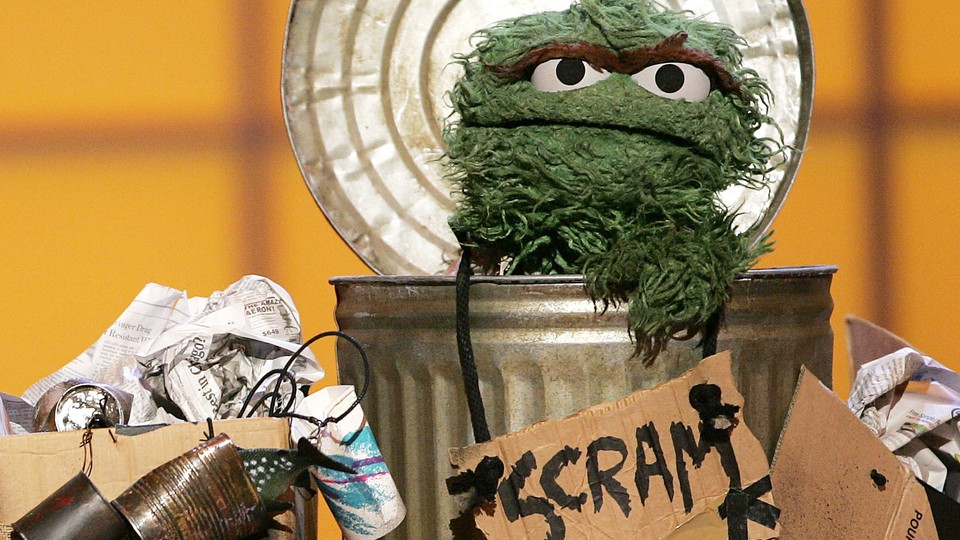 Anthropologie, on its website, is selling a trash can. But not just any trash can. A design-forward trash can. A "West Village" trash can. The item—composed of matte, corrugated metal—is handmade, the site notes, and comes complete with either a rope-based handle or two wooden ones. Taking an extremely literal interpretation of "the rustic look," the object is covered, subtly and also not subtly at all, in a thin coat of rust.
The brand initially offered the "West Village Corrugated Can" for $148, plus shipping; it can now be had, however, for the starkly reduced price of $99.95.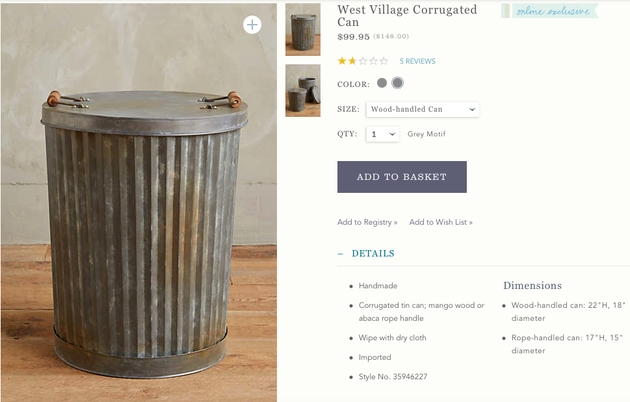 On the one hand: nothing to see here (except, of course, for a rusty trash receptacle). The wastebasket—which could be used in one's home as an actual trash can, or as an umbrella holder, or as the base of a side table, or as a million other things—is simply another entry in the "shabby chic" design trend that's long been touted by design magazines and blogs and the perky hosts of HGTV. It's yet more evidence of the current triumph—Edison lightbulbs, factory carts cheekily repurposed into coffee tables—of the industrial look.
And Anthropologie itself, after all, has long exploited its customers' desire for mass-produced home decor that masquerades as "found art" (see: the Decker Double Bookcase in Tall ($1,598), the Burnished Wood Console in brown ($498), the strategically speckled Beaux Arts Mirror ($1,298)). The brand's overall premise, for its stores and its clothes and its home furnishings and decor, has been to bring the logic of the Paris artist's loft to that place's antithesis: the American mall.
And yet! There is just a tiny little something to see here! Because, with this particular piece of decor, Anthropologie has moved beyond shabby chic into something weirder and more pronounced. The can is an artisanal ("handmade") and contemporary take on the items that used to be known, DNAInfo notes, as "ash cans"—known as such because they served, in the days before electricity came along, as receptacles for wood and coal. And: It is a geographically branded trash can. A trash can that, according to Anthropologie's savvy marketing, might have once contained the refuse of Julianne Moore, or Sarah Jessica Parker, or Hugh Jackman (were it not handmade, of course, and were it ever used as an actual trash receptacle).
The can, in other words, takes the logic of "locally sourced," and the cultural cachet of the object of "found art," and the general tendency of the rich to co-opt the objects of poverty, and turns it into "design." And then sells it for $99.95. It takes the whiff of nostalgia now surrounding trash cans (Oscar, in HBO's revamped Sesame Street, resides in a recycling bin) and exploits it, savvily. The can is the home-decor version of Zoolander's trash-based clothing line, Derelicte, with one crucial difference: It is not intended as satire.