Alan Rickman's Extraordinary Legacy
Through more than four decades of work on stage and screen, the English star was a definitive actor for generations of audiences.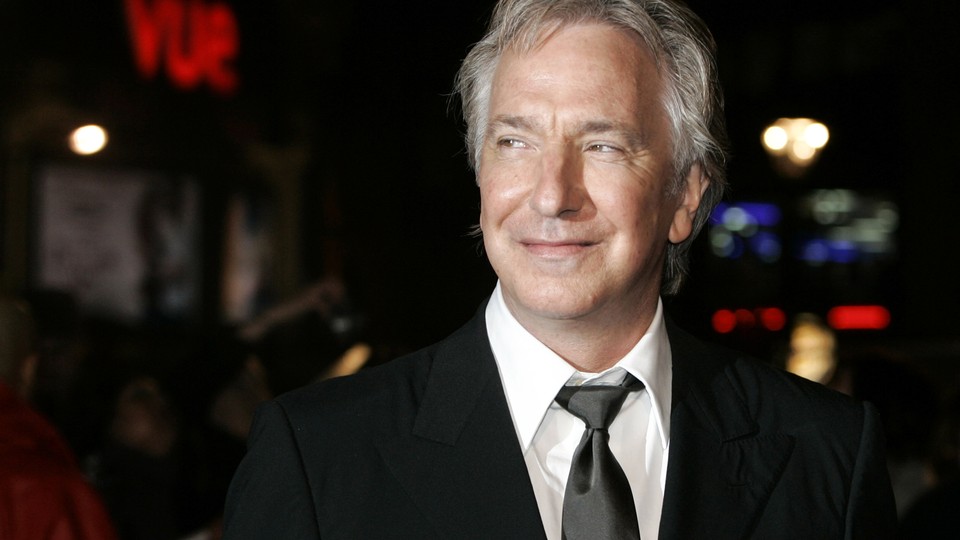 Alan Rickman was an actor who could take even the blandest roles and spin them into something wonderful. But offered more to work with, he was unforgettable, portraying countless distinctive characters until his death on Thursday at the age of 69. Rickman defined villainy for multiple generations, playing the terrorist Hans Gruber in Die Hard, the tetchy Sheriff of Nottingham in Robin Hood: Prince of Thieves, and Harry Potter's sneering Professor Snape. He was also one of the finest stage actors of his generation, blessed with a silky, mellifluous voice that became his trademark.
Born in London in 1946, Rickman excelled in the arts but pursued a career in design, thinking it a more stable profession, before eventually giving in to his passion for acting and attending Britain's Royal Academy of Dramatic Art in 1972. He worked with the Royal Shakespeare Company not long after graduating, a connection he maintained throughout his career, and got his big break playing the manipulative Valmont in 1985's Les liaisons dangereuses. The production moved to Broadway, and Rickman earned a Tony nomination for his role.
In 1988, he made his film debut in Die Hard, a mid-budget action movie starring the then-sitcom actor Bruce Willis. As Hans Gruber, the villainous German hijacking a building and matching wits with a lone New York City cop, he stole the show, avoiding the overacting the part cried out for, and instead using his magnificent voice to intimidate. Three years later, he played another iconic villain—the Sheriff of Nottingham—with much more theatrical flair, and won a BAFTA for it. "I'll take this as a healthy reminder that subtlety … isn't everything," he deadpanned in his acceptance speech.
While Hollywood often gave Rickman roles that called for him to be over the top, he always rose to the challenge. He collected an Emmy for playing a darkly seductive Rasputin in a TV movie, and was the literal voice of God as the angel Metatron in Kevin Smith's satirical comedy Dogma. In Galaxy Quest he was Alexander Dane, an English thespian reduced to playing a hammy alien in a Star Trek-esque series, a role in which Rickman both mocked his big-screen career and transcended it by giving one of his most memorable performances. In 2001, he was cast as Professor Snape in the eight-film Harry Potter series, playing another definitive villain for a younger generation. Though he was a supporting player in a vast ensemble, Rickman invested the slimy professor with pathos as much as he could, and it paid off beautifully with the character's tragic end in 2011's Harry Potter and the Deathly Hallows.
Though he booked many Hollywood roles, Rickman worked primarily in British film and theater throughout his career, performing alongside many of the country's greatest talents. In Anthony Minghella's heartbreaking 1990 film Truly, Madly, Deeply, he played a man who returns as a ghost to help his partner move on—one of his finest film performances. He was the steadfast Colonel Brandon in Ang Lee's Sense and Sensibility, a jilted husband in Stephen Poliakoff's masterful Close My Eyes, and the Irish revolutionary Éamon de Valera in Neil Jordan's Michael Collins. His unfaithful husband in Richard Curtis's Love Actually became another sort of villain for many moviegoers, but even in his limited screen time Rickman lent humor and humanity to his character.
He rarely visited the New York stage but when he did, his work resonated with audiences—from Les Liaisons dangereuses to a revival of Noël Coward's Private Lives (for which he also earned a Tony nod), both alongside Lindsay Duncan. His contribution to British theater was immeasurable, with a list of credits too long to mention. And he was always in demand as a voice actor, from the strange Danish animated comedy Help! I'm a Fish, to his role as Marvin the Paranoid Android in The Hitchhiker's Guide to the Galaxy, to playing Absolem the Caterpillar in Tim Burton's Alice in Wonderland. He directed two films, 1997's The Winter Guest (an adaptation of a play starring his frequent collaborator Emma Thompson) and the 2014 period drama A Little Chaos.
Rickman was consistently overlooked by the Oscars, a fact that didn't bother him ("Parts win prizes, not actors," he once said), but his legacy makes that fact a minor footnote. He was by all accounts a warm and beloved member of his community and a professional who poured himself into every role, whether it was a big-budget film extravaganza or regional theater. He met his wife, Rima Horton, when he was 19 years old; they were partners until his death, marrying in 2012 in a secret ceremony that he casually mentioned in a newspaper interview. "It was great, because no one was there. After the wedding in New York, we walked across the Brooklyn Bridge and ate lunch," he said.
Rickman always professed a deep love for the power of acting and art, both to entertain and educate. In 2006, he co-wrote and directed the controversial play My Name Is Rachel Corrie on London's West End, about a protester who died demonstrating against the destruction of homes in the Gaza Strip. It was just one work in a lifetime of political activism (he was a card-carrying member of the British Labour Party). At the other end of the spectrum, when he wrapped the Harry Potter series he wrote a note praising the arc of the films and reminiscing on having watched their young actors grow up over 12 years. "A lifetime seems to have passed in minutes," he said. "It is an ancient need to be told stories. But the story needs a great storyteller." Through decades of his performances and other creative efforts, Rickman was one of the world's finest.