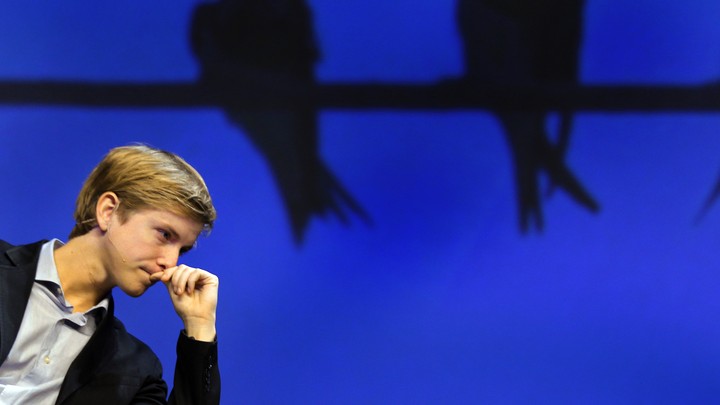 The New Republic, the venerable liberal magazine that many referred to during the Clinton presidency as the inflight magazine of Air Force One, is up for sale once again, Chris Hughes, the Facebook co-founder who bought the magazine in 2012, said in a memo to staff.
"I will be the first to admit that when I took on this challenge nearly four years ago, I underestimated the difficulty of transitioning an old and traditional institution into a digital media company in today's quickly evolving climate," Hughes said.
The move comes a little more than a year after Hughes introduced controversial changes at the magazine, including cutting its publication schedule to 10 issues a year from 20, moving its headquarters from Washington, D.C. to New York, and calling itself a digital media company. Disagreements over those decisions sparked an exodus of its top talent, including Franklin Foer, its editor, and Leon Wieseltier, its longtime literary editor who is now a contributing editor at The Atlantic.
"Our disagreement didn't help our ability to make The New Republic viable today, but it also did not spell our demise," Hughes said in the memo. "Even though our search for a workable business model has come up short, we have shown that digital journalism isn't at odds with quality and depth."
Still, the turmoil resulted in online readership declining more than 50 percent, according to comScore data cited by The Wall Street Journal. In November 2015, the website drew 2.3 million unique visitors, down 38 percent from a year earlier.
The New Republic, which was founded in 1914, grew to become one of the most influential liberal voices in the U.S. But the challenges it, and indeed other legacy media organizations, are facing were perhaps best summarized by Hughes in his memo to staff:
The unanswered question for The New Republic remains: Can it find a sustainable business model that will power its journalism in the decades to come? There are bright signs on the horizon: Vox, Vice, The Texas Tribune, Buzzfeed, ProPublica, and Mic embody a new generation of promising organizations — some for-profit, others non-profit — that have put serious, high-quality journalism at the core of their identities. The New York Times, The Atlantic, and other traditional outlets seem to have found business models that work for them. I hope that this institution will one day be part of that list. To get there The New Republic needs a new vision that only a new owner can bring.
The Journal, citing a person familiar with the matter, reported Hughes had begun preliminary talks with a variety of potential buyers for the magazine. One possibility, that person told the newspaper, is a nonprofit structure, such as the ones used by ProPublica and NPR.
Hughes said he had spent $20 million on the magazine since he bought it in 2012 for an undisclosed sum. The magazine had been losing money for some time. A year before Hughes bought it from Marty Peretz, the magazine was losing about $3 million a year.
"People still want independent, rigorous reporting and The New Republic has been a place where that happens," Hughes told NPR in 2012 when he bought the magazine. And, he added, he believed The New Republic "can be profitable"—though it won't "be the next Facebook."
Hughes, the college roommate of Mark Zuckerberg, the Facebook founder, is worth an estimated $450 million.
We want to hear what you think about this article. Submit a letter to the editor or write to letters@theatlantic.com.