The 2016 Oscar Nominations: From Mad Max to Room
Thoughts on this year's Academy Award nominees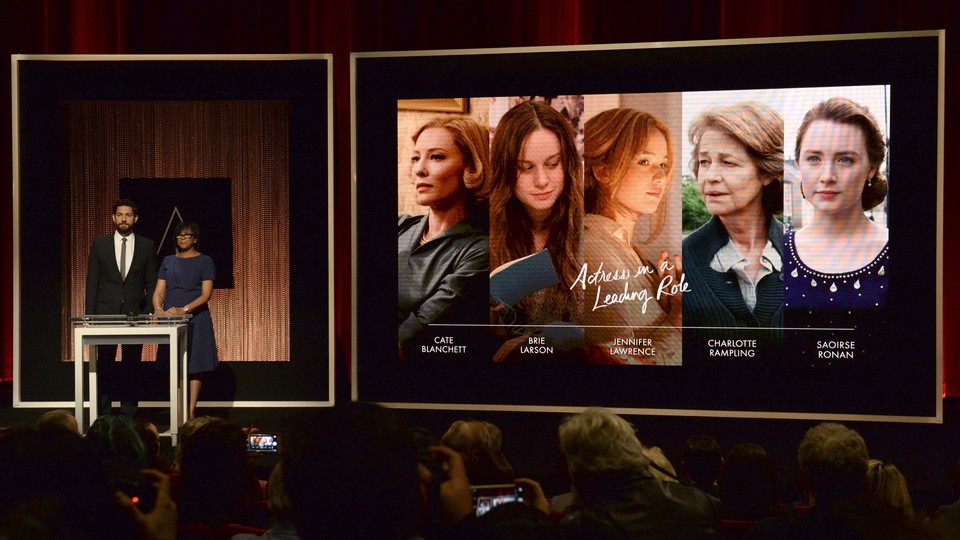 A modestly odd year in film has begotten an odder-still awards season. In the run-up to this morning's Oscar nominations, nearly every set of guild or critics awards had seemed to expand, rather than winnow, the field.
Now, however, the Academy has spoken. Let me offer a few general thoughts first, and then go through most of the major categories individually.
This is the second year in a row in which all 20 acting nominees have been white—particularly notable because the last time it happened was in 1996. Last year was egregious, with the shocking snub of Selma. (Thank you, noted film critic and historian Joseph Califano!) This year at least featured no such shocking oversights. Idris Elba was a deserving supporting actor in Beasts of No Nation, but that category was absurdly packed this year. And neither Will Smith (Concussion) nor Michael B. Jordan (Creed) ever got much critical momentum for lead performances in their respective films.
Last year, my former colleague Joe Reid noted that the Best Actress and Best Picture categories rarely coincide. But this was a relatively solid year for female-fronted movies, with both Brooklyn and an unexpectedly strong Room getting Best Picture nods. (Alas, the latter's accolades may have come at the expense of Todd Haynes's excellent Carol, which failed to get deserved nominations for picture and director.) If you're inclined to think of Mad Max: Fury Road as a movie with a female lead—and I am—that makes the year even stronger in this respect.
Finally, it was, as anticipated, a year of rampant category fraud in the actress categories, with both Alicia Vikander (The Danish Girl) and Rooney Mara (Carol) lobbying successfully to have their lead performances relegated to the supporting category, with notable ripple effects.
With that, on to the specific categories …
Best Picture:
Bridge of Spies
Brooklyn
Mad Max: Fury Road
Room
Spotlight
The Big Short
The Martian
The Revenant
In a year in which many observers thought the Academy would nominate nine or even the maximum 10 movies for Best Picture, it instead honored only eight. The happiest surprise of the bunch is probably Room, which far overperformed expectations across categories. The omission of Carol is disappointing, and those of Inside Out, Straight Outta Compton, Beasts of No Nation, and Sicario might arguably be considered mild surprises, though none are shocking. Those who thought that critical momentum for Mad Max was flagging were clearly mistaken: George Miller's film scored a remarkable 10 nominations. Perhaps the movie that least belongs on this list is Spielberg's underwhelming Bridge of Spies, which felt more like a movie directed by a second-tier Spielberg cover band. (J.J. Abrams would probably have done better.)
Best Director:
George Miller, Mad Max: Fury Road
Lenny Abrahamson, Room
Tom McCarthy, Spotlight
Adam McKay, The Big Short
Alejandro G. Iñárittu, The Revenant
Coming in, this looked like a category with four locks—Iñárritu, McCarthy, McKay, and Ridley Scott (The Martian)—with the fifth nomination going either to Miller or Todd Haynes (Carol). But Abrahamson's unexpected nomination bumped Scott from the list. At least neither Spielberg nor David O. Russell (Joy) received a nomination based principally on reputation.
Best Actor:
Bryan Cranston, Trumbo
Eddie Redmayne, The Danish Girl
Leonardo DiCaprio, The Revenant
Matt Damon, The Martian
Michael Fassbender, Steve Jobs
This category went almost exactly as anticipated, with DiCaprio—for the moment, at least—the runaway favorite to bring home the hardware on awards night. It's a bit of a shame that Johnny Depp wasn't recognized for (finally!) delivering a genuine acting performance again as Whitey Bulger in Black Mass. But the movie wasn't great, and he never quite picked up the buzz many thought he would.
Best Actress:
Brie Larson, Room
Cate Blanchett, Carol
Charlotte Rampling, 45 Years
Jennifer Lawrence, Joy
Saoirse Ronan, Brooklyn
In the real world, Alicia Vikander (The Danish Girl) and Rooney Mara (Carol) would both be nominated here, but as noted above both lobbied to go down to the minor leagues. Mara's decision may mean that Blanchett has an outside chance to win, although Brie Larson remains the favorite. (Brief digression: If you liked her in Room, seize the earliest opportunity to see Short Term 12, one of the best small films of the last several years, featuring an absolutely stunning performance by the actress. Trust me.) It's nice to see Charlotte Rampling here, but let's face it: If Jennifer Lawrence weren't named Jennifer Lawrence, she would never have been nominated for the intermittently interesting mess that was Joy. A heretical thought: Why not have nominated Daisy Ridley, who just anchored the top-grossing movie of all time, and did so with remarkable grace and assurance for a performer so unknown? If you're going to empty out the category by pretending that Vikander and Mara gave supporting performances, why not celebrate some new blood, rather than offering further accolades to an actress like Lawrence who hardly needs them?
Best Supporting Actor:
Christian Bale, The Big Short
Mark Ruffalo, Spotlight
Mark Rylance, Bridge of Spies
Sylvester Stallone, Creed
Tom Hardy, The Revenant
The deepest category by far this year. In addition to Elba, Michael Shannon (99 Homes), Paul Dano (Love and Mercy), and Jacob Tremblay (Room) all seemed to have legitimate shots here. The male-role-heavy Spotlight and The Big Short contributed to the year's crazy depth, with Ruffalo and Bale elbowing out their respective co-stars Michael Keaton and Steve Carrell (who gave perhaps the best performance of his career in The Big Short). Heck, in a lesser year, Liev Schreiber (also Spotlight) and Brad Pitt (also The Big Short) might have had an outside shot at nominations. Rylance and Stallone were the only true locks here, but I was very gratified to see Hardy's terrific work in The Revenant recognized.
Best Supporting Actress:
Alicia Vikander, The Danish Girl
Jennifer Jason Leigh, The Hateful Eight
Kate Winslet, Steve Jobs
Rachel McAdams, Spotlight
Rooney Mara, Carol
More ripple effects from category fraud here, as Alicia Vikander's nomination for The Danish Girl may well have prevented her from earning another deserved nomination for Ex Machina. McAdams's nod is a mild but happy surprise. Leigh's, by contrast, while no surprise, is nonetheless a disappointment. My profound distaste for The Hateful Eight has been duly recorded, but Leigh's performance for Tarantino consisted almost exclusively of scowling, sneering, bleeding (lots of bleeding), and showing off her grotesque prosthetic dentition. She gave a far, far more interesting and nuanced (vocal) performance in Charlie Kaufman's Anomalisa.
Best Original Screenplay:
Matt Charman, Ethan Coen, Joel Coen, Bridge of Spies
Alex Garland, Ex Machina
Pete Docter, Meg LeFauve, Josh Cooley, Ronnie del Carmen, Inside Out
Josh Singer and Tom McCarthy, Spotlight
Jonathan Herman, Andrea Berloff, S. Leigh Savidge, Alan Wenkus, Straight Outta Compton
Original screenplay was a much less competitive category this year than adapted screenplay, with Spotlight and Inside Out the only real locks, and the former a heavy overall favorite. The biggest surprise is Straight Out of Compton sneaking in at the expense of Tarantino's The Hateful Eight, which, again, I don't feel the least bit bad about.
Best Adapted Screenplay:
Nick Hornby, Brooklyn
Phyllis Nagy, Carol
Emma Donoghue, Room
Charles Randolph and Adam McKay, The Big Short
Drew Goddard, The Martian
One of the rare shocks of the morning was Aaron Sorkin not getting a nomination for Steve Jobs. (If I could go back in time and place one counter-intuitive bet on the proceedings, this might be the one.) But the category is particularly strong this year, and the emergence of Room as an Academy favorite seems to have bumped Sorkin from consideration. At least Carol managed to pick up another (well-deserved) nomination here.
Best Cinematography:
Roger Deakins, Sicario
Edward Lachman, Carol
Emmanuel Lubezki, The Revenant
Robert Richardson, The Hateful Eight
John Seale, Mad Max: Fury Road
Even I can't complain about Richardson getting a nod for his work in glorious 70mm on The Hateful Eight. It's arguably a surprise that Janusz Kaminski (Bridge of Spies) and Dariusz Wolski (The Martian) weren't nominated, but then there are only so many slots to go around. Sicario was largely ignored this awards season, but there's no ignoring the camera work of the great Roger Deakins, who scores his 13th(!) nomination here. More remarkable still is that he's never taken home the trophy—and, alas, almost certainly won't again this year, as Lubezki is the heavy favorite to win his unprecedented third straight Oscar, following Gravity and Birdman. Perhaps someone can get to work on a script for The Revenant 2, in which Deakins spends hours crawling across a bitter, snowy landscape in search of revenge ...
As for the remaining categories, it was a disappointment that Going Clear didn't earn a nod for documentary feature, where Amy and The Look of Silence remain the favorites. The "Pixar comeback" narrative was slightly undermined by the failure of The Good Dinosaur to get a nomination—honestly, it didn't really deserve one—but that makes it still more likely that Inside Out will run away with the award. And nobody is beating Son of Saul for Best Foreign Language Film.
You can find a full list of the nominees in all categories here.