'You're a Mean One, Mr. Grinch': When Christmas Songs Are Insult Comedy
He's got spiders in his brain and garlic in his soul.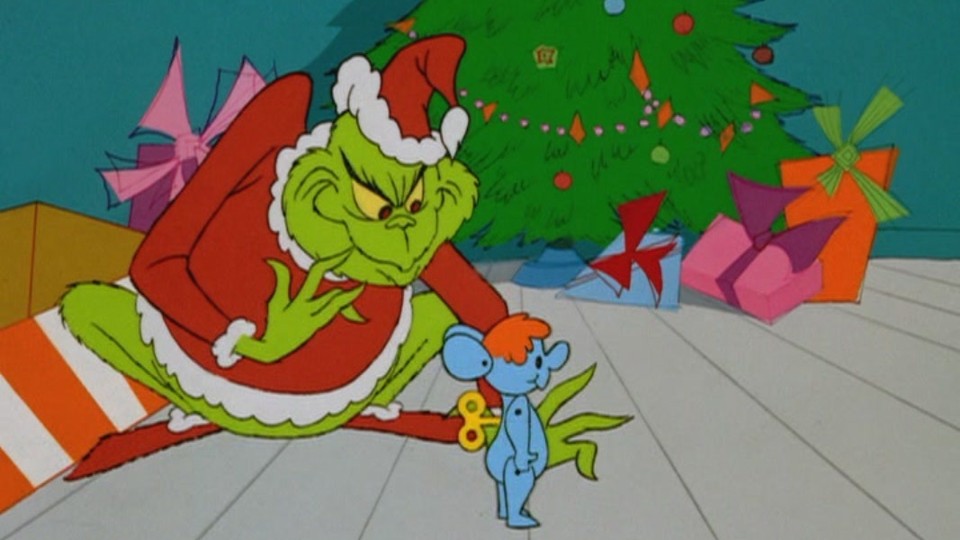 Welcome to The 12 Days of Christmas Songs: an attempt to uncover the forgotten history of some of the most memorable festive tunes. From December 14 through 25, we'll be tackling one secular song and one holy song each day.
---
Christmas music sometimes takes itself very, very seriously: "Fall on your knees." "Sleep in heavenly peace." "All I want for Christmas is you." So the sub-genre of holiday songs that are basically musical comedy can be refreshing and delightful. "I Saw Mommy Kissing Santa Claus." "Grandma Got Run Over by a Reindeer." That Alvin and the Chipmunks song, with its declaration that "me … I want … a HUUUU-la hoop."
They're weird and sometimes inscrutable, but they also bring a dose of levity to the holiday songbook. And, ironically, the lightest of them all—the most refreshing, and definitely the most delightful—is a song about a curmudgeon who spirals, in his curmudgeonliness, into criminality.
"You're a Mean One, Mr. Grinch" was created for the 1966 cartoon version of Dr. Seuss's book How the Grinch Stole Christmas, and the lyrics are indeed written by Theodor "Dr. Seuss" Geisel. The song is essentially insult comedy that rhymes, and each joke—each burn—is glorious. For example:
You're a mean one, Mr. Grinch
You really are a heel.
You're as cuddly as a cactus,
And as charming as an eel,
Mr. Grinch!
You're a bad banana,
With a greasy black peel!

You're a monster, Mr. Grinch!
Your heart's an empty hole.
Your brain is full of spiders.
You've got garlic in your soul,
Mr. Grinch!
I wouldn't touch you
With a thirty-nine-and-a-half foot pole!
The song escalates, taking the Grinch from a "heel" to a "monster." It builds until its narrator is finally, tellingly, unable to contain himself. (You're a three-decker sauerkraut and toadstool sandwich—with arsenic sauce!) Again: glorious.
Another great-making element of "You're a Mean One": In the iconic version, the one released with the cartoon in 1966, the song is sung by Thurl Ravenscroft, who performed it with a vague, and vaguely menacing, growl. But because Ravenscroft wasn't credited in the movie, many mistakenly attributed the vocals to Boris Karloff, the narrator and voice of the Grinch (a performer better known for his portrayals of Frankenstein in Hollywood's golden era of horror in the 1930s).
Ravenscroft, by contrast, is most famous for his booming basso profundo, which he employed to growl, "They're grrrrrreat" in his five-decade stint as Tony the Tiger. And "You're a Mean One" is indeed one of the most comfortable Christmas songs for singers with low-bass ranges.
That hasn't stopped other performers, from Aimee Mann to Busta Rhymes to CeeLo Green to RuPaul, from covering the song. But to truly appreciate not only its clever lyrics, and not only the enduring satisfactions of taking down curmudgeons who "have garlic in their souls," but also the song's sheer operatic appeal, it's best to see it done by a performer who can really hit the low notes, like the Washington National Opera's Soloman Howard.