The 2016 Oscar Race Is Wide Open
Film critics haven't converged on a favorite—which will make this year's awards season especially exciting to watch.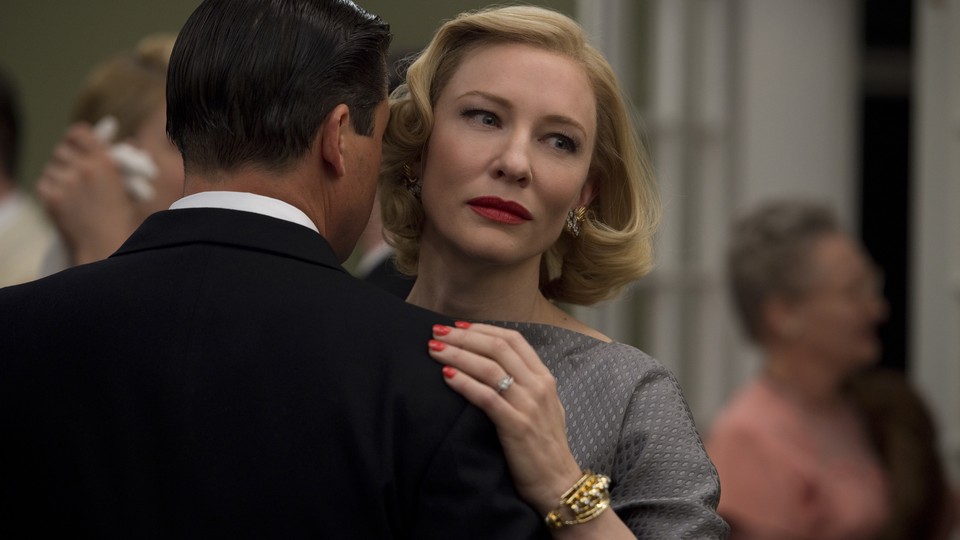 Every year, a handful of smaller, impressive films are released well before awards season, rolling out slowly across the country, and finding mild success at the box office. And nearly every year, the multitudes of critics' groups around the country congregate around one or two, whether unconsciously or not, and push it to more mainstream success—think Boyhood last year, or Zero Dark Thirty in 2012. But this year is different. Unlike past awards seasons, critics have been refreshingly open, embracing blockbusters and arty dramas alike and celebrating the most diverse batch of winners in decades.
A caveat: By "diverse," I mean only that the three major critics groups named different winners in each of the major categories this year—something that hasn't happened since 1988. Judging by the major contenders campaigning for Oscars, this will be another depressingly white year for the Academy, though its president Cheryl Boone Isaacs is making an honest push to improve opportunities for people of color in the industry and to add more minority voters to the Academy's rolls. But what 2015's awards do underline is a great sense of self-awareness among critics regarding their role in the Oscars process, and as a result they're trying to draw attention to a wide swathe of cinema rather than congregating around an anointed favorite.
The National Board of Review kicked things off by naming Mad Max: Fury Road its Best Picture and giving acting awards to Matt Damon (The Martian), Brie Larson (Room), Sylvester Stallone (Creed), and Jennifer Jason Leigh (The Hateful Eight). The New York Film Critics Circle countered with Carol, Michael Keaton (Spotlight), Saoirse Ronan (Brooklyn), Mark Rylance (Bridge of Spies), and Kristen Stewart (Clouds of Sils Maria). Last weekend, the Los Angeles Film Critics Association picked Spotlight as its Best Picture, and recognized the performances of Michael Fassbender (Steve Jobs), Charlotte Rampling (45 Years), Michael Shannon (99 Homes), and Alicia Vikander (Ex Machina). Best Director went to Ridley Scott for The Martian, Todd Haynes for Carol, and George Miller for Mad Max, respectively.
In Mad Max: Fury Road, critics are speaking up for a popular summer hit and big-budget franchise reboot that received uncommon praise for its artistry and craft. The Martian is another blockbuster drawing plaudits for elaborating upon a blueprint audiences have been handed a dozen times before. Films like Carol, Room, and Brooklyn are small end-of-year dramas that are more typical critics group fare. Rylance and Fassbender were honored for their work in films that underwhelmed on opening but are now gathering steam, and Los Angeles critics' awarding Alicia Vikander for the sci-fi thriller Ex Machina served as a mild rebuke to her more conventionally awards friendly work in The Danish Girl, in which she plays a tearful wife (which, unfortunately, is practically the definition of Best Supporting Actress at the Oscars).
Then there are the most idiosyncratic choices. By honoring tiny indie flicks like Clouds of Sils Maria, 99 Homes, and 45 Years, these groups are seeking to revive chatter about worthy but basically forgotten films just in time for Oscar voting, which is the entire point of being a film critic. Rather than just reinforcing tired narratives—there was one year when every group gave half of its major awards to Sideways, in case people didn't get that it was well-liked by critics—they're making an effort to highlight choices that can start conversations. They've even managed at the same time to acknowledge audience favorites like Stallone, throwing some weight behind a candidate who might otherwise seem like a sentimental choice at best.
So what of the Oscar race? Things will be somewhat illuminated by the Golden Globe nominations, which are announced Thursday. But that group's penchant for picking Hollywood superstars, and its division of film nominations into "comedies" and "dramas," will only reinforce the wide-open nature of the race. Some have pointed out  that the "wide-open" narrative crops up on Oscar prognostication websites every year, a tired cliché journalists lean on until the Globes and various Guild awards bring things into tighter focus. But this year it really is the case: The "frontrunner" narrative has so far failed to take shape, with a relatively even balance of arguments for and against the potential winners.
Steven Spielberg's Bridge of Spies is well-liked by audiences and making decent money at the box office, but was greeted by many critics as a gloomier, minor-key work. The Martian is a genuine crowd-pleasing hit, but it lacks a weightier theme. Carol got strong reviews but has had the polarizing effect the director Todd Haynes usually achieves. Alejandro Gonzalez Iñárritu's The Revenant and David O. Russell's Joy are yet to be released, but both have gotten a mixed advanced reception from critics. This is why so many are touting Spotlight as the film that will sneak up and grab the big prize—though it's a small, sober film lacking in visual flourishes or attention-grabbing performances, it's the kind of work that a consensus can eventually form around. In another year, that consensus would have been decided well before February by the people who write about film, but 2015 has made for an exciting change of pace.