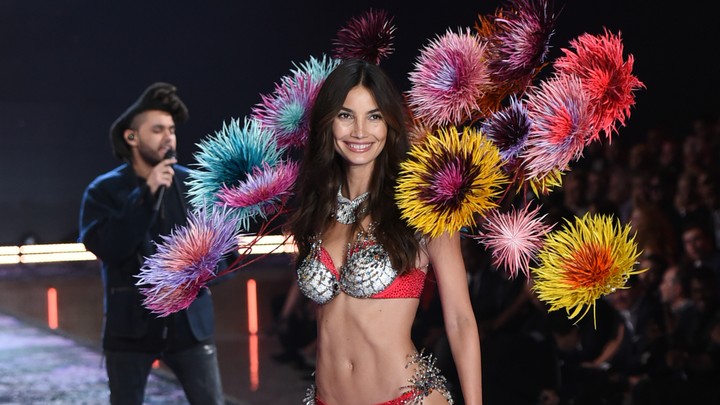 "It feels like we're training for the Olympics," a model confided during the Victoria's Secret Fashion show on Tuesday evening. She was not being ironic. Among the many tensions implicit in the annual spectacle that dubs itself "the most watched fashion event in the world"—"fashion" that does not involve, strictly, clothing; an appeal to girls presented as an appeal to men; advertisement in the guise of entertainment; etc.—the most striking was the lingerie company's insistence that its statuesque models are, in fact, elite athletes. "It might be considered the Super Bowl of fashion," another model declared of the show, before sashaying down the runway in a lace demi-bra and bedazzled bikini briefs.
The sportiness of Victoria's Secret's models (who in this case included both the company's standard runway walkers and the ones whom it has elevated, Milton-like, to its arsenal of "Angels") was an idea the show returned to again and again. In between the event's official, hour-long proceedings—the heeled-to-the-heavens Angels and sub-Angels stomping and smizing as of-the-moment pop stars including Ellie Goulding, The Weeknd, and Selena Gomez performed in the background—the show filled its air with tales of the rigorous training the models went through to prepare for the event. And with supercuts of the women sharing their favorite workout routines. ("Pilates, racket sports, barre, weight training, resistance bands, squats.") And with languorous shots of them kickboxing and trampolining and running and lifting—all while clad, of course, in VS-branded athletic wear.
The overall impression reflected, indeed, a point that Victoria's Secret's creative director, Sophia Neophitou-Apostolou, is fond of making about Angel-ing: "It's like being an Olympian." Lingerie-focused runway-walking, as Victoria's Secret presents it, requires the kind of physical stamina and mental focus and ongoing dedication normally seen only in high-level athletes. If you follow the logic, then the airing of that walking becomes its own televised sporting event. The show broadcast last night wasn't live—it was a heavily edited version of the show that took place last month, in New York. But what it sacrificed in immediacy and suspense, it compensated for in its other Olympics-on-TV approaches: its pageantry, its contextually justified celebration of the human body, its presentation of its athletes' backstories. The shots of the models prancing in arted-up underwear were interspersed with shots of their "regimens." The models themselves testified to their own athleticism, with comments like:
"I work out seven days a week, sometimes twice a day."
And:
"I really use every muscle when I'm on the runway—walking with heavy wings you have to really have your body be the strongest that it can be."
And:
"The Fashion Show is the event where you really step it up."
And:
"There's millions and millions of people who will see it on TV, so there's nowhere to hide on that runway. You really have to think about that when you're in the gym, in pain. You're like, 'Come on!'"
The point was driven home, relentlessly. (Another model: "I totally think we're athletes. I mean, we have to work out all the time, just like an athlete.") The women, via reality show-esque confessionals, shared stories about their commitment to exercise, their desire for strength, their need for stamina—all of this aimed toward beauty, yes, but also, Victoria's Secret suggested, at something both broader and more basic: athletic achievement. One model boasted that, after a workout, "I'm a sweaty mess." Another noted that "I think it's kind of badass when a girl is tough and shows what she's got."
It's a continuation of what many of these elite models have been doing not just with Victoria's Secret, but with their own #personalbrands, on Instagram and Twitter and YouTube: They're emphasizing not just their beauty, but the work that is required to attain, and retain, it. In the process, they're emphasizing things like fitness and strength and maybe even that hazy thing that has nothing, and everything, to do with beauty: health. Adriana Lima shares photos of her gym workouts and their sweat-soaked aftermath; Lindsay Ellingson shares pics of her Muay Thai practice; Miranda Kerr thanks her trainer for "kicking my butt today." In January, former Angel Karlie Kloss shared an Instagram of herself in an impressive side plank/lateral raise with the caption "Start the New Year off feeling Healthy and Strong."
All of which speaks to another tension the Victoria's Secret Fashion Show was navigating on Tuesday: presenting a bevy of underwear-wearing women in a way that, in the culture of 2015, doesn't come across as tremendously exploitative or irresponsible or retrograde. A pageant like this, however much Victoria's Secret frames it as a sporting event that just happens to involve lightly lined demi bras, is, by its nature, going to have less in common with the Olympics and much more in common with Miss America/Girls Gone Wild!/soft-core porn. The "fashion" on display here is women's bodies. The upshot of all of its models' hard-won athleticism, as presented by Victoria's Secret, is looking good in underwear.
Which, gross. And also gross, it's worth noting, are the decidedly less "athletic" aspects of the demands Victoria's Secret makes of its models, all of which went unsurprisingly unmentioned in the show's discussion of its Angels' intense "training regimens." The extreme diets. The banning of liquids 12 hours before the show (mild dehydration tightens skin). The kind of aesthetic-athletic-capitalistic competition engaged in by the models who strive to "earn their wings." As Adriana Lima put it in an ostensibly post-workout Instagram post: "To be the best got to make it rain baby!" As the fitness blogger Poppy Cross, who spent a grueling four months attempting to Angelize herself, countered: "Nothing could have prepared me for the mental and physical challenge I had in store."
And yet for Victoria's Secret to emphasize, in its show, the work required of its models also represents, in its small way, progress. It used to be that the prototypical model—and the prototypical supermodel—was not just willowy, but gaunt: a human hanger, essentially, with inconvenient flesh that was to be minimized as much as possible. It used to be, too, that models stayed mostly silent about the work required to look like a model—or, even worse, that they breezily de-emphasized the extremes it took to conform to those expectations. ("I just have good genes!" "OMG, I love cheeseburgers!")
The show last night, contra all that, celebrated sweat, and sacrifice, and work. It celebrated muscles and strength. It was a show fit for a culture of Crossfit and Fitbit and #fitnessgoals—a culture that is slowly coming around to believe, as a poster at my gym declares, that "strong is the new thin."
Make no mistake: The fashion show—"fashion show"—was still a celebration of women in their underwear. Their demonstrations of their athletic prowess—and, as Jasmine Tookes suggested in an interview, their comprehensive badassery—were constrained by high heels and drag-inducing "wings" and cultural expectations that were themselves extremely un-aerodynamic. And yet: This was also Victoria's Secret, a longstanding arbiter of what is considered both sexy and marketable, celebrating women's bodies as agents of strength. It was Angels, complicating the idea of what it means to be Angelic in the first place. "I would like to think it's all good genes," one model mused, "but definitely not. There's a lot of hard work that goes into this."
We want to hear what you think about this article. Submit a letter to the editor or write to letters@theatlantic.com.
Megan Garber
is a staff writer at
The Atlantic
, where she covers culture.