'Sussex Carol': A Reminder of Christmas Music's Local Roots
Before technology allowed songs to play all over the world, they were distinct from place to place.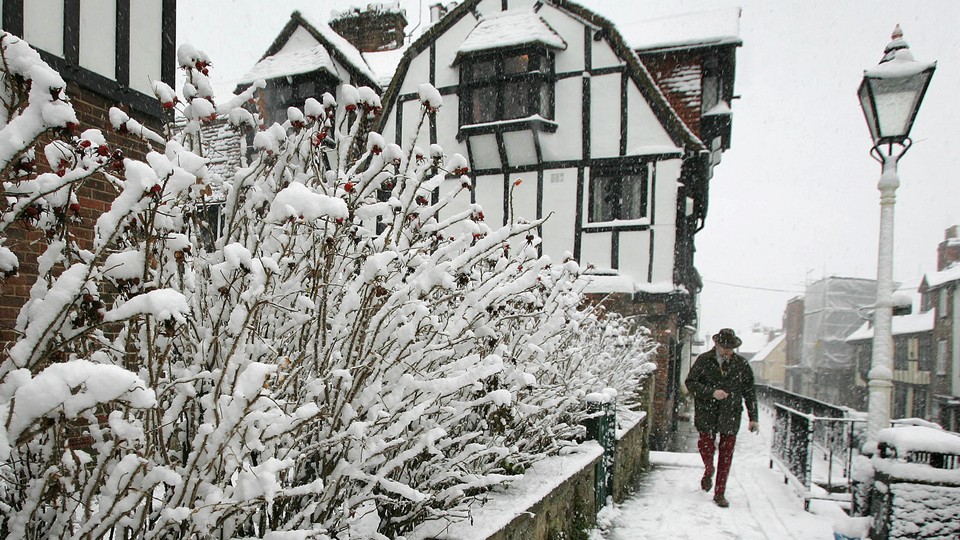 Welcome to The 12 Days of Christmas Songs: an attempt to uncover the forgotten history of some of the most memorable festive tunes. From December 14 through 25, we'll be tackling one secular song and one holy song each day.
---
Before the globalization of Christmas, before widespread literacy, there was no canon of Christmas songs. Instead, seasonal music was local. In Britain, there were regional and village songs, preserved over decades and centuries in the oral tradition. Often, they were part of mystery plays, pageants performed each year.
"In several parts of England I have found carols which are peculiar to certain villages, by the inhabitants of which they are regarded as private possessions of great value, to be jealously guarded and retained for their own use," the folklorist Cecil Sharp wrote in 1911, in the introduction to a collection of carols. Sharp lamented that already they were fading away: "Unhappily, like many another ancient traditional custom, that of Christmas carol singing by parties of men and women in the village streets is gradually disappearing. At one time, and not so very long ago, the number of carols that were sung in this way in different parts of England must have been very large."
But a few of these carols do persist: for example, the Wexford Carol, the Coventry Carol, or the Sussex Carol. The last is one of my favorites. The words carry an unbridled joy, untroubled by the greater theological impact of Christ's birth, but that isn't because they possess what Sharp called "the freshness, the naiveté," of folk carols—they were written in the 17th century by Luke Wadding, an Irish priest.
They were adapted for a carol not only in Sussex, in southeastern England, but also in Gloucester, on the other side of the country. (Each version differs slightly.) Sharp collected a tune in Gloucester, which he published. But Ralph Vaughan Williams, a folk-song collector and church composer, in 1919 collected a separate tune in Monk's Gate, Sussex, which is the well-known version. It has a delighted, mirthful lilt, thanks to its unusual rhythm—the song is mostly in waltz-like 6/4 time, save one, irregular, syncopated bar late in each verse. (Vaughan Williams marked in 9/4.) "Then why should men on earth be so sad?" It's true: It is very hard to imagine feeling sad while listening to the carol.