The Most 2015 Song of 2015
Major Lazer's "Lean On" is the top-streamed song of the year, probably because it encapsulated a lot of its trends.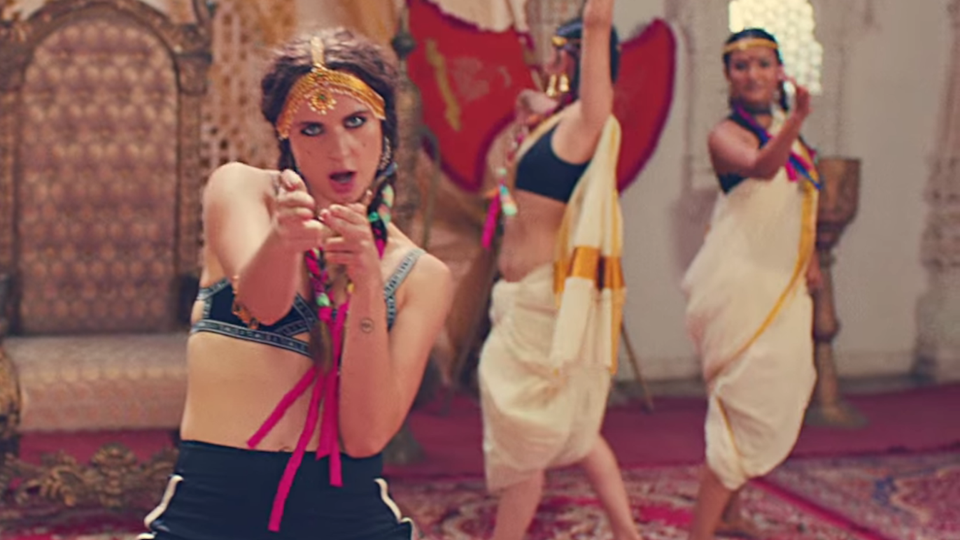 Today Spotify revealed that the most streamed song of 2015 is Major Lazer's "Lean On," featuring MØ and DJ Snake. With 540 million listens, it's also the most streamed song of all time, a distinction that speaks to the newness of streaming itself. Next year, there may well be a new most-streamed song of all time. Or a few of them.
But there won't be another "Lean On." The Spotify data makes official that this is the 2015-est song of 2015, a bizarre little creation that would have sounded avant garde as of just a few years ago but now feels like collection of sounds on the cusp of tipping from trendy to tired. I bobbed my head a lot to "Lean On" this year; a big part of me hopes to never hear it again.
Let's count the ways it's current:
There's the fact of who Major Lazer is: a collaboration led by Diplo, the producer whose raiding of dance-music styles from around the world over the past decade has helped shape the sound of EDM and pop. This year, he produced the best songs on Madonna's Rebel Heart, and his work with Skrillex, under the name Jack Ü, resulted in Justin Bieber's huge comeback single "Where Are Ü Now."
Talking about the creation of that Bieber song, Diplo said that his mentality as a producer is to find ways to use the same technology as everyone else in different ways. Which means creatively warping sounds so as to be unrecognizable, new. "Lean On" is a lot like "Where Are Ü Now" in its pairing of sensitive, humane voice with a cavernous, almost alien soundscape, including the use of a few purely wordless hooks you'd call "instrumental" if you could identify any of the instruments.
The main wordless hook for "Lean On"—the one that comes after the big chorus vocals—comes courtesy of DJ Snake, the trap and EDM producer whose hit "Turn Down for What" plausibly could have been called the 2014-est song of 2014. The high, whining sound (possibly a manipulated sample of MØ herself) and skittering drums he uses are a lot like the raucous breakdown in "Turn Down," providing an all-important element of familiarity to the new song. Listen closely and you hear some background "heys," another production tick of trap music that's increasing common across pop music.
The rest of the arrangement also has a "tropical house" feel, which is to say there are Caribbean music signifiers but filtered to feel as if it's made on another planet's islands. That same vibe can be heard all over other notable songs of 2015, from Bieber's "Sorry" to the hit remix of OMI's "Cheerleader."
Which means you can also throw in another very current musical phenomenon: cultural appropriation, something the globetrotting Diplo has never shied away from (his slogan—"random white dude be everywhere"). Perhaps not coincidentally, "Lean On" was hit with criticisms separate from the music, stemming from the fact that its video used South Asian locations and dancers.
More than anything, though, the song's now-ness comes from the vocals. The Danish musician MØ is part of a class of soundalike singers that includes hitmaking 2015 newcomers like Halsey, Zara Larsson, Alessia Cara, Bebe Rexha, and their more famous recent influences: Sia, Ellie Goulding, Lana Del Rey, Lorde. Buzzfeed's Reggie Ugwu recently investigated the trend, and pegged its defining trait as the linguistic phenomenon of "vowel breaking." I'm not sure that MØ's performance on "Lean On" offers a perfect example of it, though certainly the way she says "blow a kiss" as "blocus" is pretty broken. Mostly, her scratchy-to-soaring, generally unintelligible delivery reminds me a lot of this viral Vine about the "indie girl" sound—a sound that's not at all just used by indie artists these days.
One more thing: How can it be that this is the most streamed song in the world and yet was only No. 4 on the Billboard charts? How can it be that some people called it the song of the summer while plenty of other folks may have never heard the name "Major Lazer" at all? The answer is that streaming, as important as it is, isn't the same as the broader pop world. Fans of hip-hop and EDM are the most energetic users of services like Spotify; the playlist of Beats 1 radio that launched with Apple Music is full of songs that aren't being played on terrestrial stations and feature one or more of the attributes listed above. In a year when the streaming wars really heated up, "Lean On" represented how the listening platforms of the future are still, to some extent, an alternative. That fact could well change in 2016, and so might the music that drives that change.