The High Spiritual Stakes of 'God Rest Ye Merry Gentlemen'
Satan's power has led mankind astray, and Annie Lennox, Barenaked Ladies, and 98 Degrees are here to remind us of that fact.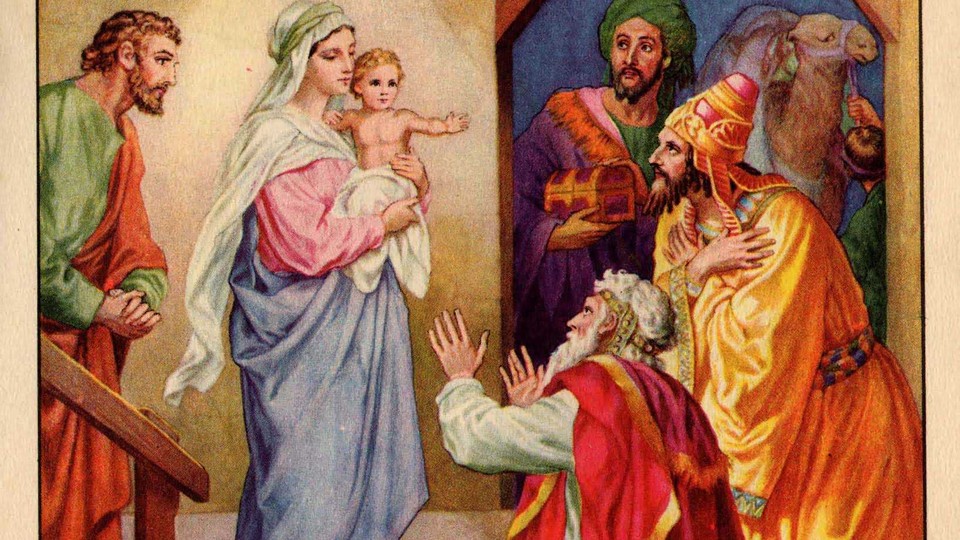 Welcome to The 12 Days of Christmas Songs: an attempt to uncover the forgotten history of some of the most memorable festive tunes. From December 14 through 25, we'll be tackling one secular song and one holy song each day.
---
Amid cups of cocoa and romantic snowfalls and sparkly pine trees, it's easy to forget that Christmas, like Christianity itself, is a little dark. The merriment is really existential relief: Humanity will, after all, be saved—from evil, and from ourselves.
In its best renditions, "God Rest Ye Merry Gentlemen" captures this haunting side of the holiday. The song brings tidings of comfort and joy wrapped in a minor melody, a reminder that Jesus has come "to save us all from Satan's power when we were gone astray." It's a carol about the high spiritual stakes of Christmas—after all, if not for the birth of Jesus, Christians believe, humanity would be lost.
At least in America, though, radio listeners want a little more of that peppermint bubblegum in December. Many of the classic and most popular versions of "God Rest Ye" are musically and nostalgically pleasing, but they minimize the song's ominous texture. Nat King Cole. Ella Fitzgerald. Even the Barenaked Ladies, who turned the song into an undeniable toe-tapper in 2004.
Then there are the terrible takes. In 1999, the boy band 98 Degrees turned the song into a nightmare date-night track, conjuring images of Nick Lachey trying to ease off someone's shirt while cooing softly about the baby Jesus. The Glee cast has fans aplenty, but the elf-like sweetness of their 2010 recording carries strong, unfriendly notes of early-aughts middle-school dances. As for Manheim Steamroller … that phenomenon remains more mysterious than the Immaculate Conception.
A few artists have managed to give "God Rest Ye" a greater sense of weighty portent. The song is British, first published in the mid-19th century but possibly dates to the 16th century or earlier. Annie Lennox, the Scottish musician and performer extraordinaire, took this history to heart, interpreting the carol as a sort of Old English version of Labyrinth:
And virtually no performers can match Alison Krauss and Joshua Bell in their mastery of their instruments: Her voice weaves carefully with his violin in their 2013 rendition of the song. As with the Lennox version, there's a feeling of musical rightness here. The simplicity of the composition, the long-held notes, and the gentle plucking of guitar in the background seem faithful to how it might have been performed in earlier times, over ale in snowy English taverns.
Of course, artists make new music out of old melodies all the time. "God Rest Ye Merry Gentlemen" doesn't need to be performed on the lute to feel authentic; as Annie Lennox showed, it can come packaged in a super-weird, partly animated music video and still feel cool. But nodding to the history helps. It's a musical reminder of a time when Satan may have seemed closer by, when the threat of evil may have felt more imminent. It can be hard to sing about these things today, particularly in mainstream music. So when these old songs find their way into the right contemporary musicians' hands, the moment feels rare, and precious: a portal into an old world, a reminder of a Christmas that's not all sweet.