Batter Up for The Great Holiday Baking Show
The four-part ABC series hopes it can replicate the success of a British phenomenon.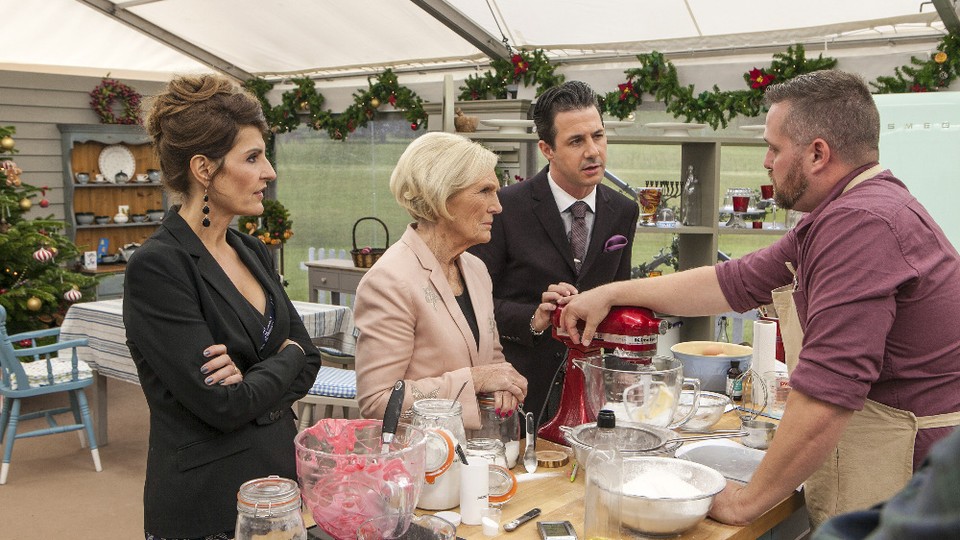 The best television shows usually have titles that express their concepts in the simplest of ways. Friends, arguably the most popular and culturally influential sitcom of all time, is indeed a show about six friends. ER is a drama set in and around an emergency room. Breaking Bad is an apt description of what Walter White did over six seasons (presumably The Chemistry Teacher Who Starts Making Methamphetamine and Discovers His True Destiny was deemed too wordy).
The Great British Bake Off
is a show about a bake-off. The bake-off is great. But above all, it is British: It's produced by the BBC, and watched by more than 15 million viewers in the U.K., where its sixth season concluded in October. The show has become legend, in part, thanks to its microdramas ("Bin-gate"), its fanciful concoctions (
mocha and tutti frutti cream horns
, anyone?), and its double entendres, to the point where "soggy bottom" is now firmly entrenched in the national lexicon. But its popularity is primarily due to something less tangible, namely, Britishness. It's about all the things that make that island nation great: overbearing modesty, paper doilies, inclusiveness, smutty innuendo, team spirit, irrepressible gumption, suet, creative flair, and a dab hand with a piping bag. How can that winning formula be translated for an American audience?
The series is available in the U.S. on PBS and Netflix, although it airs under the title
The Great British Baking Show
thanks to the fact that Pillsbury
copyrighted the term "bake-off"
for its own long-running baking contest and won't allow any similar competitive events to use the name. In 2013, CBS tried to franchise its appeal with
The American Baking Show
, a pale, pitiful pudding of an imitation notable only for the fact that Paul Hollywood—pastry chef extraordinaire, a steely silver fox, and the bad cop to Mary Berry's grandmotherly baking goddess—came over from Britain to help and ended up having an affair with his co-judge, Marcela Valladolid.
Despite the on-set chemistry, the show floundered in the ratings, and was canceled after a single season. "Future installments might take a few tips from various Food Network competition shows and put a little more emphasis on the actual dishes,"
TVLine
's Michael Slezak
wrote
. But the point was never the baking itself so much as what it represents: the cure for all modern ails. Baking is nostalgia, baking is home, baking is a warm, cinnamon-scented sense of security. The first time I watched an episode of
The Great British Baking Show
, homesick even after seven years living in the U.S., I cried.
In #GBBO, as the show is referred to on social media, the baking itself is secondary to the communal experience of watching the show and exalting, quietly, in a feeling of national pride. This isn't something British people get to do much, given that boasting is vulgar and patriotism is only permitted during a royal wedding, a Bond film, or Wimbledon. How do you translate that goodwill, then, for an American audience, whose sense of exceptionalism is as unshakable as Tom Brady's aim is true? The answer: You holidazzle it.
Enter The Great Holiday Baking Show, a four-part ABC special that possesses all the elements its name suggests: the kitchen inside a marquee tent; the music; the contestants of varied ability and confidence, who are pitted against each other for three timed baking challenges each episode. Even Mary Berry herself, the patron saint of flans and fluting, is present, only paired with the pastry chef Johnny Iuzzini rather than Hollywood, whose wife presumably forbade him from crossing the Atlantic this time around. But the hosts are Nia Vardalos (My Big Fat Greek Wedding) and her husband Ian Gomez (Cougar Town), rather than Mel and Sue, two British comedians who've somehow made a career out of insouciance. And the contestants are, of course, American.
This means they tremble slightly when asked to reproduce one of Mary's recipes in the technical challenge—brandy snaps filled with eggnog cream. "The only snap I've ever heard of is a ginger snap, and a snap like, 'You go girl!'" said contestant Nicole in the first episode on Monday night. They were more comfortable in the first challenge, which tasked them with baking a cookie plate for Santa. (If this version ever airs in the U.K., it's possible the pearl-clutching prompted by hearing Berry say "Santa" rather than "Father Christmas" will lead to national asphyxiation.) The final showstopper challenge, in which the contestants created a dazzling gingerbread house of their own design, led to some remarkable successes (a gingerbread pagoda, a gingerbread Eiffel Tower, a gingerbread carousel with gingerbread horses and trees) and one notable failure: a gingerbread hospital, baked by Grace, who'd already compared her Staten Island pronunciation of "water" to Mary Berry's pristine articulation of the same word to great comical effect.
"You haven't shown us many skills," Berry said. "We would have liked to see some piping, and the decorations are all bought things." It's hard to accurately convey how brutally this sentence would have felled a contestant in #GBBO. Luckily, Grace was made of hardier stock. She was chosen by Berry and Iuzzini to go home, while the star baker of the week was Lauren, whose competence and grace under pressure seem to hint that she'll be victorious in the grand finale on December 21.
So no real surprises, other than the fact that against all odds, the show actually works. Maybe it's Mary Berry's charisma. Maybe it's a holiday miracle. It's definitely not Vardalos and Gomez, nor Iuzzini, who tried to make a joke about gingerbread houses having soggy bottoms, capably proving how little he understands what a soggy bottom is (it relates to pies and tarts, never cookies). But more likely it's the feeling that holiday baking evokes—the sensation the Porteguese call saudade, where you're simultaneously mournfully nostalgic and full of love. Making the show as a four-episode special rather than a full series, and framing it around the holidays, allows it to tap into the well of complex emotion that the British series somehow stimulates. Essentially, yes, it's a television show about people baking things. But that's not what makes it great.