The Danish Girl: Portrait of a Lady
Tom Hooper's biopic about a transgender icon has the best of intentions, but doesn't go deep enough into the heart of its subject.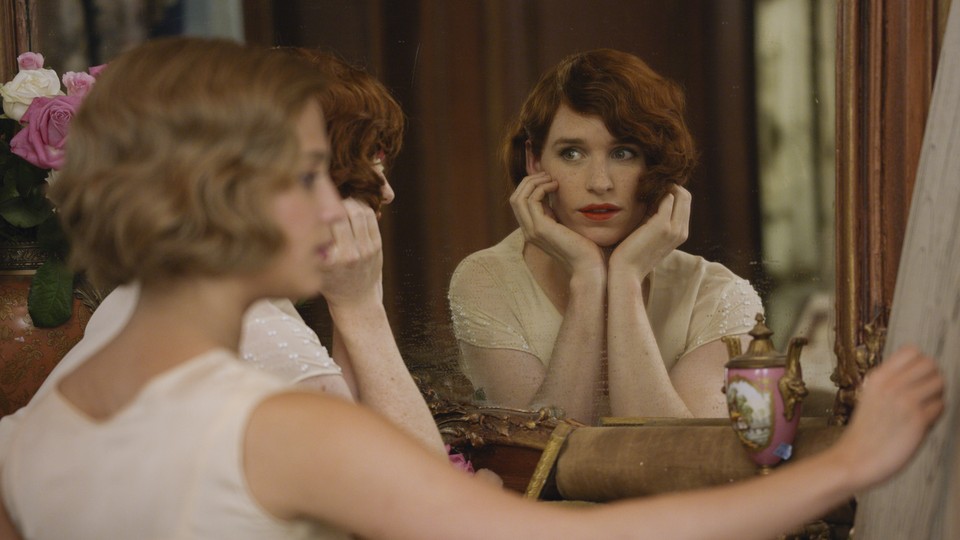 The first 20 minutes of The Danish Girl are a breezy romance between two beautiful newlyweds—the artists Einar (Eddie Redmayne) and Gerda Wegener (Alicia Vikander). He paints landscapes, she does portraits, and they seem very happy with their lives in 1920s Copenhagen. But lurking in the background is a major plot development, one the director Tom Hooper resists setting up with even the slightest subtlety. Einar strokes a rack of ballet costumes with obvious longing; when he dons a pair of stockings to take the place of a female model sitting for Gerda, he has a profound emotional reaction. The Danish Girl is telling an important story, but it does so by following the blueprint of a thousand biopics that have come before.
If there's an optimistic take on the movie, it's that at least the circle of Oscar-bait filmmaking has widened to take in the story of one of the first people to have gender-reassignment surgery. Einar, better known as Lili Elbe, was a pioneer in trans history and her life was the subject of a 2000 novel by David Ebershoff, adapted for the screen by Lucinda Coxon. But in the hands of Tom Hooper (The King's Speech, Les Misérables), much of the nuance and complication surrounding her story is stripped away, resulting in a film that's sensitive and often touching, but not remotely compelling.
Lili's journey of self-actualization takes place almost entirely in the Wegeners' sparse apartment and at the parties she attends with Gerda, first posing as a visiting cousin of Einar's to pass off the resemblance without drawing much attention. Gerda initially indulges Lili's routine, believing her husband is playing a character. But when Lili draws the attention of another man (Ben Whishaw) at the party, the illusion is shattered. At that point, Lili stops pretending to shift between identities and decides to begin living as a woman permanently.
The Danish Girl is at its most fascinating when it explores the medical reaction to Lili's realization—she's diagnosed as schizophrenic and homosexual, and recommended for commitment to an asylum for electroshock therapy. Before she meets the pioneering doctor Kurt Warnekros (Sebastian Koch), who recommends she proceed with reassignment surgery, the bigotry and confusion she encounters is heartbreaking to witness.
But the personal side is unfortunately pedestrian. Redmayne is a capable physical actor who communicates every shudder and thrill Einar feels in the first act, but that's all there is to his portrayal of Lili. It's as if he spent so much time nailing the physical mannerisms that he forgot to create a character to go with it. It's also possible that the film's understandable but uncomplicated reverence for its subject is to blame. Lili winces, blanches, and gently tells Gerda over and over again that this is who she is now. Redmayne cries throughout the film—rather, it seems someone is crying in every scene—and the repetitive outpouring of emotion quickly becomes dull.
Most of the narrative is told from Gerda's perspective. It's perhaps facile that the film presents Lili's realization as something happening to her, and it's the main reason why Lili feels held at arm's length for the entire film. Still, Vikander does lovely work as Gerda—she also does her fair share of crying and shuddering, but Gerda is largely presented as an accepting spouse who helps guide Lili into the next phase of her life, while letting go of their marriage (in real life, she was a more complicated person). Her gentle soul, in a way, represents the mainstreaming of this story—through her, the audience is being reminded of the importance of recognizing Lili unselfishly. It's not just a tale of Lili coming out but also one that speaks to the power of acceptance.
All of this is communicated with the kind of hamfistedness Hooper seems to rely on more and more. As in Les Misérables, his camera hovers inches from his subjects' faces, trying to catch every emotional tremor in case viewers didn't. Unlike The King's Speech, a more involving biopic for which he won the Oscar for Best Director, The Danish Girl is lacking in humor or energy, and so it has to fall back on the sheer worthiness of the story it's telling. Unfortunately for viewers at least, virtue alone isn't enough.