The 50 Best Podcast Episodes of 2015
A year's worth of highlights from an increasingly vibrant genre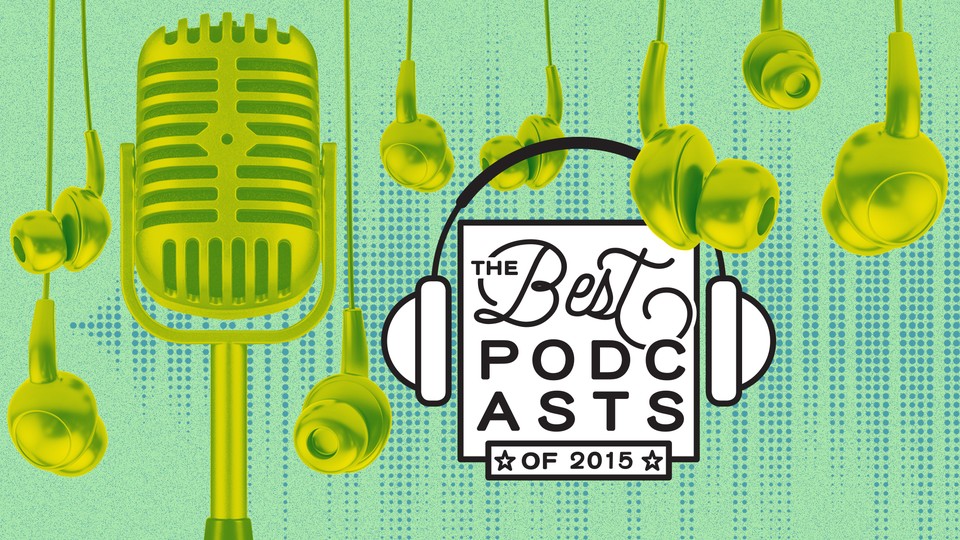 More than 300,000 podcasts exist in the world as of the close of 2015. They range from products made by someone pressing record in their closet to million-dollar outfits with sterling sound engineering. Objectives span from shining a light on underheard voices to the audio equivalent of a selfie. But when Serial liberated the form, powerhouses like NPR and Gimlet Media began pumping real money into the medium, making space for shows with broad appeal and qualities people could judge empirically. A list of the 50 best podcasts might have been nothing more than a desperate shuffle until now, but no more: At our website The Timbre, we've spent numerous hours every week poring through podcasts and making recommendations, which allows us to say confidently that these are the best of the best. The following works are ranked in order for their exemplary craftsmanship, entertainment value, and je ne sais quoi, all available for your binge-listening pleasure.
---
1. "Belt Buckle" by Mystery Show
Mystery Show proved the most endearing podcast to debut in 2015. The host and producer Starlee Kine plays the part of a sleuth who tackles the befuddling everyday mysteries that dog her guests. On "Belt Buckle," a friend enlists her to track down the original owner of a belt found lying in an Arizona gutter decades earlier. Finished with metalwork depicting a miniature breakfast feast and emblazoned with the names "Hans Jordi" and "Bob Six," the belt seemed like the last thing anyone would toss to the side of the road. With her trademark whimsy and earnest curiosity, Kine digs deep into the world of European chefs living in the southwest, hot on the trail of a Swiss cowboy. The episode is unrelenting in its playfulness and joy, but a sense of profundity lies just beneath the surface, bobbing up in the final minutes, when you won't be sure whether to grin or weep.
---
2. "New York After Rent" series, highlighting "New York After Rent II" by Benjamen Walker's Theory of Everything
In a three-part series, "New York After Rent," Walker examines a crucial period in New York City's history: 2008, right after Rent the musical closed and Airbnb began to invade the rental market. While Rent's title song famously proclaimed, "We're not gonna pay rent!", Airbnb led to the commodification of every square inch of the city, making it impossible for many residents to afford to pay rent. Blending fiction, reporting, memoir, and essay, Walker showcases different takes on the changing New York. The pièce de résistance of the series is part two, in which he describes attending an elite Manhattan party in 2008, during the financial collapse, when the city he knows starts to slip from his grasp. The scene unfolds like a fever dream, with a deeply stoned Walker wandering room to room, trying to piece together a reality where advertising and art are interchangeable and artists like him no longer belong. In Walker, the podcasting world has found its Hunter S. Thompson.
---
3. "The Living Room" by Love + Radio
The winner of Third Coast International Audio Festival Director's Choice Award, "The Living Room" was arguably one of the most talked about shows of the year. In it, the writer and filmmaker Diane Weipert explains what happened when a couple moved into the apartment across the street and failed to hang curtains. Through the large bay windows in their home, she and her husband had an unimpeded view of their new neighbors, whose daily comings and goings became something of a fascination for Weipert. Channeling a touch of John Cheever's "The Enormous Radio" in the narrative as fascination spirals into obsession, Weipert becomes deeply invested in the fate of her neighbors. "The Living Room" finds its heart at the perfect intersection between voyeurism and empathy.
---
4. "How to Become Batman" by Invisibilia
Studies show that rats perform better in cognitive tests if their handlers project certain abilities onto them. From this, Lulu Miller and Alix Spiegel build an argument for fundamentally changing the way we treat blind people. Rather than limit their mobility out of a misguided desire to protect them, they should be encouraged to get outside and engage with the world, to climb and touch and tumble—to find new ways to "see." And this isn't just feel-good pseudoscience either. After listening to Batman, the idea of a real superhero no longer seems farcical. Meet Daniel Kish, America's very own Batman, who's been blind since he was an infant and has developed a click he uses to bounce sound waves off his surroundings. The episode barrels forward, punch-drunk on the possibility of its own suggestions, until listeners find themselves standing on the roof of a building, seeing the world anew.
---
5. "Shine on, You Crazy Goldman" by Reply All
Reply All claims to be a show about the Internet, but regular listeners know that's just a ruse. The show is actually about people. "Shine on, You Crazy Goldman" begins as a straightforward story, with the host P.J. Vogt examining a website called TripSit, a place where people too high on drugs can find a shepherd. From here, the episode dives into recent research about the therapeutic effects of acid and mushrooms. Curiosity becomes too much for Vogt who decides to try microdosing LSD with the producer Phia Bennin. The story would file under "self-indulgent acid trip" if it weren't so in tune with the underground conversation about the benefits of hallucinogens. The members of the Reply All crew have so much trust in themselves, the message to listeners seems to be: Curiosity certainly won't kill these cats, nor will fear prevent them from pursuing stories to their end.
---
6. "Najibullah in America" by Home of the Brave
The consummate pro Scott Carrier may be the indie bad boy of the old-school audio world, but that doesn't mean his outlet Home of the Brave lacks vulnerability in his work or shine on the finish. Quite the opposite. "In Najibullah in America," which is set up by the episode that precedes it, "Over There," Carrier helps a young man named Najibullah move to America and enroll in a college near him in Utah. The two met while Carrier was reporting in Afghanistan, and Najibullah became his translator. We not only witness Najibullah's personal evolution through Carrier's own, but the story also gives the listener new stakes for pushing past their own limitations. While the episode takes on elements of a fish-out-of-water tale, it merges Carrier's and Najibullah's narratives in one of the finest moments in all of 2015's podcasts: Carrier learning to teach, and Najibullah at last grasping, the lesson of freedom.
---
7. "Sight Unseen" by Radiolab
Radiolab tackles the natural sciences through stories that tend to have unexpected complications, and listeners follow along as the hosts untangle the knot. "Sight Unseen" begins with a photojournalist in Afghanistan who captures a series of images of a marine as he dies. While the photographs portray the cold reality of war in stunning specificity, one problem remains: Laws strictly forbid Lynsey Addario from publishing photos that feature the soldier's face without permission from the next of kin. "Sight Unseen" fosters a deep intimacy between Addario and the marine's family, and all the while, the listener wonders if they'll agree to sign off. The story pits an individual against the greater good and leaves listeners uncertain of the most dignified way to honor one man's legacy.
---
8. "Madam Secretary, What's Good?" by Another Round
Another Round premiered in March 2015 as a "happy hour with friends you haven't met yet." Right from the start, the show proved to be whip smart on gender issues and racial politics, and it didn't take long for hosts Tracy Clayton and Heben Nigatu to turn their podcast into a serious cultural affairs show—all without sacrificing its signature frivolity. The ladies didn't pump the brakes when they landed an interview with Hillary Clinton, asking her if she thought Bill Clinton "fucked [things] up for black people" during his presidency. You'd be hard-pressed to find another show that does a better job balancing scholarship with laugh-out-loud humor.
---
9. "DUSTWUN" by Serial
Serial faced serious expectations for its season two, which boiled down to whether the show could catch lightning in a bottle twice. It's too early to say, but if "DUSTWUN" gives any indication, prospects look good for producer Sarah Koenig and her team. The new season centers on Bowe Bergdahl, the sergeant who disappeared one night in Afghanistan, only to resurface as a prisoner of the Taliban. What exactly sent Bergdahl packing is the subject of the season debut, and listeners will be spellbound by the show's signature narrative style and disquieting details.
---
10. "The Problem We All Live With Parts 1 and 2" by This American Life
Much of what the podcasting world loves about the form comes from the style and former employees of This American Life and Ira Glass. But "The Problem We All Live With" was an ambitious undertaking even for TAL, chronicling segregation and integration in public schools. The show gets help from the New York Times reporter Nikole Hannah-Jones, who succinctly shows how racial integration has solved much of the disparities in public schools in the past—and how geographic segregation unravels this hard work. Of special note is an outlandish PTA meeting with parents spewing a subtle brand of racism. Listeners will feel as though they're seated in the packed gymnasium as one black student breaks down while trying to muster the courage to simply introduce herself to the angry white crowd.
---
11. "The Hurricane" by The Heart
The Heart asks its audience to confront the rawness of human vulnerability through controlled, artful narration. "The Hurricane" recounts an intense love between the producer Mitra Kaboli and a visitor she met when New York shut down for Hurricane Sandy, trapping them together. The passion the two shared fizzled almost immediately after her lover went home—the usual excuses about the expense of plane tickets and time were made, and Kaboli was left to wonder how something that fit so well could fail. She puzzles through this loss for listeners, and it's not just Kaboli doing the retelling, either. She's enlisted her partner to reexamine the tryst, too, adding to the aching complexity of this missed connection.
---
12. "Terry Gross to Marc Maron: 'Life Is Harder Than Radio'" by Fresh Air
A public-radio professional meets a casual Friday podcaster in this conversation between Fresh Air's Terry Gross and Marc Maron of WTF. Gross is famously elusive with a low-key style that opens up her subjects without requiring her to share too much of herself; Maron is brash and irreverent, often turning interviews into something akin to confessionals between friends. Rather than clash, their two styles make for a marvelous 96-minute game of cat-and-mouse with Maron as host playfully pursuing Gross's private persona, spinning the interview into a discussion about the interview. These two are in top form for this charmed occasion.
---
13. "695BGK" by Criminal
True crime sells for a reason, but Criminal doesn't deliver tabloid fodder. The producers Phoebe Judge and Lauren Spohrer carve out their own form of elegant, tightly paced crime documentary, a much-welcomed addition to the podcastsphere. "695BGK" isn't political, but it reflects a trend in podcasts that adds a gripping new layer to of-the-moment discussion on policing and race. Podcasting also proves a vital outlet for those who would otherwise take to the streets with a megaphone. From the chilling opening line, "Lately, we've been hearing a lot about police officers shooting unarmed black men," Judge tells listeners that this isn't going to be a Sunday ride. While the subject is thorny, the audio work is unassailable.
---
14. "Welcome to Millennial" by Millennial
Millennial could not be more … millennial—it's entrepreneurial, digital, indie, and, essentially, a series of selfies. But its producer, Megan Tan, is far from shallow. On the debut episode, Tan introduces herself as a 20-something fresh out of college, jobless, and uncertain of the next step. That the next step will be to create the very podcast we're hearing might be obvious, but Tan so thoroughly translates a sense of herself—and is so darn likable—that listeners will want to follow her story to see how she fares. Serialized podcasts are still relatively rare, especially memoir-style ones like these, and especially ones that are this good. Be warned: You're going to want to binge season one.
---
15. "Taylor Negron: Portrait of an Artist as an Answering Machine" by Fugitive Waves
As a portrait of an artist as an answering machine, this episode takes us back to a time when voicemails were the connective fabric of our lives. And in this case, it's all for the sake of eulogizing Taylor Negron, who died in January, in the form of voicemails hoarded by the comedian, actor, and artist. Fugitive Waves, in collaboration with Negron's friend Valerie Velardi, selected the most standout—hilarious and personal, calculated and weird, even some that sound like monologues—and then sewed together the ones that best reflected Negron. That such an extensive archive exists is itself a treasure, but the craftsmanship required to whittle the trove into a portrait deserves recognition, too. There's even a precious posthumous appearance from Negron himself in the end.
---
16. "An American Life" by Rumble Strip Vermont
In March 1968, a 118-pound barber named Vaughn Hood answered his draft board and reported to boot camp. As a non-ideologue who fretted over violence, Hood didn't fit the mold of a hard-charging grunt. In "An American Life," the host Erica Heilman collects Hood's Vietnam War on tape. The conversation goes beyond the melancholic, coming-of-age, war-as-hell narrative. All the horrors of Vietnam are here, sure, but it's the dignity of one man and that his voice still trembles at the mention of his service decades later that demands attention.
---
17. "Why is Mason Reese Crying?" by WireTap
"Why is Mason Reese Crying?" revolves around a former '70s child actor, famous for his old man face, who served as the adorable spokesperson for the likes of Dunkin' Donuts and Raisin Bran. Later he parlayed his acting career into strange appearances on The Mike Douglas Show. On one such booking, Reese collapsed in his chair, hysterical at the mere thought of guest Harry Chapin playing "Cat's in the Cradle." In the hands of producer Jonathan Goldstein, the Wes Anderson of podcasting, Reese's spellbinding breakdown demands nothing less than an exhaustive search into the heart of a man who never grew up.
---
18. "Episode 7" by The Message
Fiction, despite its long tradition on airwaves, isn't the norm in today's podcasting scene. Decent writing and sound engineering are a tall order in the low-budget state of affairs, let alone employing talented voice actors. Enter General Electric to turn it all around, with money to burn in the branded-content arena and a history in audio storytelling (GE created General Electric Theater in the 1950s, starring Ronald Reagan). The Message follows the protagonist Nicky Tomalin as she and a team of scientists decipher and decode a 70-year-old message from outer space that infects people with a deadly illness after they hear it. Listeners won't understand the seventh episode without starting from the beginning, but it's the penultimate installment that most demonstrates that imagination and solid writing—art and craft—can come directly from sponsors.
---
19. "In the Left Pocket, by My Heart" by ARRVLS
"In the Left Pocket, by My Heart" relays the sorrow of a couple who lose their baby. Sure, friends and family offered words of support, but the narrator, the producer Sara Brooke Curtis, guides—and prepares—listeners to see what these conciliatory gestures don't touch. The couple's grief needs acknowledgment, it needs to be taken out for a walk, to be asked to dance, play, and thrive. It's important not just in terms of the vacancy it leaves behind, but in recognizing that their little girl existed. Their baby girl died, yes, but more important to Curtis and her husband is that she lived, too.
---
20. "I Want My MTV" by Between the Liner Notes
Finding great indie podcasts can be a head-scratching challenge to listeners combing through the thousands of iTunes offerings. Between the Liner Notes is the succulent fruit of that labor. Taking us from the rough-and-tumble, pre-launch MTV into its iconic 1980s heyday, "I Want My MTV" pinpoints decisive moments that led to the birth of Music Television, with the host Matthew Billy interviewing key players from the network's origin story. MTV once reigned over youth culture with nothing more than four-minute videos, and now, there's a great documentary-style podcast to show for it.
---
21. "A Red Dot" by Love + Radio
The chance to try on another person's consciousness keeps many on the hunt for the next great podcast, but "A Red Dot" transports listeners into a headspace they have no desire to occupy. Spoilers will take away from Love + Radio's brilliant craft choices, particularly in its first few minutes, which bait you into venturing down an unpalatable path. The discomfort comes mostly from the fact that it challenges listeners to contemplate controversial realities that nobody wants to consider, from a person nobody wants to acknowledge. The subject matter is heavy, the flourishes of language intriguing, and the questions hard. Suffice it to say, the producers know the listener needs to be bent into an unnatural sympathy in order to give this particular outlier an ear. "A Red Dot" forces its listeners to rise to the occassion, whether they like it or not. It's one of the most infuriating and masterful pieces to date.
---
22. "Source Code" by Mystery Show
Pressing play on "Source Code" transforms listeners into laughing fools, incapable of containing themselves. Jake Gyllenhaal himself makes an appearance, both challenging and acquiescing to the host Starlee Kine's charm—and saying as much won't spoil the fun. Kine's quick wit coupled with her basic goal of solving an Internet-agnostic mystery—that of Gyllenhaal's exact height—takes the listener through a discovery process they'd never seriously consider on their own. Mystery Show validates that age-old atavistic hunch that the Internet does not, in fact, know everything.
---
23. "The Facts" by How to Be a Girl
"The Facts" stars a 5-year-old transgender girl, whose maturity belies her age, and her mother, who dives headfirst into the subject of gender identity while recording under the name Marlo Mack. At first, Mack resists her child presenting as a girl, but after months of difficult conversations aimed at changing her daughter's mind, she considers the possibility of acceptance. How to Be a Girl demonstrates how, if you can't rely on your interpretation of gender—this is a 5-year old baring her soul, after all—then you're left with trusting that the person standing before you knows her own heart. And the child here survives an emotional gut-check that would level most 30-year-olds. "The Facts" distills the essentials of the How to Be a Girl series into a primer of sorts , the perfect starting point for newcomers who want to find someone under the age of 6 who can give them a master class in personal growth.
---
24. "Rukmini Callimachi" by Longform Podcast
Longform satisfies writers' great desire to understand their fellow creators. When it goes beyond its own bubble, though, it has the power to inspire anyone willing to take their time with good journalism. Rukmini Callimachi wrote many of the most important stories about ISIS published in The New York Times this year. Her social media savvy helped her track down sources in an unprecedented way, and, in so doing, alerted the world of the fact that one vapid Western preoccupation—Twitter—had been commandeered for much darker purposes. Breaking down her motivations and know-how, Callimachi offers a humble, fascinating exploration of the modernization of news—and confirmation that hard work and determination still rule the day.
---
25. "Rebel Yell" by Home of the Brave
No other podcast sounds like Home of the Brave, and "Rebel Yell" is an especially rollicking episode that dares to be funny, dangerous, and immediate. Scott Carrier invades New York with drops of blotter acid and a plan to cover the Republican National Convention. But he never makes it to the main event, because he's too busying protesting "the enemy" and then smooth-talking his way into a Kid Rock concert brimming with young conservatives. He immerses himself in the open bar, fist-pumps with Republicans, and delivers a gonzo-style belly laugh, all in a taut 13 minutes. By the end, you won't believe who Carrier is endorsing for president.
---
26. "Milk Carton Kids" by 99% Invisible
99% Invisible knows how to take a tidbit of the design world and expand it into into a sleek exploration of society at large. For a few years in the 1980s, kids' morning cereal came with a generous helping of stranger danger as dairies featured information about missing children on the backs of their milk cartons. This was a time when law-enforcement officials waited three days before considering a child officially missing. After 12-year-old Johnny Gosch didn't return from his morning paper route, his mother lobbied for reform, and Johnny's was the first face to appear on a milk carton. 99% Invisible—a podcast that bills itself as "a tiny radio show about design"—finds beautiful ways to expand its scope and explore the larger social and historical context behind innovations.
---
27. "Instaserfs" by Benjamen Walker's Theory of Everything
Following up on his success examining Airbnb in "New York After Rent," Benjamen Walker once again takes aim at the sharing economy in another three-part series, "Instaserfs." To explore the world of Uber drivers and Task Rabbits, he partners with a 25-year-old San Francisco native, Andrew Callaway (who turns out to be pure radio gold), as Callaway dives into life as an independent contractor. Callaway races around the city, delivering groceries and chauffeuring coked-up venture capitalists, often spending more on gas than he makes in tips. Walker doesn't offer any pat conclusions about the share worker economy, but after riding along with Callaway for three episodes, listeners will realize this is not the route to milk and honey.
---
28. "Birthstory" by Radiolab & Israel Story
What's the most straightforward—and legal—way for a same-sex Israeli couple to father siblings, one child each, outside of the very expensive American channels? Apparently through a couple of companies that coordinate one Ukrainian egg donor and two Indian surrogates who stay the course of their pregnancies in Nepal. "Birthstory" walks listeners through these complexities, both moral and logistical—and then an actual earthquake shakes up Radiolab's and Israel Story's reporting, unveiling a vast baby-making network. "Birthstory" is the culmination of a year's worth of reporting and a welcomed demonstration of how much the listener benefits when show producers don't try to shoehorn their findings into a tidy narrative just for the sake of a prettier package.
---
29. "Every Night Ever" by The Memory Palace
The Memory Palace makes its bones digging out small, forgotten moments in history and breathing new life into them. On "Every Night Ever," the host Nate DiMeo describes a night in 1953 when something strange visited the sleepy town of Austell, Georgia. It's an interesting enough little story, but it's the quiet, wistful scoring and careful attention to detail that elevates this account from a textbook footnote to a timeless tale about the human desire to find meaning in our lives.
---
30. "No Place Like Home" by Criminal
It's fun to listen to people talk about kiting checks and living double lives, especially when you know that person got busted, but this particular episode of Criminal takes a turn that sits outside the realm of possibility for the listener. Those who haven't read Neil White's memoir, In the Sanctuary of Outcasts, will find themselves especially seduced in the first moments of the show. White-collar criminals on the East Coast used to be sent to a place that housed a different type of inmate, one that, unlike White and his nonviolent inmates, had no desire to get out. The perspective the listener gets from these disparate populations coexisting, how they influence one another, will make you want to hug your mother, or at the very least, reach out and touch someone.
---
31. "Soundtracker" by Generation Anthropocene
Think of "The Soundtracker" as an audio version of a lauded nature program. According to the man who made his living recording the world's sounds, in the wilderness, those who can really listen stay alive—and those who don't will get eaten. "The Soundtracker" proves how a sense of hearing is as essential as food and water, and that, baby, the Earth is music. Hempton DJs and interprets his vast collection of nature sounds, precious treasures since noise pollution has made reproducing them impossible. His guidance nuances and brings to light the surprising and sad realities in bioacoustics, and how the sun is what turns up the volume.
---
32. "Today's the Day" by Reply All
Perhaps the most impressive aspect of Reply All's "Today's the Day" is that, on paper, it has all the makings of a dud. It features the hosts Alex Goldman and P.J. Vogt recording themselves riding roller coasters and performing karaoke under the simple guise of the idea that sometimes you need to get outside. Yet the effect is inexplicably magical as listeners tag along on a day where the subtext has more to do with friendship than cabin fever. The podcast should come with a "don't try this at home" warning, as few producers can pull off such a carefully crafted show while maintaining a freewheeling sense of joy. That the episode also features a cameo by a goat living near an abandoned building in Brooklyn is just a bonus.
---
33. "Greetings From Suicide Bridge" by The Light in the Attic Podcast
For many music enthusiasts, Light in the Attic Records does God's work, sifting through discount bins and stalking flea markets in search of undiscovered, forgotten, and obscure albums to reissue. One such record is "Songs From Suicide Bridge," a moody, plaintive folk album quietly released by David Kauffman and Eric Caboor in 1984, and all but ignored for the next 30 years. The writer Sam Sweet tells the story of these two loners, read directly from the liner notes, and interspersed with tracks off their haunting album. Like "Songs From Suicide Bridge," the podcast doesn't call attention to itself, maintaining instead a somber, melancholy tone that will break your heart if you let it.
---
34. "Entanglement" by Invisibilia
The show hosts Lulu Miller and Alix Spiegel shatter all the known rules of the universe in the first 10 minutes of "Entanglement," proving the interconnected nature of the world, down to the atom level. Everything is one thing, according to their indisputable, sometimes inexplicable, findings. For people generally cast aside as paranoid wackadoos for believing that one day people will download others' thoughts from a cloud, "Entanglement" all but confirms such a future reality. The hosts call in science, stand-up, and even something called mirror-touch synesthesia for evidential support.
---
35. "The Worst Part About Our Sport" by The Season
On its face, The Season is about the 2015 Columbia University Lions—a notoriously underperforming Ivy League football team with a famously long losing streak. Though the podcast remains true to its promise, following the team and cataloging the final scores of games over a 10-episode season, its purpose deepens as the show evolves. In "The Worst Part About Our Sport," the reporter Ilya Marritz probes the ugly side of the game, considering the devastating head injuries and inherent violence endemic to football. Though he owns up to his initial indifference to the sport, Marritz doesn't take the easy way out here and condemn football; instead, he grapples with its contradictions, even defending the illogical devotion the game inspires, proving to listeners this is a podcast that has loftier ambitions than tidy conclusions.
---
36. "Unforgiven" by Snap Judgment
There's a moment in the first 20 minutes of "Unforgiven" that will make your blood run cold. The theme of the episode is forgiveness, and the first act chronicles the correspondence between two women, a widow and the wife of her husband's killer. Great documentary storytelling has long had a home in the world of podcasting, and Snap Judgment regularly surpasses typical cocktail-party anecdotes with its sweeping narratives. But "Unforgiven" pushes the show to new heights, layering in surprises and drilling down to the hard questions about how far the reaches of grace should extend.
---
37. "House on the Hill" by HOME: Stories from L.A.
Home: Stories from L.A. launched in 2015 as an anthropological study of the people who created the dreamscapes and mythologies of southern California. In its first installment, "House on the Hill," Bill Barol drenches his story in the Golden Age of Hollywood as seen through the weird, beautiful, and sometimes macabre orchestra of Herman Stein, a composer of dozens of monster-movie and sci-fi soundtracks. To understand Stein, Barol, a journalist-turned-podcaster, chases ghosts in the cavernous home to which the composer retired after he grew disillusioned with the business. While "House on the Hill" charms you on the surface with Hollywood lore, it's actually an understated love story about Stein's tender devotion to his wife Anita.
---
38. "I Am in Here" by Rumble Strip Vermont
Imagine hearing and understanding words, but being unable to speak any for the first 30 years of your life. Mark Utter, the subject of "I Am in Here," explains this reality, in no easy terms and not without incredible effort. Utter communicates through supported typing, a slow process that the host Erica Heilman demonstrates in real time, giving listeners a rare taste of just how impressive it is that Utter is not only able to hold onto his thoughts, but also express them. Mostly, the episode offers a vignette into an isolated and othered sect of humanity, one that demands a lended ear. But, listen for the moment when Utter talks about the sheer helplessness and danger inherent to his wordless life, listen for when he and Heilman argue. Both prove that deep thinking need not be verbal, and that words aren't the only path to love, sorrow, or even self-actualization.
---
39. "Joe Frank: Downfall" by UnFictional
To understand "Downfall," you'll have to put down your devices, stop cleaning the bathroom, and avert your gaze from the world. The legendary Joe Frank made poetry in this episode of UnFictional, through an audio collage that stitched together peculiar soundbites, including an interview with a corrupted mayor and voiceover work from David Cross. It's hard to pinpoint the takeaway—the listener must do some of the heavy lifting to that end—but it's not clear if that even matters. Certainly natural disaster intersecting with the limitations of man creates enough engaging satire for listeners to give it one, if not a few, go rounds.
---
40. "The Accidental Gay Parents" by The Longest Shortest Time
When John got a call from a social worker who informed him that foster care would soon take possession of his sister's children—unless he intervened—he had no choice but to act. Until then, he and his boyfriend Trystan had lived a carefree 20-something lifestyle. All that was all gone in a flash as they became adopted fathers to two kids from an abusive household. The men stepped admirably into their new roles, even as it meant rupturing the relationship they shared with John's sister. "The Accidental Gay Parents" is an affecting episode that showcases the transformative power of love and family—in all its forms.
---
41. "Splash" by Awful Grace
The Sunshine Skyway Bridge in Florida has the unfortunate distinction of serving as one of the country's most popular places to commit suicide. "Splash" explores the romance and reality of this grim site, examining it through hotline operators, rescue workers, and a man who tracks the yearly suicides—each with a unique understanding of the fragile contract some people make with life. We also hear from Hanns Jones, a jumper who survived, about what it's like to stare down into that blue water and then step out, into the abyss.
---
42. "The Last Place: Diary of a Retirement Home" by Radio Diaries
Long before podcast was a word and streaming audio a reality, the team at Radio Diaries was helping people tell their stories by giving them recorders and editing their tape. Decades later, the formula still works. In "The Last Place: Diary of a Retirement Home," we hear from the residents of The Presbyterian Home in Evanston, Illinois, who describe their frustrations with their failing bodies and their secrets to aging (one woman eats a regimented diet of gin-soaked raisins every day). But for them life isn't merely reduced to the art of growing old—these are people with opinions and memories and plans.
---
43. "Burnout" by StartUp
Listening to the frazzled employees of a podcast company hit a wall shouldn't play this well. StartUp markets itself as a franchise about "what it's really like to get a business off the ground," but it's obvious now how its reality-show format worked best when it turned the mics on itself. With unlimited access, "Burnout" wanders the halls of Gimlet Media checking for vitals. Given the testimony by worker bees like Starlee Kine, Alex Goldman, and P.J. Vogt, you might think this is a new season of The Walking Dead. Slogging through endless grunt work, Gimlet Media discovers what happens in a startup after the romance dies.
---
44. Entire "Charles Manson's Hollywood" series, highlighting "Charles Manson's Hollywood Part 3: The Beach Boys, Dennis Wilson, and Manson the Songwriter" by You Must Remember This
You Must Remember This gives listeners an outlet for indulging in the Golden Age of Hollywood. With Karina Longworth at the helm, the "Charles Manson's Hollywood" series doesn't feel like scholarship because it's too gripping, too addictive, and too easy to follow. The series is a slow reveal of Manson's ego, influence, and crimes, chock-full of details that sharpen the well-known events.  Of particular fascination is part three of the series, which describes Manson's relationship with the Beach Boys' Dennis Wilson, a man who was easy prey for Manson. The revival of this little-known relationship translates into equal parts nostalgia and terror.
---
45. "Paul Thomas Anderson" by WTF With Marc Maron
If a championship belt were awarded to best podcast interviewer every year, Maron would have defended his title in 2015 with this showing. As a standup comedian-turned-podcaster, Maron doesn't just enhance how a guest and host communicate, he creates a new form of human expression, one where he filters his guest through his own neuroses to arrive at what makes a person successful. When the filmmaker Paul Thomas Anderson kicks open the door to Maron's garage-turned-recording-studio, the host may have finally met his match. Anderson's appearance on WTF places everything that is compelling about Maron's podcast in a box with a floppy bow: conversation as a manic tug-of-war tell-all, and Maron's compulsive plunge into what drives a person to pursue an artist's life.
---
46. "Grace of the Sea" by UnFictional
UnFictional is no stranger to a story that burrows inside you and takes up residence in your head, pushing aside the clutter and white noise. "Grace of the Sea" is all about the memories people hold most dear. It taps into the intoxicating days of youth as seen through the seascaped daydreams of Luis Gutierez Sanchez, a man from small-town Mexico who moved to Cozumel and worked in a drag show under the name Grace of the Sea. Hypnotic and nostalgic, this episode finds its cadence in the rhythm of Caribbean waves off the coast of Mexico.
---
47. "Terrible Parents" by Black List Table Reads
Into a field crowded with documentary-style reporting enters The Black List Table Reads, a fiction podcast built around real Hollywood screenplays and performed by professional actors. Hosted by Franklin Leonard, the man behind the legendary collection of unproduced screenplays known as the Black List, the show gambles on the idea that these scripts can come to life through solid voice acting. Though not the only show attempting to tell fictionalized stories, it's one of the most ambitious, with episodes clocking in at feature-film length. "Terrible Parents" is a comedy about two parents who are hell-bent on ensuring their young son's success, to the point that they fail to notice what nightmares they've become. The "movie" paints its scenes so vividly that you'll quickly forget you're hearing a table read.
---
48. "Pete Davidson" by You Made It Weird With Pete Holmes
The comedian Pete Holmes aims for an unconscionable two hours per episode and hopes to "make it weird" by talking about life after death, ayahuasca, astrophysical travel, and the like. By controlling his interviews, in a loose way and with extraordinary playfulness and total lack of judgment, he often creates unguarded conversation that can captivate listeners who don't buy into New Age ideas. Pair him with someone like Saturday Night Live's ingenue, Pete Davidson—a straight shooter whose father died working as a firefighter in the aftermath of the attacks on September 11—and You Made It Weird can't fail. Davidson, 21, is inexplicably mature for his age and demonstrates the value of dark humor. The unsavory throat-clearing up top redeems itself—stick with it for a handsome reward.
---
49. "Lionel Shriver Reads T.C. Boyle" by The New Yorker's Fiction
There's nothing groundbreaking about this podcast's premise in which authors are invited to read and discuss a short story from The New Yorker's archive. But that doesn't mean it isn't occasionally exceptional. Take this episode, in which Lionel Shriver reads T.C. Boyle's "Chicxulub," an unsettling story about a tragic accident involving a teenage girl. It's a story that sneaks up and offers a gut punch, and while the reading is enough to make this a must-listen, it's the ensuing conversation between Shriver and the host Deborah Treisman that seals the day. The discussion extends beyond the pages of the story, to grief and empathy and humanity's shared, collective fate.
---
50. "Take a Little Ride With Coors Light" by Pitch
The producers at Pitch comb through music in search of a narrative, but they also look underneath and around the industry, scouring the bit players and rainmakers dishing out records and fulfilling rock and roll dreams. In its best installment of 2015, Pitch explores how some hits by songwriters double as jingles for their corporate sponsors. As you hear the host Alex Kapelman tell it in "Take a Little Ride With Coors Light," product placement sneaks its way onto more albums than you might recognize. Pitch finds a story in a Nashville backroom, where the songwriters in Jason Aldean's 2012 hit "Take a Little Ride" tweaked the lyrics to include a shoutout to Coors Light, helping the country rocker perform the double duty of topping the pop charts and pleasing his corporate overlords.