Highbrow Ink
Tattoos are seeing growing acceptance in the fine-art world, but the once-subversive 1,000-year-old art form doesn't fit in so neatly.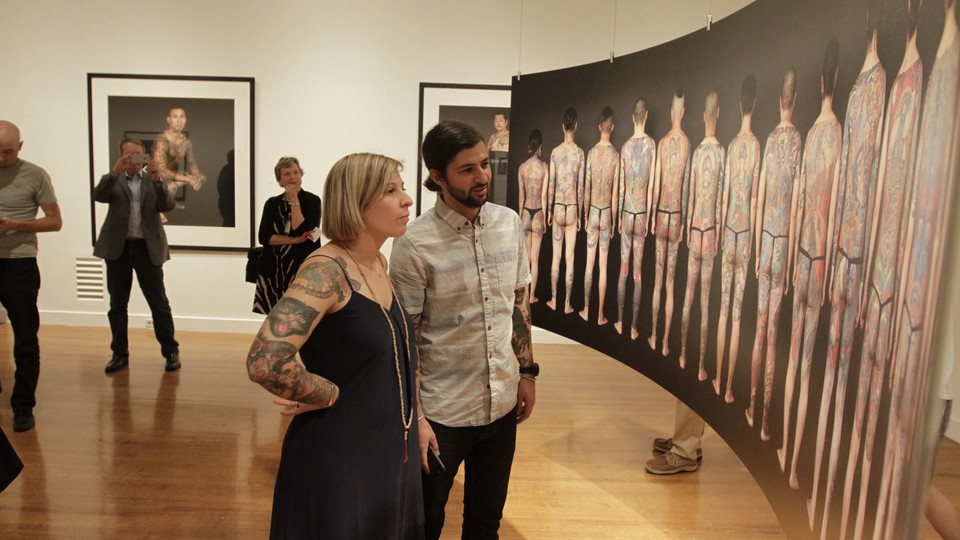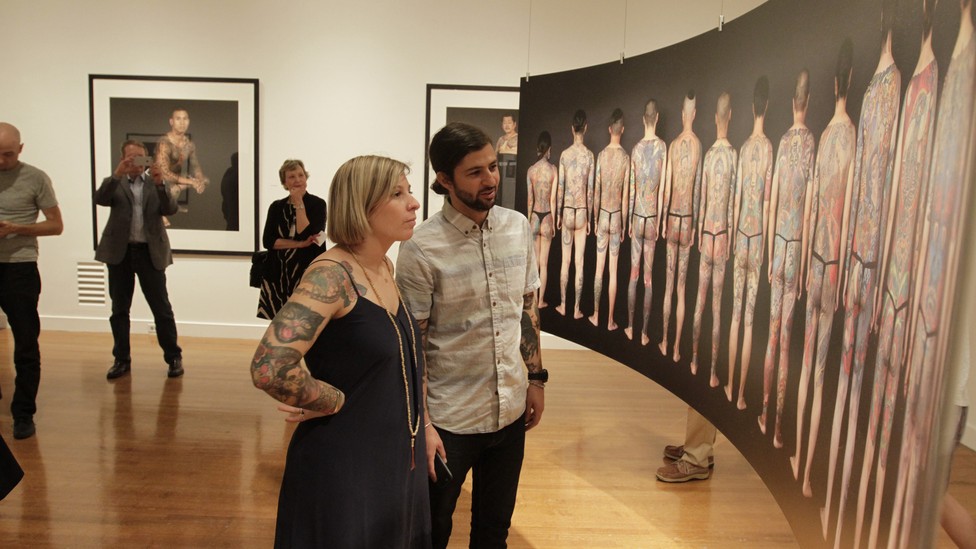 The tattoo is no longer quite the symbol of rebellion and subculture it once was. Roughly one in five Americans has one, and that rate is much higher for Millennials than their Boomer counterparts. Popular tattoo artists such as Nikko Hurtado regularly have close to a million Instagram followers, and the stigma against tattoos in the workplace is slowly fading in many parts of the country. Another sign of America's broadening acceptance of the 1,000-year-old art form? High-art tattoo auctions and museum exhibitions.
In November the eccentric auction house Guernsey's, which has sold President John F. Kennedy's underwear and Cuban cigars, offered up a collection of 1500 images by some of the world's foremost tattoo artists for between $50 and $50,000. A traveling exhibition that recently left Richmond's Virginia Museum of Fine Arts features life-sized photographs of traditional Japanese tattoo art captured by the photographer Kip Fulbeck. In many ways, tattoos are fundamentally at odds with the fine-art world's business model, which is based on buying, selling, and displaying objects. And yet, it seems almost inevitable that, given the popularity of tattoos, more art institutions will recognize the value of embracing the once-subversive art form.
The New York Times art critic Michael Kimmelman argued in 1995 that tattoos were most interesting to the art world because of their "outsider status," even comparing them to "self-taught art, prison art, and art of the insane." But this shouldn't be seen as a knock against them. "If you look through art history, there's always an art form that's emerging that's not as accepted," says Lee Anne Hurt Chesterfeld, a curator at the Virginia Museum of Fine Arts. One example is woodblock printing, a key influence in Japanese tattooing. "It wasn't exactly considered museum-worthy for a long period, and now every museum you walk into will have something related to woodblock printing," Chesterfeld says.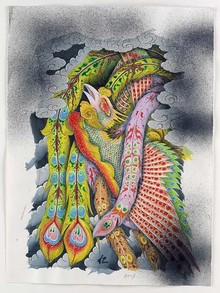 But beyond the question of whether tattoos are "museum-worthy" are more practical considerations. Tattoos simply aren't objects that can be put in a glass case or inside a frame, similar to performance art, which specifically tried to resist the museum model and commercialization of art. Sometimes, the practice of skin-grafting is used to preserve a tattoo after the owner has died, but the piece loses something essential in the process. Many artists, such as the Japanese master Horiyoshi III, believe drawings can only fully come alive on the skin. "This is why I never show my designs as so-called art," he told the Japan Times in 2007. As a result, facsimiles such as photographs and drawings come close but fall short of capturing the visceral nature of the designs and the human histories embedded in the ink.
It's understandable, then, why many tattoo artists feel like their work is at odds with pieces usually presented by museums and galleries. "I think a lot of the general public considers us artists, but I don't think the fine art world knows what to do with us," says Takahiro Kitamura, a Japanese American artist who is famous for his large-scale tattoos and who has several works in the Guernsey's exhibition. "They can't own us."
Kitamura notes an interesting divide between the more conventional artist—say, a painter, or sculptor—and the tattooer. Over the last century, tattooing has evolved away from "flash," or pre-designed illustrations. Today, high-end tattoo artists can spend 30 or 40 hours (often at hundreds of dollars per hour) working on a single, custom piece and often develop close relationships with their clients. But once the tattoo is finished, their art walks out the door permanently—a fact that conflicts with the art world's tendency to associate a piece of work with its author rather than its owner. "You get good at letting go," says Kim Saigh, a Los Angeles-based artist who appeared on the reality show L.A. Ink. "Tattoos have a life of their own."
This kind of client-oriented artistic arrangement is reminiscent of the Renaissance-era patronage system, where a wealthy sponsor would pay the living wages of an artist in return for both commissioned work and the cultural cachet of being associated with them. In the era of Michelangelo and Leonardo, the cult of genius was born, and artists went from being considered technical craftsmen to virtuosos—an arc that mimics the evolution of tattoos and their fairly widespread acceptance. Along with Saigh, artists like Los Angeles's Mark Mahoney and Dr. Woo have achieved celebrity status, with potential clients waiting from several months to several years for an appointment.
In light of this exclusivity and the growing mainstream respect for artists, it makes sense that the fine-art world is embracing tattoos. Kitamura, who curated the Virginia Museum of Fine Art exhibition, sees the show as a welcome acknowledgement that tattoos are finally appreciated for their high-art caliber. "If the VMFA is putting us in the same museum as Picassos and Rembrandts, then I think that's a pretty good argument that [tattoo] is an art form," he says.
In recent years, the art world has fully opened its doors to another stigmatized form—street art. A 2011 show of graffiti at the Museum of Contemporary Art in Los Angeles was the most-attended exhibition in the museum's history, perhaps a clear sign of the general public's interest in unconventional, yet familiar art. The same seems to be happening with tattoos: The exhibition at the Virginia Museum of Fine Arts was extended because of its popularity, and will travel to several other cities now that it closed in late November.
Bringing an intimate and personal art form such as tattoos into museums, galleries, and auctions gives the practice a new, institutional legitimacy and a special kind of accessibility. For a long time, tattoos would only be experienced by the artist and those close to the person who wore them. However slowly or messily, the art world is beginning to understand the special value tattoos have as aesthetic objects. More than just beautiful designs, they're reminders of the unique stories that can be told on human skin.