Star Wars: The Merch Awakens
As the new film's release nears, themed commercial products from soup to couture have become almost as important as the story itself.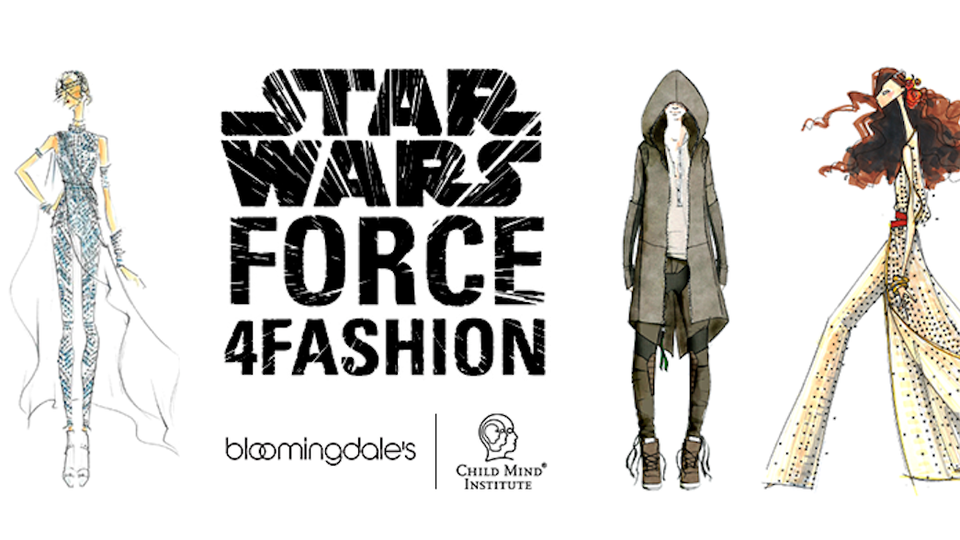 The
legend
goes like this
: George Lucas was struggling with the story for
Star Wars
. He knew the ideas he wanted to tackle with the series; he wasn't exactly sure, though, how to convert them into a screenplay. Then he remembered an academic text he'd been assigned to read back in college: Joseph Campbell's deep exploration of universal mythologies,
The Hero With a Thousand Faces
. In a combination of procrastination and desperation that will be familiar to any struggling artist, he reread the book. And then, suddenly—finally—he knew what he had to do: He had to narrow his epic to focus on its hero, Luke Skywalker, and the journey Young Skywalker would take. Lucas had to make
Star Wars
an example of what Campbell called "
the monomyth
."
It was a decision that would make Campbell, not to mention Lucas and his stars and the fictive universe they created together, famous. So much so that, two generations later, anticipation for the latest
Star Wars
film has reached appropriately stratospheric proportions. Just one of the film's multiple trailers has garnered
66.5 million views
on YouTube. Websites attempting to sell advance tickets to the mid-December screenings of
Star Wars: The Force Awakens
have crashed
from the influx of fans. For months, the world has been awash in
Star Wars Mania
.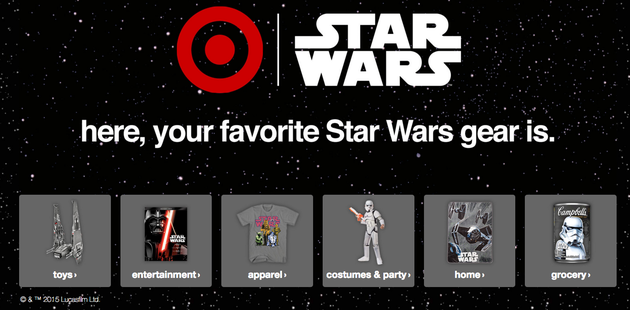 Which is also to say: The Star Wars universe has encroached, soup can by soup can, into the actual one. The universal story here may involve Luke and Leia and the Galactic Empire, but it involves just as much the commercial products of Luke and Leia and the Galactic Empire. Mythology and merchandising have become tied up into one another, so intricately that it is impossible to tell where the one ends and the other begins. Campbell, basically, has met Campbell's.
Which makes
Star Wars
, on the one hand, like pretty much any recent Hollywood blockbuster out there, successful-at-the-box-office or sadly-not-so-much. Movies have a long and lucrative relationship with the tie-products they sell (and vice versa), such that the most blockbustery films out there are not films so much as they are, more properly, franchises. It's product placement that treats the product in question as literally anything in the movie, from character to costume to prop. It leads to things like the
Guardians of the Galaxy soundtrack
. And the McDonald's
Minions-themed Happy Meal
. And
the continuing hegemony of Elsa
. And on and on and on. And there's an automation to all of it: an assumption that the stuff of the silver screen will be converted, via capitalism's alchemy, into, simply, stuff.
What's remarkable about the
Star Wars
merchandising, though, is how extensive it is, and how tentacularly it has spread throughout all levels of the culture. Minions and McDonald's, Batman and Target … all of that is to be expected. With
Star Wars
, though, the infiltration is broader. Amy Poehler and Tina Fey, via their spoof
Star Wars: The Farce Awakens
, converted
Star Wars
mania into an advertisement for a totally different movie (
Sisters
, which also premieres on December 18). And the merch itself has gone far beyond the typical Target/Toys "R" Us/Burger King nexus. Neiman Marcus sells
Darth Vader cuff links
. Bloomingdale's is hosting a "pop-up
Star Wars
store" featuring pseudo-ironic items like the
American Tourister 28" Spinner Star Wars R2D2
($199), the
Limited Edition Star Wars: The Force Awakens Captain Phasma Tote
($28), and the
Eleven Paris Mido R2-D2 Sweatshirt
($108).
Bloomingdale's has also been taking
Star Wars
from mere fashion (tote bags, Storm Trooper t-shirts, etc.) to ... Fashion. The store is
currently running a charity event
, in collaboration with the organization Force4Fashion, that is auctioning off
Star Wars
-inspired pieces designed by the likes of Rag & Bone, Ovadia & Sons, Timo Weiland, Halston Heritage, Diane Von Furstenberg, Todd Snyder, Parker, and Cynthia Rowley. Items up for bid include the
Star Wars: The Force Awakens Limited Edition Watch by Devon
(current top bid: $7,500); the
Star Wars: The Force Awakens One-of-a-Kind Rey Inspired Look by Diane von Furstenberg
($750); and the
Star Wars: The Force Awakens One-of-a-Kind Kylo Ren Inspired Look by Rag & Bone
($7,500).
It's a reminder of
Rodarte, which last year released its own
Star Wars-inspired
collection
. But it's also a reminder of how much things have changed since Joseph Campbell wrote his books and since George Lucas was inspired by them. The toys and the clothes and the home goods and the Chewie-branded Coffeemate—these are not just products. They have also become an integral part of how audiences experience
Star Wars
. They suggest the extent to which today's monomyths include not just stories, but
stuff
. Commercial goods—monomythic merch—are now integral to the legends we tell ourselves about who we are and where we're going. The hero may have a thousand faces; as
Star Wars
's force awakens, though, a good portion of those faces may soon be obscured by the
plastic Vader masks
that can be had for just $12.45 plus shipping.