When a Record-Breaking Box-Office Opening Isn't Enough
The new Star Wars flick has already shattered movie-ticket records, including the highest single-day sales. But on the day of its release, Disney shares dropped.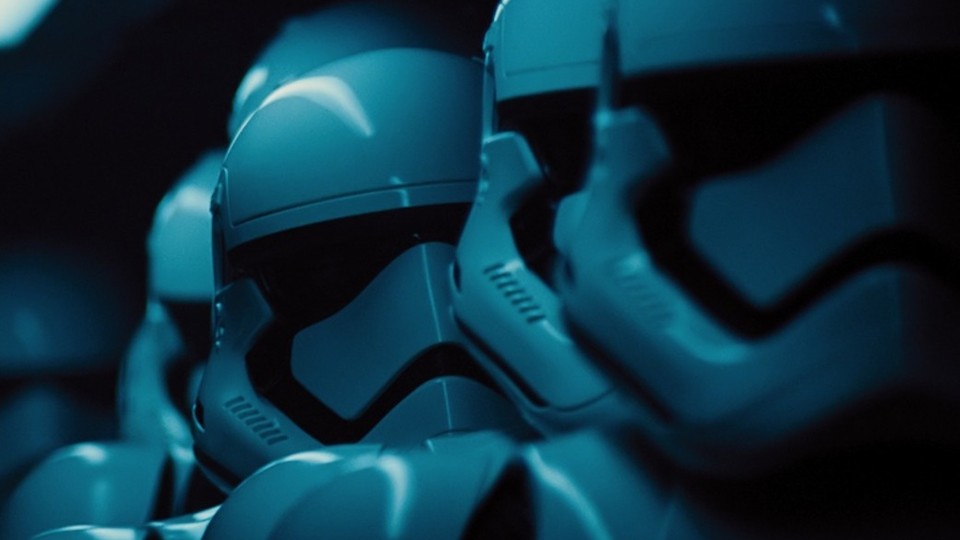 On Saturday, the first box-office figures from Star Wars: The Force Awakens streamed in, revealing the flick to be the unprecedented sales smash that many expected.
"The $120.5 million opening day for Star Wars marks the largest Friday, opening day, and single day records previously held by Harry Potter and the Deathly Hallows - Part 2 at $91 million," reported Brad Brevat.
In just one day, the film also hauled in an estimated quarter of a billion dollars globally, giving it an early shot to challenge Avatar ($2.8 billion) as the high-grossing film of all time. Fans and critics alike are already giving it an enthusiastic thumbs-up.
But even as Star Wars sat poised to beat Jurassic World for the biggest opening weekend ever in North America, Disney shares dropped on Friday, the same day that film was released. As Fortune noted, the company's shares dropped "4 percent, as the overall market also suffered declines, with the S&P 500 down 1.8 percent."
As it turns out, there's a disturbance in the Disney force. EU anti-trust regulators are banging on the door and, on Friday, BTIG downgraded Disney to "sell." In a note, Richard Greenfield, one of the firm's analysts, said that if Star Wars fails to reach the $2 billion threshold, the company would fall short of its forecasts for 2016. (Another firm, Nomura, politely disagreed.)
This gripe has little to do with Jedis and everything to do with cord-cutters, which have made Disney's long-term investment in sports seem like serious baggage. Quoting Greenfield, Deadline noted:
Cable networks, led by ESPN, account for 44 percent of the company's operating income. The sports channel "now appears poised to become Disney's most troubled business as consumer behavior shifts rapidly" to digital video ... The company recently said that Nielsen data show that the channel lost about 3.2 percent of its subscribers this year.
Almost three years ago, in explaining why the cost of cable is so high, my colleague Derek Thompson explained that the answer lies in sports programming and, in particular, ESPN. "Television economics are sports economics, and sports economics are television economics," he wrote.
A lot has changed since then as more people, particularly the younger set, have ditched the expensive cable bundle to rely on digital-streaming services for their entertainment. And, in an Anakin-like switch, it's now entertainment that must help offset the cost of sports instead of the other way around.