Sisters Are Doing It for Themselves
The latest Tina Fey-and-Amy Poehler vehicle isn't a great movie. But it stars a really great friendship.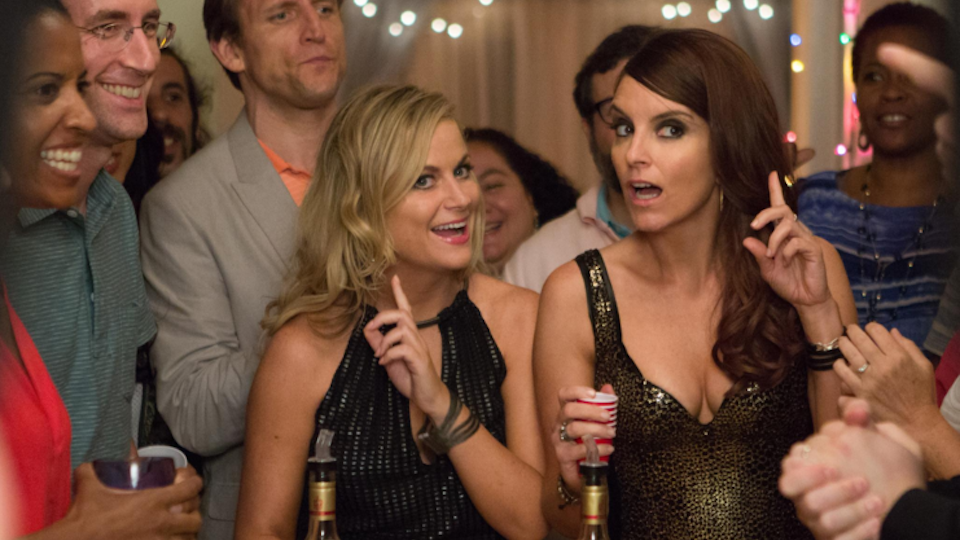 I had a nightmare the other night. It went like this: The friendship between Tina Fey and Amy Poehler—the one that began in Chicago when the two were struggling comics, the one that has been the subject of
glowing journalistic profiles
, the one that has popularized the unironic use of the phrase "platonic life partners"—turned out to be fake. The relationship that celebrates mutual admiration and respect, that revels in girl power, that has by cultural osmosis done extremely good things even for women who do not happen to be Amy Poehler or Tina Fey—was, in reality, a PR scam. The "friendship" was ginned up to sell movies and books. Tina and Amy don't even talk.
It was a Real Housewife-level deception. It was awful.
Fortunately (I think/hope/need to believe), it was only a dream. The friendship between Tina and Amy—though "friendship" doesn't feel sufficient as a description of the cosmic entity that is their union—is real. And it's more than a friendship. It's more even than a creative force, the first mover behind so much recent Hollywood comedy. It's a friendship with a market value ($72,000 for one night of it,
according to the results of a 2012 auction
), sure, but more than that it is an agent of good in the world—one of those warm, bright things whose sheer existence makes everything seem like it's going to be okay. The Fey/Poehler partnership has, at this point, become its own kind of celebrity—the star of, among so much else, comedy sketches and awards shows and magazine articles and TV shows and books and movies.
The latest of those movies is
Sisters
. The film, written by the longtime
Saturday Night Live
writer Paula Pell and directed by
Pitch Perfect'
s Jason Moore, casts the pair as, yes, sisters—the older one wild, the younger one prudish. (In an inversion of the
Baby Mama
dynamic, it's Fey—refreshingly out of Liz Lemon/
Kate Holbrook
/
Portia Nathan
mode—who plays the leopard-print wearer, and Poehler who buttons up.) Kate Ellis (Fey) is an aesthetician who has trouble holding down a job (she has an inconvenient tendency to get distracted and burn off her clients' eyebrows). She's also a single mom with a teenage daughter who says stern things like, "I love you, but your life is too chaotic right now." Maura (Poehler), a nurse who is coming off of a divorce, fills her free time with charity work that seems mostly to involve handing out inspirational-message cards to the homeless ("Without the dark, we would never see the bright stars").
Despite their differences, the Ellis sisters love each other. They have one of those bonds only sisters can understand. But they live, as so often happens these days, apart—in different cities, and more broadly in different places. While they're happy, and at home, when they're together, each sister's life is also, as Tolstoy might have put it had Tolstoy lived in 2015, shitty in its own way.
Things change, though, when the sisters' parents (James Brolin and Dianne Wiest) announce that they're selling the house they grew up in, in Orlando, to move to a nearby "adult community." Visiting one last time to pack up their old bedroom (the contents of which include the delightful detritus of late-'80s teenagerhoods: ThighMasters, lava lamps, Cabbage Patch kids, Jane Fonda aerobics videos, Care Bears t-shirts, Dep hair gel, a Michael J. Fox poster), the sisters make a decision: They'll have one last night in the house together before ceding it to the snooty New Yorkers who are planning to purchase it. They decide—shitty lives, nostalgia, Jane Fonda—to throw a party. Not just the wine-and-cheese-and-if-things-get-crazy-maybe-some-Scattergories kind of thing that society would suggest is appropriate for 40-somethings, but a high school-style rager. With all the booze and drugs and sex that come with it.
The sisters take to Facebook to see who of their old high school classmates is around. They spread the word. They go to Big Lots for supplies.
Spoiler: Things go terribly awry! Everything gets out of hand! People get injured! Cops get called (twice)! An old frenemy shows up with plans to get the whole party shut down! A tree is felled! A love interest of Maura's (the charming Ike Barinholtz, refreshingly out of Morgan Tookers-from-The Mindy Project mode) gets a rotating ballerina music box wedged in an extremely awkward place!
Is Sisters a good movie? No. No, it is not. Its plot manages to be both jarring (so many twists!) and predictable; its supporting characters are thin; it makes gleeful use of tired stereotypes (butch lesbians! put-upon mothers who Just Want to Let Loose! Asian nail technicians who go from meek to chic with the help of some sequined miniskirts!). Sisters is, like so many products of Hollywood these days, a wacky project that seems to have been created mostly so its stars can have an excuse to hang out with each other. Those stars, in this case, include Maya Rudolph and Rachel Dratch and John Cena and John Leguizamo and Kate McKinnon and Samantha Bee and Jon Glaser and Renee Elise Goldsberry and Bobby Moynihan—and they all act, indeed, like they are having a ton of fun.
Mostly, though, the hanging in question is done by Fey and Poehler. Sisters reads like a Baby Mama reunion, its preoccupation with babies shifting to a preoccupation with parenthood more generally. ("Now everyone get out of here," Mr. Ellis yells as he encounters the party, "or I'll call your kids!") This time, though, the enjoyment Fey and Poehler take in each other is the star of the show. They get to be wacky. They get to be improv-y. They get to be sisterly. "
Oh my God, I've never had so much fun working with anybody as with those two," is how Holland Taylor
described
working with the pair on the set of
Baby Mama
. She added: "They adore each other. They're like sisters. They're like Scottie and Westie puppies in a basket."
But that's the thing. They're like puppies! They're like actual sisters! The love and admiration and whimsy and fun they have for and with each other pops off of the screen whenever they share it. Their friendship is the star here. It's the whole point. It steals the spotlight when, as the Ellis sisters, Fey and Poehler are goofing around, trying on their old clothes. And when they're reading passages from their old diaries to each other. And when they're making jokes about their age (Maura, shopping with Kate for a party outfit: "We need a little less Forever 21, and a little more Suddenly 42"). And when they're doing a choreographed dance to Snow's "Informer."
And it steals the spotlight again during the gag reel that comes, inevitably and gloriously, at the end of the movie. Here's more of Poehler and Fey, as Maura and Kate but also as themselves, cracking each other up. The reel may well be the highlight of the movie. Which is telling. It's more of Tina and Amy, and also more of that biggest and brightest of Hollywood stars: their friendship. And the more we get of that, however it comes, the better.