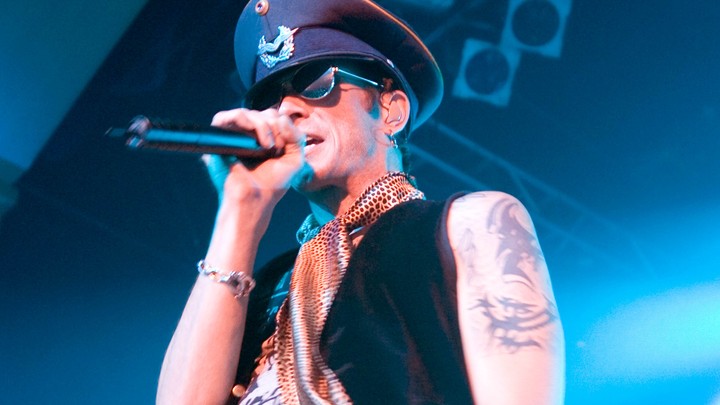 "Scott Weiland wrote n sang songs about a life unrestrained," Perry Farrell of Jane's Addiction tweeted this morning after learning of the death of the 48-year-old Stone Temple Pilots and Velvet Revolver singer. "I'm sure he'd love it if you would listen to one right now."
That seems right. Weiland has now joined the club of rock stars whose premature deaths compete with their life story in the public memory, partly because his life story so easily can be seen as predicting his death. Drugs were what "Vasoline" was about. Drugs were the subject of many Weiland's interviews. Drugs are what led to him getting kicked out of Velvet Revolver in 2008. Drugs killed his Wildabouts bandmate Jeremy Brown earlier this year. Weiland reportedly died in his sleep from a heart attack. But what are people, accurately or not (we still don't know), going to assume caused it?
In any case, Weiland's death will add to the air of tragedy surrounding the early '90s grunge boom that Stone Temple Pilots have always been associated with. Gone: Kurt Cobain, Layne Staley, Mike Starr, and now Weiland. The Guardian had already called it the deadliest genre.
But thinking of Weiland solely in terms of grunge brings you to another dicey part of his public narrative. Stone Temple Pilots were often dissed by critics and fans of other bands as a mere growly imitator of Pearl Jam and Nirvana. Sixteen top-10 rock songs later, that perception persists: Around the 20th anniversary of their sophomore album Purple, Rolling Stone called the Pilots "fake grunge's most archetypal ensemble." It's true that Stone Temple Pilots' sound, for a time, coincided with grunge; it's certainly true that sometimes I confuse a Weiland song for an Eddie Vedder song or vice versa. But does that make Weiland fake, and does it make his best music any less potent? Taken on its own, "Creep," is as effective a ballad of self-loathing as the era produced; "Sex Type Thing" remains a hard-charging subversion of masculinity; "Interstate Love Song" is still a song you turn the radio volume up for.
The truth is that Weiland didn't care much about grunge's pretentions, as can be seen in the fact that he joined up with Velvet Revolver, composed of members of Guns 'n' Roses, a band that personified all that grunge hated. After STP's heyday, his catalogue gets eclectic:  The 2001 Stone Temple Pilots song "Hello It's Late" comes off like a lovely Beatles cover, and his 2011 holiday album was either a total trolling effort or a gloriously earnest appreciation for '40s male crooners. "My solo albums are very avant-garde compared to Velvet Revolver or STP," he said to Spin in an attempt to explain that Christmas record. "It's more influenced by bands I like such as Granddaddy and the Flaming Lips and Sigur Rós and the Smiths."
More than anything, Weiland stood apart through his persona. He was the kind of flamboyant, swaggering, alpha rocker that the sweater-swathed likes of Kurt Cobain were reacting to. Sometimes he stripped naked on stage; other times, he shouted through a megaphone; his dancing, his wardrobe, and his energy repeatedly drew comparisons to Mick Jagger. And when he talked about drugs, he talked about them less as a salve for pain and more as a way to have a really great time. His first experience with heroin, he reportedly wrote in his 2010 memoir, came while touring with other musicians partaking in China White. Weiland decided he couldn't pass up "the delicacies that came with being a rock star."
But Weiland did realize the dangers of those delicacies, and of the mythology around rock stardom. There's a now gut-punching quote in a 2008 interview he did with EW, where he talked about excess, music, and mortality. "There are a lot of junkies that have died with that Keith Richards poster pinned inside their minds: 'Like, 'He can do it, why can't I?'" he said. "But no one is Keith. God doesn't make many of them."
We want to hear what you think about this article. Submit a letter to the editor or write to letters@theatlantic.com.
Spencer Kornhaber
is a staff writer at
The Atlantic,
where he covers pop culture and music.